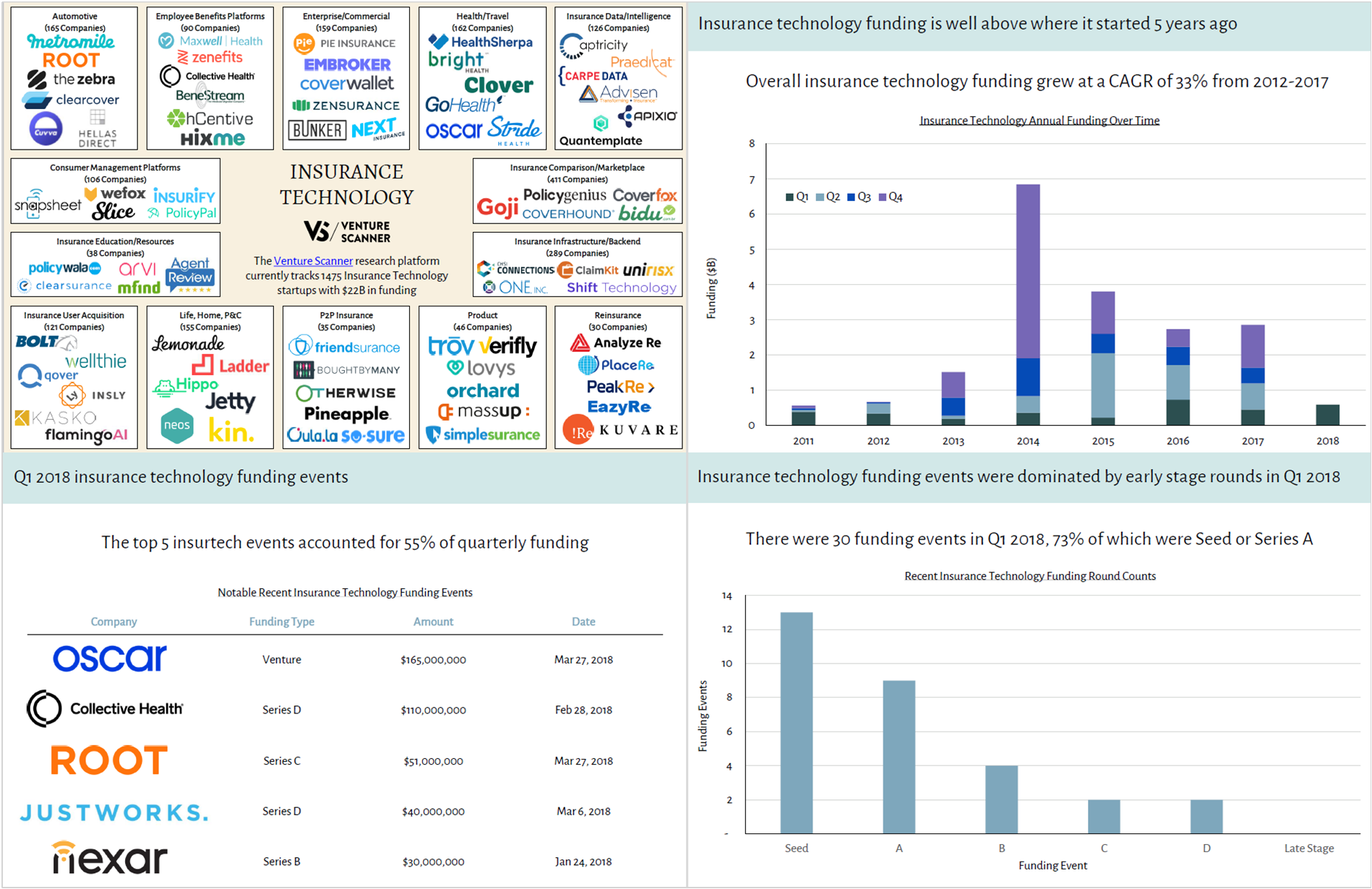 1475 insurtech companies divided into 14 categories with over $22B in funding to date according to Venture Scanner. This is the situation at the end of Q1 2018 with $976M being raised since the beginning of the year to date (as of May 21st).
With the help of Venture Scanner, InsurTechNews is able to offer you a quarterly update on the state of the InsurTech sector. The purpose is to capture changes as they happen regarding startups and the types and amount of funding that they receive.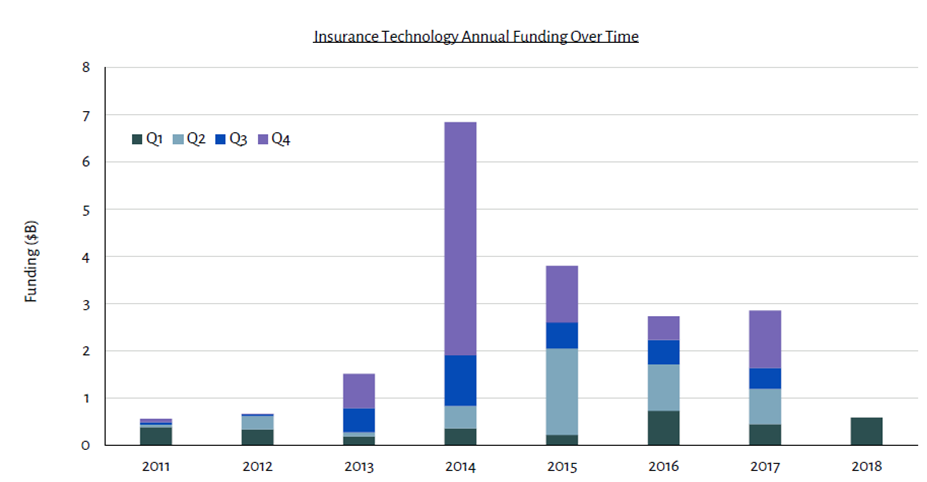 Source: Venture Scanner, data cumulative through March 2018
Overall insurance technology funding grew at a CAGR of 33% from 2012-2017.
We perceive from the discussion with our influencers that there is a need to fix a sector that is broken and at the same time ripe for disruption, maybe by the tech giants' entrance as debated at the beginning of the year:
· Are GAFA and BAT sinking their teeth into the juicy insurance industry?
· Will these big tech players be enablers, distributors, insurance carriers or insurtechs?
· Why will Amazon and its peers disrupt the insurance sector?
This raises the question if the money invested in insurtech startups has generated any concrete impact as of today.
To be honest there are also though leaders who are more positive about the current state of the sector. Take Matteo Carbone – founder of the IoT Insurance Observatory and co-founder of Archiemde Spac – who has started a recent speech with reminding all insurers in the room that they have done a pretty good job in protecting the life of their policyholder.
All #Insurance players will be #insurtech by @mcins_ https://t.co/6OV6OYcZRg @chboursin@adityajai007@jblefevre60@tunstallasc@fisher85M@axway@stratorob

— Insurtechnews (@insurtechnews) May 10, 2018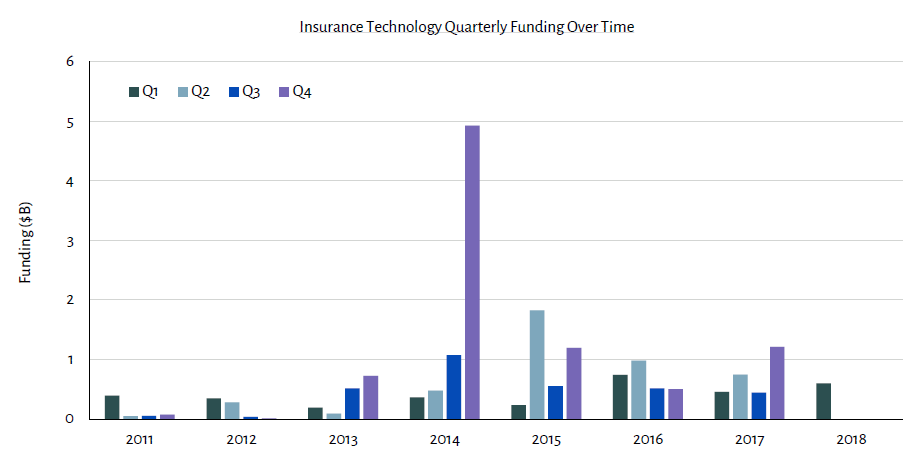 Source: Venture Scanner, data cumulative through March 2018
The funding in Q1 2018 is 53% higher than the average funding of all Q1s from 2011-2017
According to updated Venture Scanner data it seems that 2016 and 2017 were almost a match when it came to investing, that is $2,73 B raised in 2016 versus $2,81 B raised in 2017.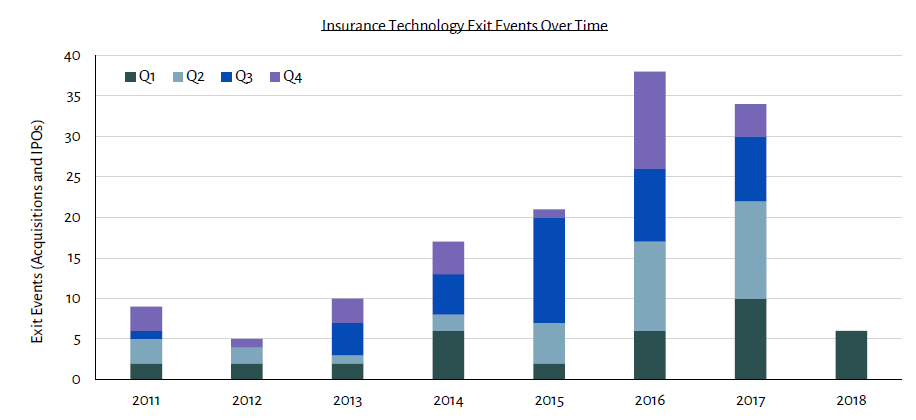 Source: Venture Scanner, data cumulative through March 2018
Insurance technology exit events saw strong growth in recent years: exits grew at a CAGR of 47% from 2012-2017, and the number of exits in Q1 2018 is 60% of that in Q1 2017.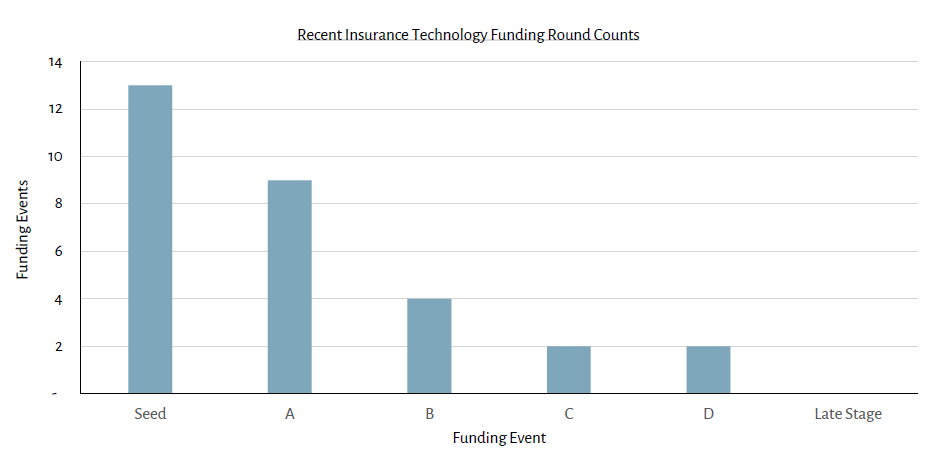 Source: Venture Scanner, data cumulative through March 2018
Insurance technology funding events were dominated by early stage rounds in Q1 2018 with 30 funding events in Q1 2018, 73% of which were Seed or Series A.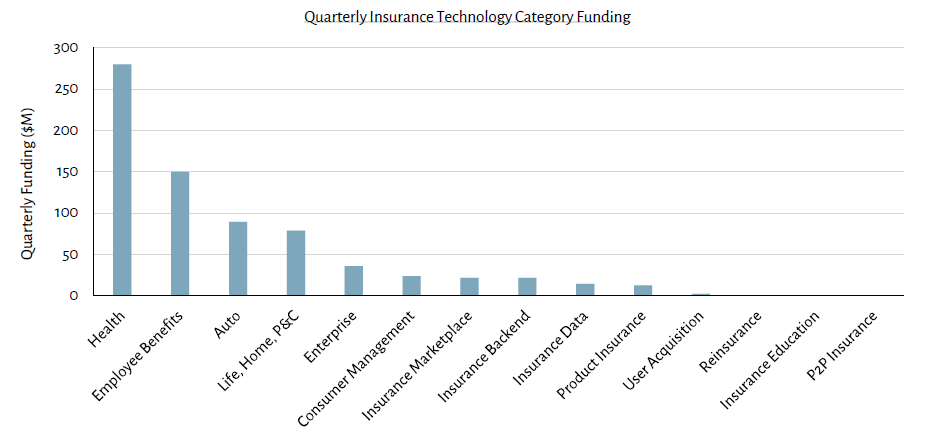 Source: Venture Scanner
Insurance technology startups raised $597M in Q1 2018, with Health Insurance companies raising the most funding at $280M.
Source: Venture Scanner
The top 5 insurtech events raised $396M in Q1 of 2018, accounting for 55% of quarterly funding.
Oscar, the health insurance start-up founded in 2013 has raised $892.5M to date with $165M in the latest Venture-type round on March 27th led by Founders Fund. The round also saw participation from two branches of Google's parent company Alphabet: the Capital G growth investment arm, and the Verily life sciences segment.
Also founded in 2013, Collective Health has raised $110M on February 28th in a series D round led by New Enterprise Associates, bring the total amount raised to date to $229M. The founders aimed at cutting out health insurance and replacing it with a pick and choose approach for employers that decide what they want to cover for their employees. According to TechCrunch the company currently caters to the health needs of over 120,000 individuals and the new funding will be used to "accelerate development" of the platform plus growing the customer base further.
Root is a mobile-first insurance carrier based in the US, that uses an app-based system to rate drivers according to how they actually drive by incorporating individual driver behavior data in their quotes. They raised $51M in a series C round led by Redpoint Ventures on March 27th. Since its launch in Ohio in 2016, Root has expanded to 11 additional states: Arizona, Indiana, Illinois, Kentucky, Louisiana, Mississippi, Montana, Oklahoma, Pennsylvania, Texas and Utah. The company plans to use the new funding to expand into additional states and continue to invest in technology.
Justworks raised $40M in the latest series D round on March 6th adding up to a total $93M in funding collected to date. They are a NY-based online platform which handles the payroll and payments procedure, benefits facilities, and compliance issues of its users.
Last on the top 5 list is Nexar, a Tel Aviv based software developer start-up founded in 2015, which protects the user and their business against car crashes and road casualties using an AI-based dashcam app to monitor road safety. They have raised $30M in a series B round on January 24th led by Ibex Ventures. Participants included Alibaba Innovation Ventures, Nationwide Insurance and returning investors Aleph, Mosaic Ventures, Slow Ventures, True Ventures and Tusk Ventures according to TechCrunch.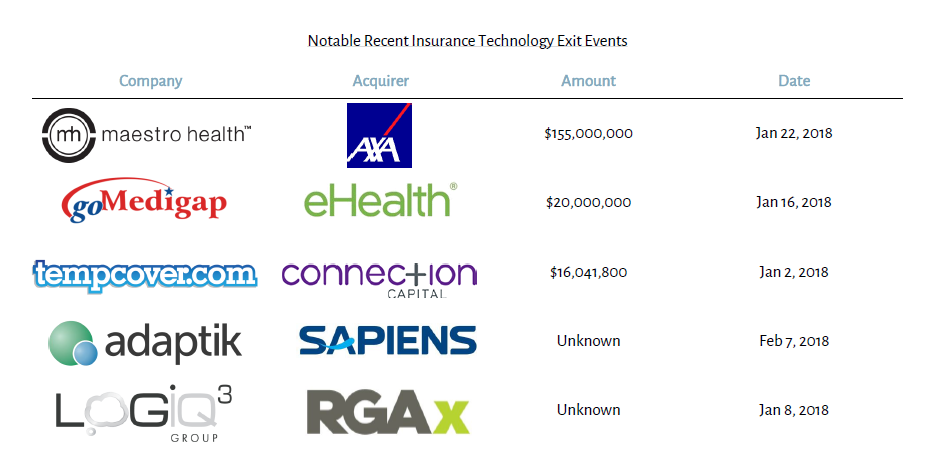 Source: Venture Scanner
There were 6 insurtech exits this past quarter, all of which were acquisitions.
At the end of January AXA acquired Maestro Health, an all-in technology-meets-service platform, for the amount of $155. Maestro Health together with AXA Group will take steps to transform the U.S. healthcare market by simplifying and personalizing how people shop, enroll and live with their health benefits, according to Venture Beat. Maestro Health is an employee benefits company that provides integrated one-stop shopping experiences, along with private-labeled exchange solutions. It also offers employee health and benefits management solutions for brokers, small employers, and Fortune 1000 organizations.
GoMedigap was acquired for $20M by eHealth, a provider of online health insurance information for individuals, families, and small businesses. Founded in 2013, GoMedigap has built a leading consumer acquisition and engagement platform focused on meeting the Medicare Supplement insurance needs of its individual customers. eHealth intends to further invest in GoMedigap's platform and operations while integrating the company's core technology and processes into the combined entity.
UK's largest provider of pay-as-you-go motor insurance, Tempcover, has been bought for approximately $16M by Connection Capital. The company's aim is to broaden its reach beyond car insurance into new markets based on the same temporary insurance approach.
Sapiens, a leading global provider of software solutions for the insurance industry, has acquired North American P&C solution provider Adaptik for an undisclosed sum at the beginning of February. Adaptik is based in Pennsylvania and offers P&C insurers policy administration and billing capabilities, for commercial, personal, specialty and workers' compensation lines of business.
RGAx, a subsidiary of Reinsurance Group of America acquired the LOGiQ3 Group (includes LOGiQ3 Corp., APEXA, Cookhouse Lab and Tindall Associates Inc.) for an unknown amount of money on January 8th. APEXA offers a centralized online solution for advisor contracting and compliance in Canada, while Toronto-based Cookhouse Lab describes itself as an "insurtech open innovation lab".