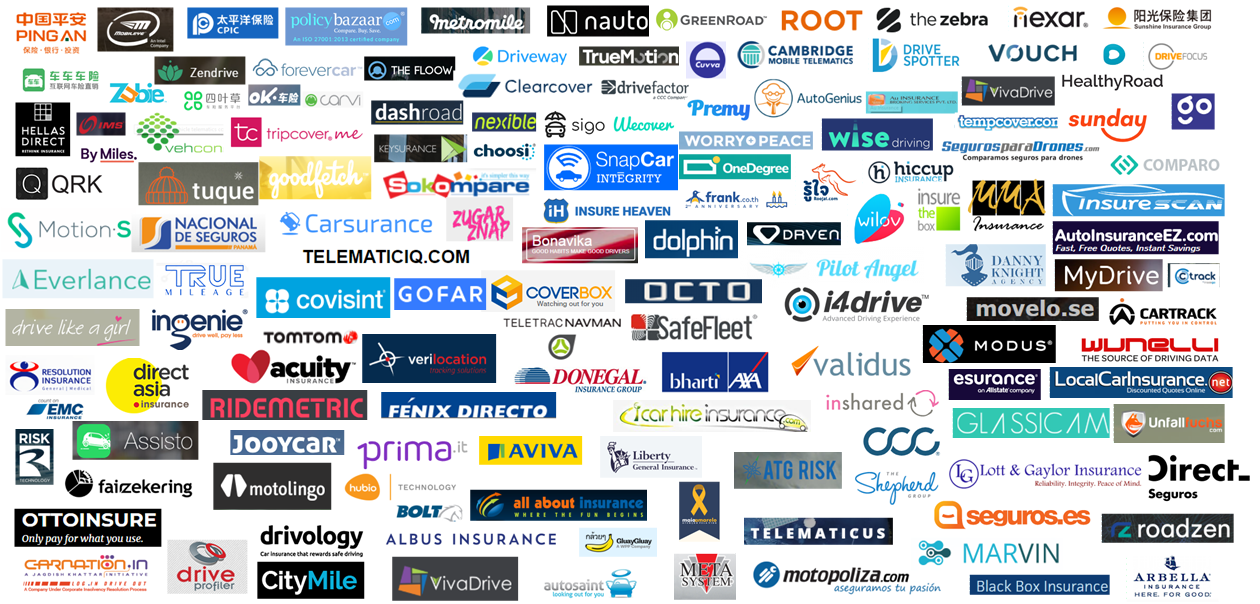 Counting 165 companies of which 40 have raised money in the past years, the auto insurance category has accumulated a total of $7.3B in funding with $290.32M raised from the beginning of 2018 to date (as of May 29th). According to Venture Scanner the auto insurance category includes both companies that offer auto insurance to the customers as well as players working on the auto insurance value chain (e.g. telematics).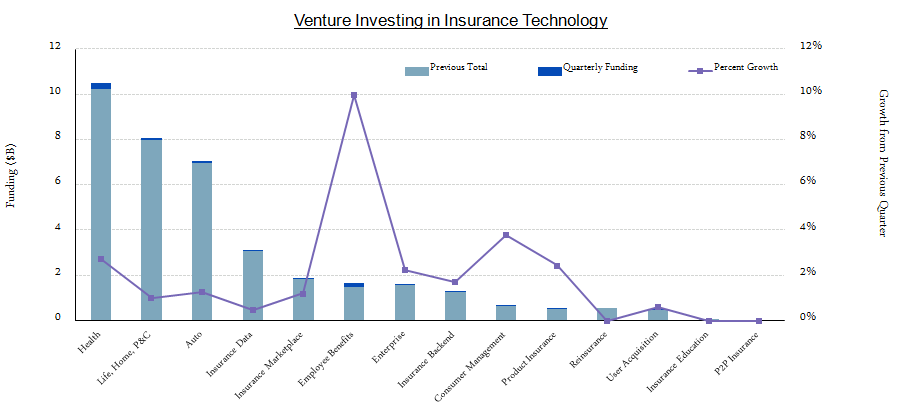 Source: Venture Scanner, data cumulative through March 2018
In 2014 auto insurance saw the highest numbers when it comes to investments – that is $4,88B, due to the Ping An effect- while in each of the following years the sum was always between $200M and $450M. Auto Insurance is the third most-funded category within insurance technology and it accounts for 19% of the total funding in the sector, seeing 1% growth last quarter (see image above).
Due to all these founders committed to reinvent the auto insurance business and the amount of funding flowing into this sub sector, it seems improbable that the end of auto insurance is coming. Matteo Carbone – founder and director of the IoT Insurance Observatory and one of our 50InsurTech influencers has recently provided a deep analysis on the resilience of the auto insurance business in the next decades.
Auto Insurance has a median funding $9M higher than the average of other categories, and a third quartile that is $33M higher as seen in the image below.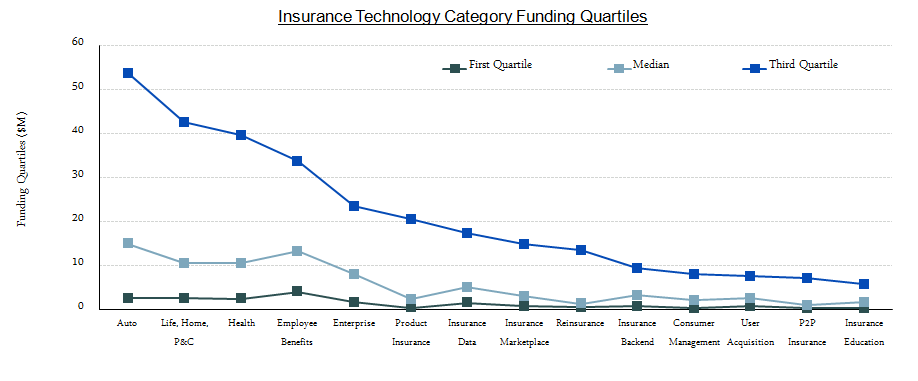 Source: Venture Scanner, data cumulative through March 2018
The number of companies founded in 2016 reached an absolute peak with 17 startups, while 2017 registered only 6. One company has raised funds during Q1 of 2018.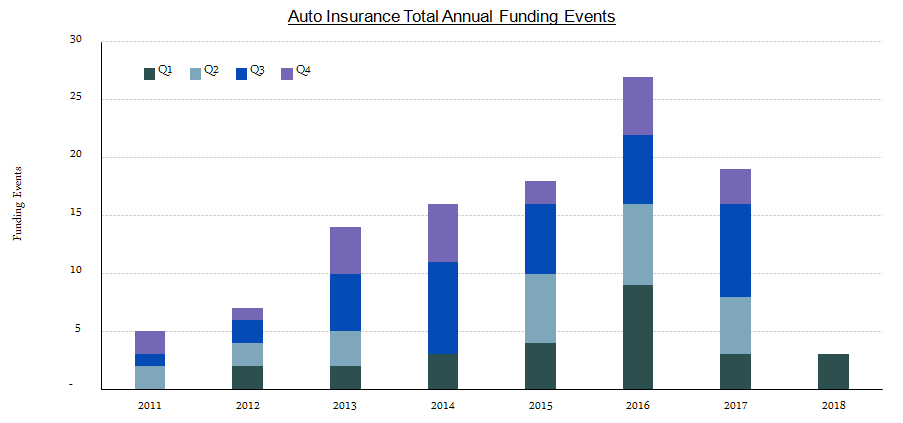 Source: Venture Scanner, data cumulative through March 2018
As seen above, overall Auto Insurance funding events grew at a CAGR of 22% from 2012-2017, and the number of funding events in Q1 2018 is on par with that of Q1 2017.
The top 5 Auto Insurance companies by total funding account for 82% of overall category funding.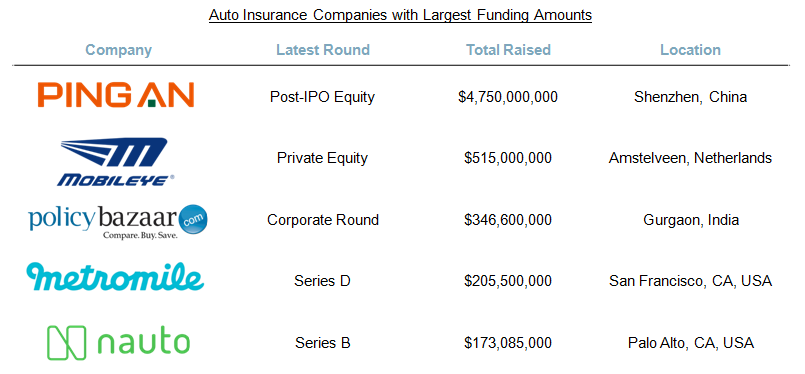 Source: Venture Scanner
With $4,75B raised to date, Ping An is the first insurance company in China to adopt a shareholding structure. Today, it has developed into a personal integrated financial services group with three core businesses of insurance, banking and investment, enjoying parallel growth of its traditional and non-traditional financial businesses. According to Crunchbase, for the non-traditional business, the Group strives for innovation by weaving financial services into the very fabric of everyday life: health, food, housing, transportation and entertainment, establish the integrated financial services platform of "One Customer, One Account, Multiple Products, and One-Stop Services". Ping An falls in the auto insurance category because it also sells auto insurance alongside other types of products like travel, home, maid, fire and exhibition insurance.
The technology company Mobileye has raised $515M in total and was founded in 1999 in Amsterdam. It develops vision-based advanced driver assistance systems that help prevent and mitigate collisions. These systems work as a third eye for the driver by supporting the driver in performing routine driving tasks (e.g., distance keeping, adaptive cruise control) and provide timely warnings (e.g., lane departure warning, forward collision warning) in dangerous situations. Mobileye's technology has been launched by BMW 5-Series, 6-Series, 7-Series, Volvo S80, XC70 and V70 models, and Buick Lucerne, Cadillac DTS and STS.
With $346,6M raised to date, Policybazaar is India's largest insurance aggregator website. They are specialized in making comparative analysis of the insurance products of various insurance policies based on price, quality and key benefits, combined with solution driven customer service. Unlike the two previous companies, which had no funding activity in the last couple of years, Policybazaar has done a recent Corporate Round on May 1st 2018 when it raised $200M.
Metromile raised $205,5M to date and offers affordable pay-per-mile car insurance based on the miles you actually drive. According to their website they charge a $30.00 Flat monthly rate plus a per-mile rate. They use collected data to optimize how you use your car and to offer instant access to detailed vehicle diagnostics via the driving app.
With $173.85M raised to date, Nauto is an autonomous vehicle technology system that offers an artificial intelligence-powered connected camera network and smart cloud system for its clients. Launched in 2015, this start-up aims to gain understanding of what causes near-misses, scrapes, and accidents at every level, and to deliver insights back to cities, helping them control traffic and street design to eliminate fatal accidents. The latest funding round for Nauto was a series B in July 2017 of $159M led by Greylock Partners, SoftBank and Playground Global.