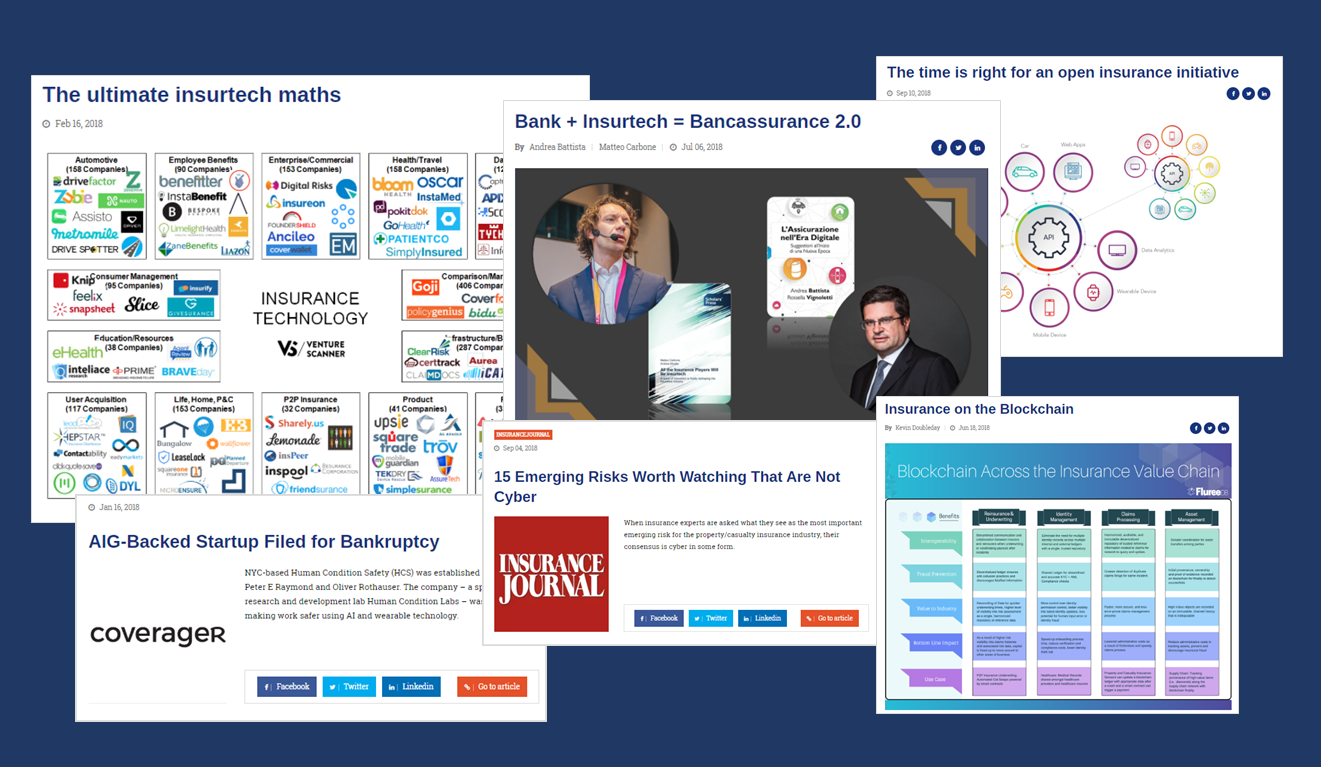 It's been another great (3rd) year for InsurTechNews and much to our delight we can boast some 9000 newsletter subscribers that have chosen to follow our weekly news updates. So let's see which were the most read Insights and News during 2018, plus a few words from our #50insurtech influencers.
First place goes to "The ultimate insurtech maths" by InsurTechNews based on data provided by Venture Scanner. This is part of a quarterly updated series offered to our readers thanks to the partnership with Venture Scanner with the purpose of capturing changes as they happen regarding startups and the types and amount of funding that they receive.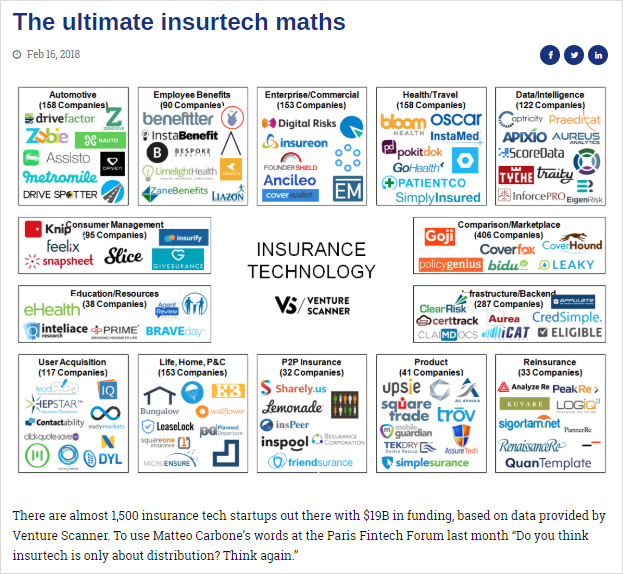 In second place, from The Open Insurance Initiative comes a conceptual article that aims to set the basis for a talk about Open APIs in insurance following the fintech open banking example. Readers are invited to download the whitepaper which focuses on "an overview of the processes and strategies that could enable policyholders to securely share their insurance related data with third parties", as stated by Fouad Husseini, the founder of The Open Insurance Initiative. "This initiative will depend on the active collaboration of a community of developers and financial services experts to see the development of a standard for open APIs for the global insurance sector" he adds in the article.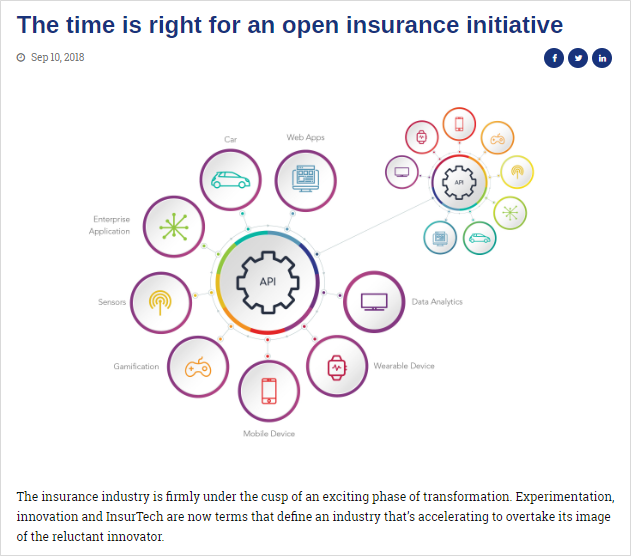 Kevin Doubleday's article "Insurance on the Blockchain" takes the third place and is a deep dive into the benefits of blockchain across the insurance value chain. Kevin is Marketing Communications Lead at Fluree, a B-corp, that aims to bring blockchain technology directly to enterprise applications and digital infrastructures.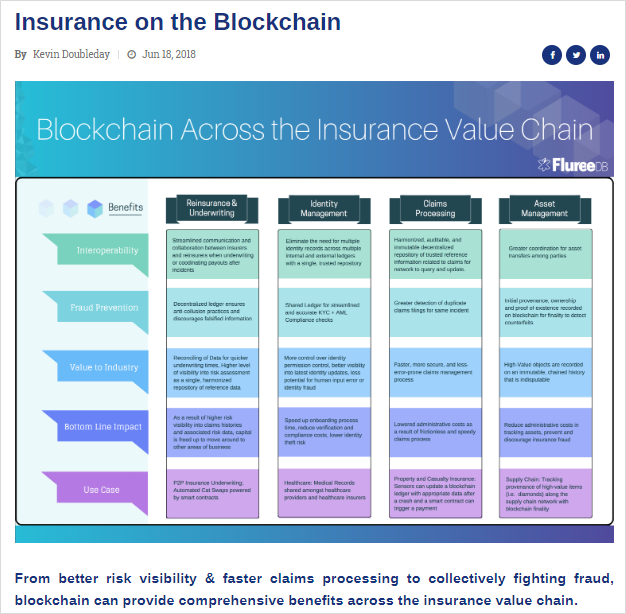 Up next, our deep dive into auto insurance, "Auto insurance is here to stay, but it's going to look different". A look at venture investing and the top funding events according to data provided by Venture Scanner.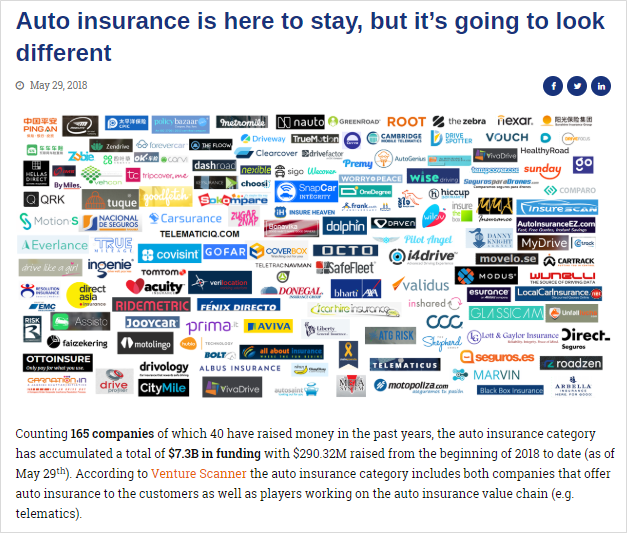 In their article, "Bank + Insurtech = Bancassurance 2.0", Matteo Carbone and Andrea Battista explain the concept behind Archimede, the Special Purpose Acquisition Company and first InsurTech carrier of the Italian market. Archimede has successfully closed the IPO process with an amount of €47million, which has positioned this initiative among the top 10 European insurtech ventures.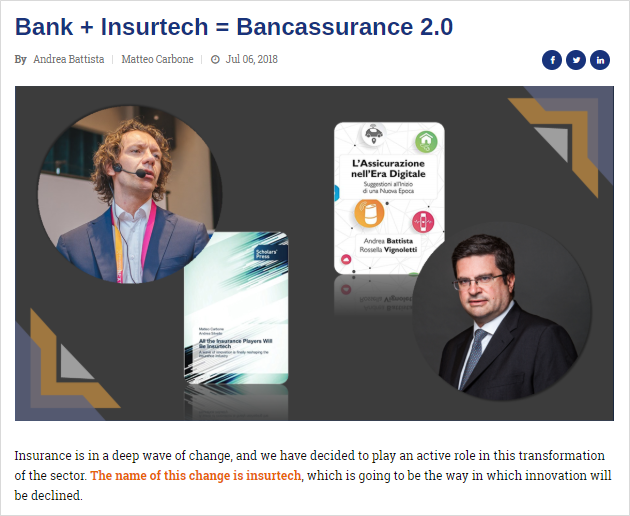 It's always interesting to see what industry thought leaders think of you over time so we've collected some impressions from our 50insurtech influencers below.
"I cannot believe that it has already been three years of InsurTech news. The market has moved so fast, still is emerging. As 2018 rises as the largest invested year since InsurTech became a word, we have all to recognize that the real size of the opportunity is still unknown."
-Sabine VanderLinden, CEO @ Startupbootcamp InsurTech, Partner @ Rainmaking Advisory Board Member, Co-editor of the InsurTECHBook.
"Insurtechnews is one of the premier aggregators of thought leadership for insurance. Not only do they have daily articles and news on happenings within the insurtech/insurance space, they also provide a list of conferences around the world and top influencers in the space to follow. The combination of all these items make Insurtechnews a necessary resource for anyone that wants to keep tabs on the ever-changing happenings within the space."
-Stephen Goldstein, Vice President, Client Experience Lead RGAX.

"As an influencer, I am honored to be included with such an amazing group. #insurtech4eva"
-Chris Cheatham, CEO RiskGenius.
"I will never forget when I received the message that InsurtechNews nominated me for the Insurtech50. I sat at the airport of Amsterdam and was the happiest insurance nerd around. InsurtechNews belongs to the most significant sources of information and sharp analysis. Congratulations and a big thank you!"
-Robin Kiera, speaker and sparring partner for digital transformation and attention hacking.
"Insurtechnews is a gem in the insurance industry. For the last three years, they've curated and distributed some of the most thought-provoking content from industry leaders around the world. I highly recommend following connecting with Insurtechnews and following their work."
-Ryan Hanley, Chief Marketing Officer at Bold Penguin.
"Thought leaders across all industries are acutely aware of information overload these days. As such, we need to be highly selective about where we go to digest relevant news and analysis. For me, InsurTechNews is a daily source of information and inspiration that I truly rely on to get the latest on insurance innovation. When it comes to the collision of technology and innovation in the insurance sector, Insurtechnews is the leader."
-Robin Smith, Vice Chairman Of The Board & Co-Founder @WeGoLook.
"InsurTechNews is for me a very valuable insurtech source for great insurance industry insights."
-Spiros Margaris, Venture capitalist, advisor to wefox group.
"In only three years InsurtechNews has become the prime global source on the latest of the latest in insurtech. We share the same vision and passion. We're therefore very pleased to have InsurtechNews as a partner of DIA. We believe that the future of insurance is all about leveraging the latest advanced technologies to accelerate innovation. And about creating ecosystems across and beyond the value chain. InsurtechNews plays a pivotal role in sparking ideas and in turn furthering the industry."
-Roger Peverelli, Advisory Board of wefox Group, Co-founder Digital Insurance Agenda. Speaker / author Customer Engagement, Innovation, Fintech, Insurtech.
-Reggy de Feniks, Speaker/author 'Reinventing Financial Services'​, 'Reinventing Customer Engagement'​. Partner 9Senses and co-founder DIA.
Very flattering indeed! But let's end with the top News of 2018 based on number of pageviews.
Number 1 – "15 Emerging Risks Worth Watching That Are Not Cyber" via Insurance Journal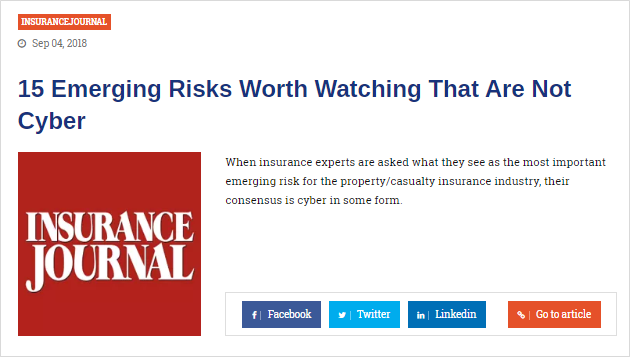 Number 2 – "AIG-Backed Startup Filed for Bankruptcy" via Coverager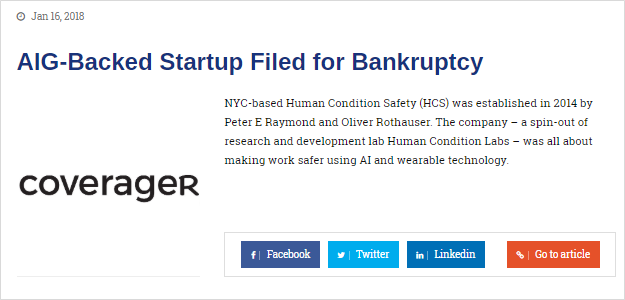 Number 3 – "Top 100 insurtech firms 2018" via Insurance Post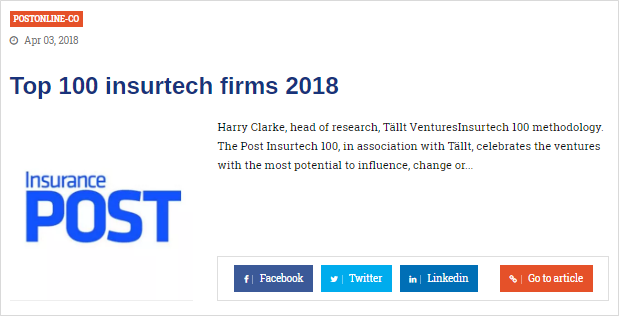 Number 4 - "Swiss Re strikes global licence deal with CMS"via Reinsurance News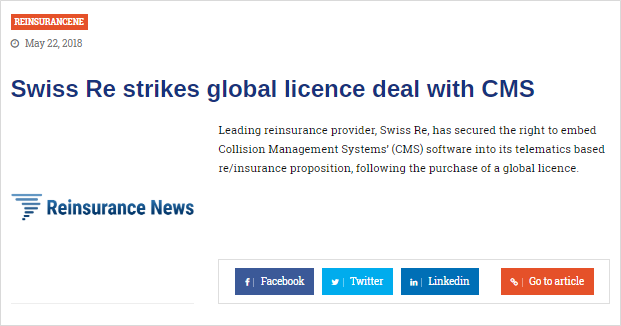 Number 5 – "Insurtech startup Lemonade's losses mount" via Globes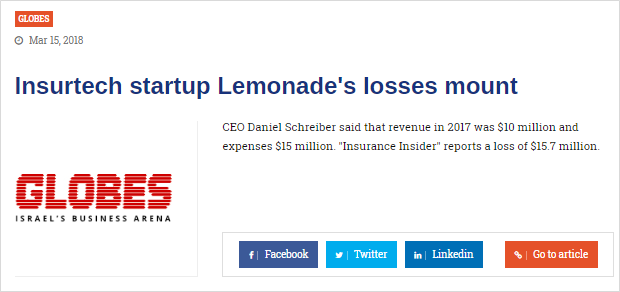 Looking forward to what 2019 may bring in the InsurTech landscape! And remember to follow our newsletter to stay up to date with the lastest info.