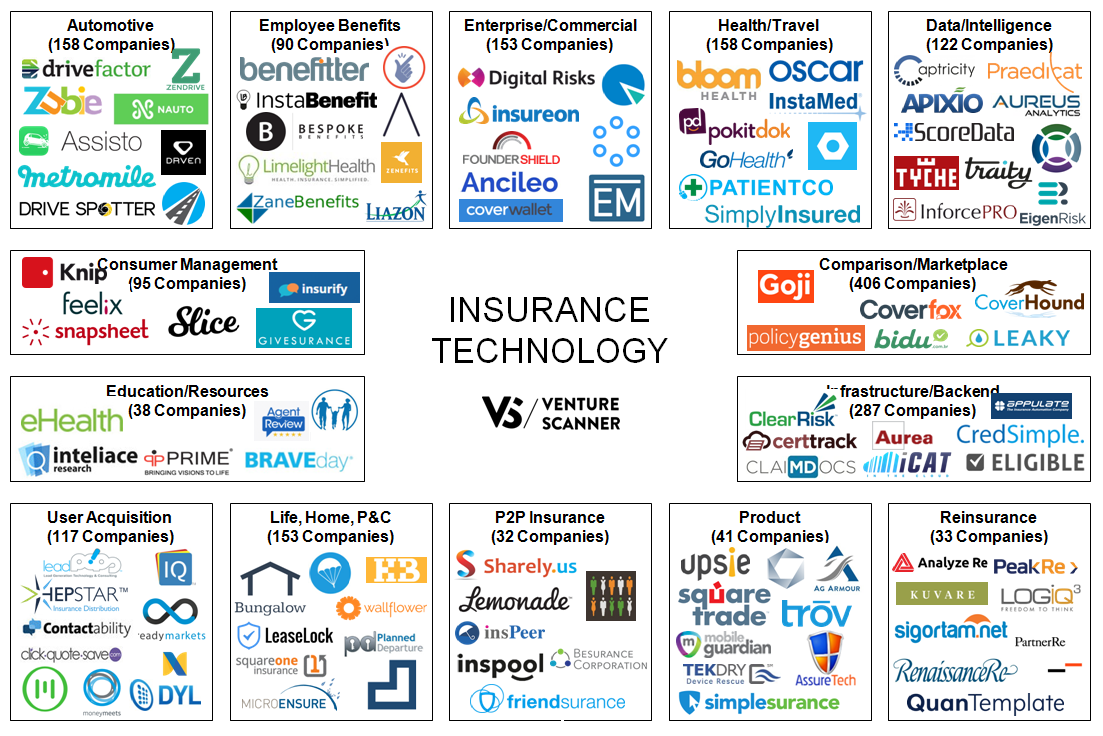 There are almost 1,500 insurance tech startups out there with $19B in funding, based on data provided by Venture Scanner. To use Matteo Carbone's words at the Paris Fintech Forum last month "Do you think insurtech is only about distribution? Think again."
With the help of Venture Scanner , InsurTechNews is able to offer you a quarterly update on the state of the InsurTech sector. The purpose is to capture changes as they happen regarding startups and the types and amount of funding that they receive.
Insurance technology startups raised $564 million over the last quarter of 2017– that's 42% higher compared to the previous quarter when insurtech startups raised $397 million.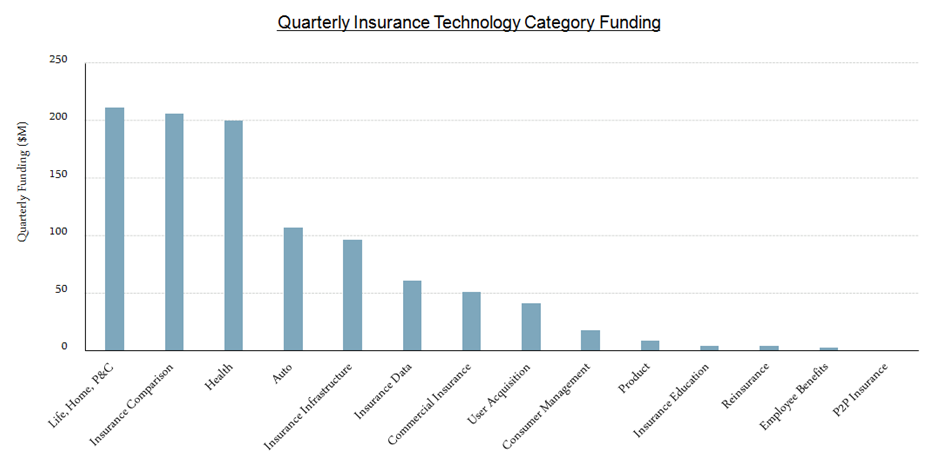 Source: Venture Scanner
The growth in Q4 2017 was higher by 27% compared to Q4 of 2016.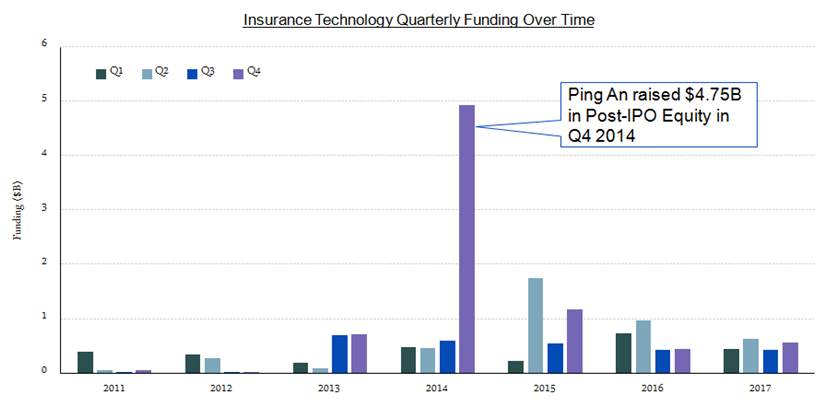 Source: Venture Scanner, data cumulative as of December 2017
Although it wasn't enough to make up for the difference between overall insurtech funding in 2016 compared to 2017 - which was 81% of 2016 funding.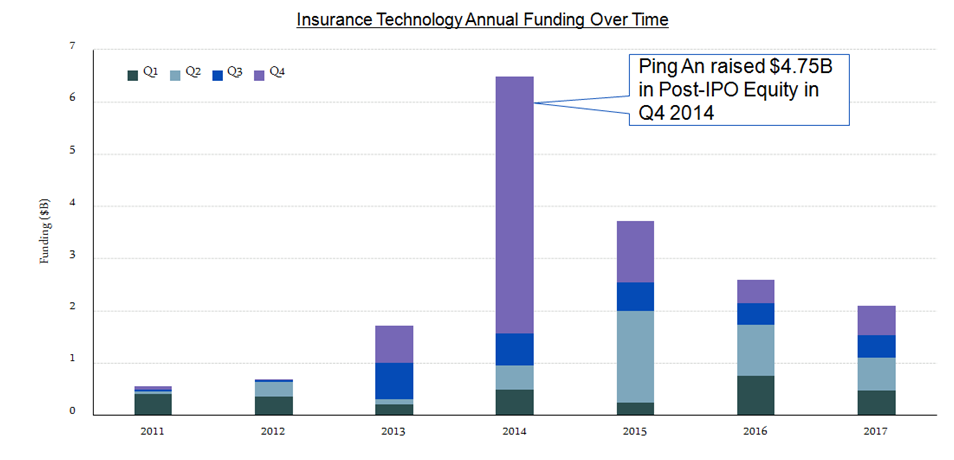 Source: Venture Scanner, data cumulative as of December 2017
In Q4 2017 there were 50 funding events, 70% of which were early stage Seed or Series A.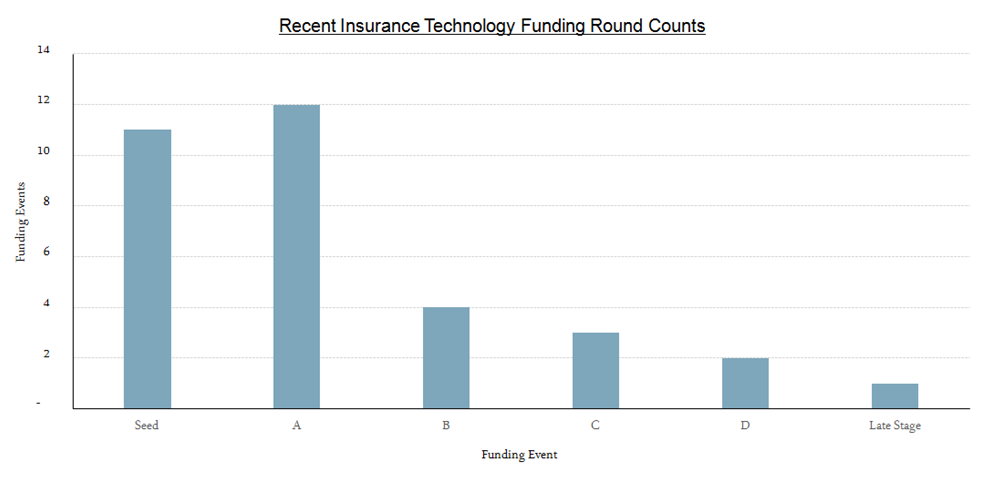 Source: Venture Scanner, data cumulative as of December 2017
Notable insurtech funding events in Q4 2017
The top 5 insurtech events account for 27% of total quarterly funding and we notice a tendency towards later stage funding types compared to the previous quarter which had only seen series B events among the top 5.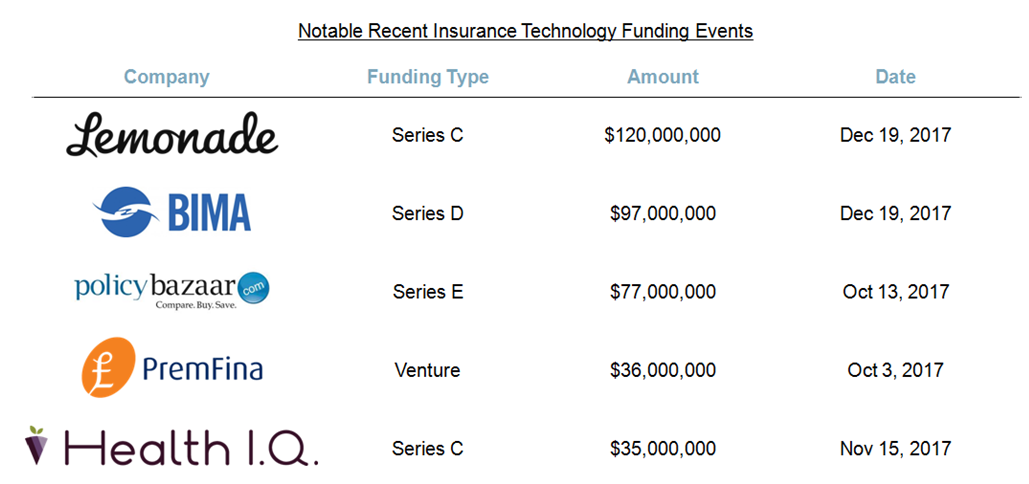 Source: Venture Scanner
Lemonade once again makes the top of the list with a $120 million funding round led by the SoftBank Group in December 2017. COntrasting the traditional insurance model, Lemonade takes a flat fee and donates a portion of unclaimed premium dollars to nonprofits. SoftBank joins prior investors Aleph, Allianz, General Catalyst, GV (Google Ventures), Sequoia Capital, Sound Ventures, Thrive Capital, Tusk Ventures, and XL Innovate according to businesswire.com.
Second on the list is BIMA with a Series D funding round of $96.6 million. BIMA started its first pilot in Ghana in 2010 to to test their new 'mobile insurance' model at the time which promissed to deliver affordable insurance products to underserved consumers. Today BIMA is present in 14 markets across Asia, Latin America and Africa with a 24 million customer base. With Allianz's digital investment made through its unit Allianz X, BIMA will now look to obtaining 1 billion customers. The move sees Allianz become BIMA's largest strategic shareholder, and only insurance shareholder, in the tech platform.
Policybazaar is an online insurance selling and comparison platform founded in 2008 in India and operated by ETechAces Marketing and Consulting Pvt. Ltd. The company raised $77 million in a Series E funding round in October 2017 led by Wellington Management. Policy bazaar offers several types of covers including life, health, motor, travel and home insurance but also cancer and
U.K. firm providing software to insurance brokers, PremFina Ltd, raised $36 million in a first funding round with the objective of expanding the company. PremFina offers software that connects insurance brokers and their customers, and also provides a loan facility so that brokers can extend financing to clients. The founder and entrepreneur Bundeep Singh Rangar said that PremFina operates in a similar way with Uber which links drivers and passengers. For this reason he often names his startup as "the Uber of premium finance." The equity and debt investment came from investors including the venture capital arm of Japan's Rakuten Inc., and U.K.-based Draper Esprit Plc, backed by billionaire Tim Draper. The funding round includes Russia's Emery Capital, U.S.-based fund Rubicon Venture Capital, Thomvest and Talis Capital.
Health IQ Insurance Services closed a $34.6 million Series C funding round led by Andreessen Horowitz in November. To date, the company has raised a total of $81 million mostly from its existing investors. The company partners with top-rated insurance carriers such as SBLI, Ameritas Life Insurance Corp. and Assurity Life Insurance Company, and reinsurer partner Swiss Re to offer health conscious people between 4 and 33 percent lower rates on life insurance
Notable insurtech exit events in Q4 2017
There were 5 insurance technology exits this past quarter, all of which have been acquisitions.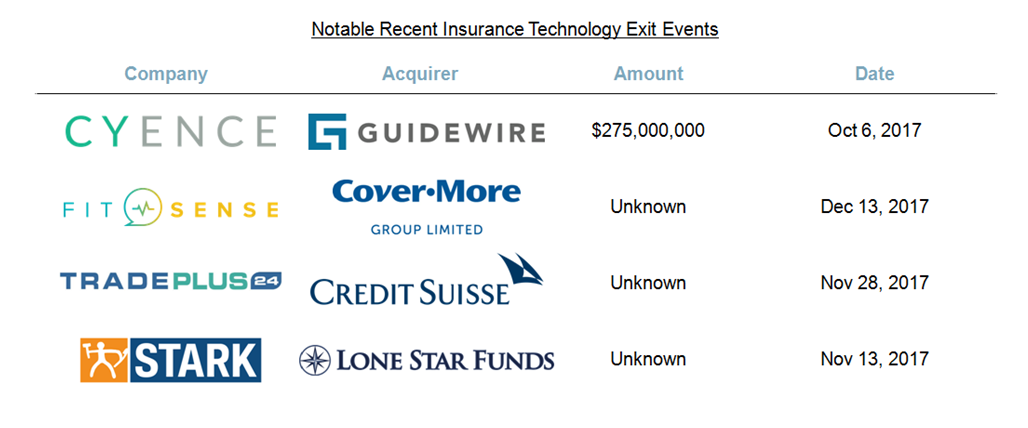 Source: Venture Scanner
Guidewire Software acquired Cyence for approximately $275 million. Cyence is a software company that applies data science and risk analytics to enable P&C insurers to grow by underwriting "21st century risks" that have gone underinsured or uninsured.
Data analytics company FitSense was acquired by Cover-More Group, a global specialist travel insurance and medical assistance provider in Australia. Fitsense is a spin-off enterprise from the National University of Singapore (NUS) and leverages health and fitness data from mobile apps to support insurers in creating customised insurance products. The size of the deal was not disclosed and FitSense will relocate from Singapore to the new headquarters in Sydney
Credit Suisse has acquired a majority stake for an undisclosed ammount in Tradeplus24, a Zurich-based FinTech specialist borrower that focuses on lending to the SME and Mid-Market segments. Credit Suisse plans to use the platform for its SME type of customers. The A-1 financing round was led by SVC-Ltd, the venture capital investment vehicle owned by Credit Suisse and advised by Helvetica Capital AG.
Texas-based private equity firm Lone Star Funds has acquired the building materials supplier Stark Group in a deal valued at €1,025 million on a debt-free and cash-free basis according to fergusonplc.com. The business is currently owned by Ferguson, a FTSE 100 plumbing and heating components supplier which plans to focus solely on its North American activities following a strategic review, reason for which it has decided to sell according to realdeals.eu.
A closer look at insurance data companies
Venture Scanner is currently tracking 125 companies which fall in the insurance data category and account for 9% of funding in the sector seeing modest growth during the last quarter.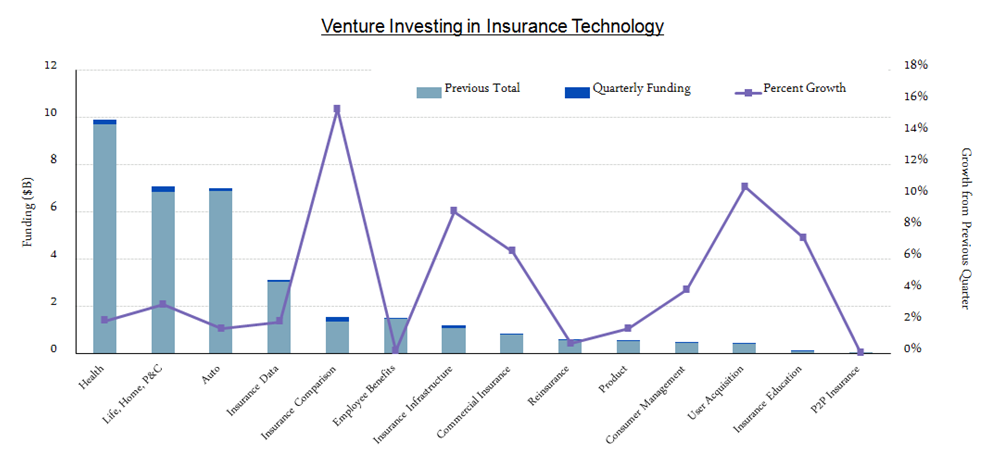 Source: Venture Scanner
Total funding received by insurance data companies in 2017 was little under 170 million so we are looking at a 50% reduction compared to the year 2016 with a CAGR of 19% from 2012-2017. If we look at the number of insurance data funding events, 2017 did slightly better compared to the previous year as seen in the graphic below.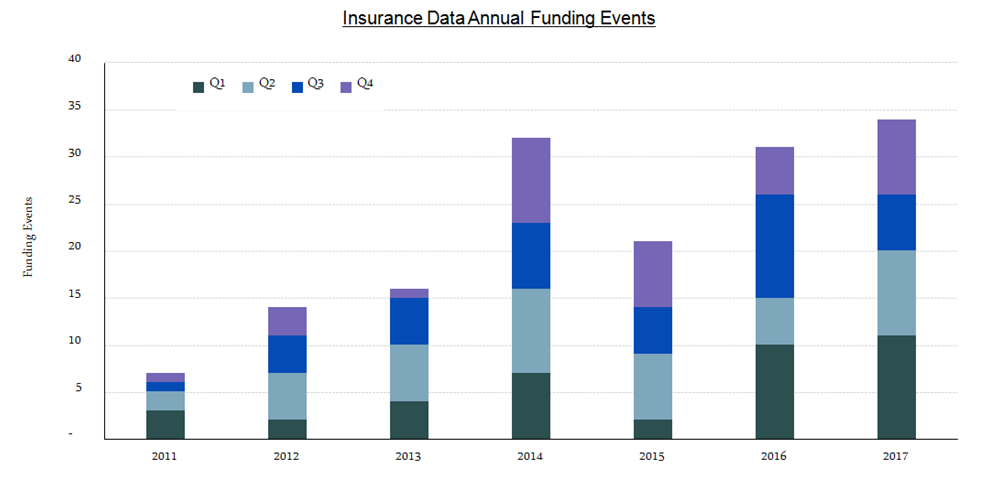 Source: Venture Scanner
The top 5 insurance data companies by total funding received to date account for 79% of overall category funding and are mostly concentrated in California, US.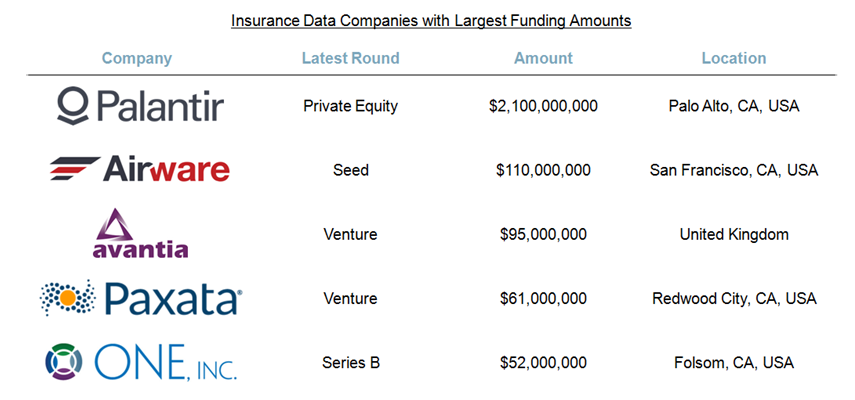 Source: Venture Scanner
Palantir Technologies is at the top of the list with $2.1 billion raised to date since it was founded in 2004 by PayPal alumni and Stanford computer scientists. The company offers a suite of software applications for integrating, visualizing, and analyzing information.
Drones are enabling companies to more efficiently and effectively capture data, and Airware – with $110 million raised - allows enterprises to integrate this data with existing information and workflows to improve efficiency, productivity, and safety.
Avantia was founded in 1997 and has rasied $95 million to date. It is a regulated financial services technology platform and risk analytics business that owns successful and profitable B2C general insurance consumer brands.
Paxata is the first Adaptive Data Preparation™ platform built for the analyst to turn raw data into ready data for analytics. The company has raised a total of $61, with the most recent round being a corporate one led by Accenture.
One, Inc. provides an integrated cloud-based platform designed to transform the way insurance companies interact with their customers. Since 2005 the company saw 3 investment rounds for a total $52 million, while the latest Series B round was led by Centana Growth Partners and American Family Venture.