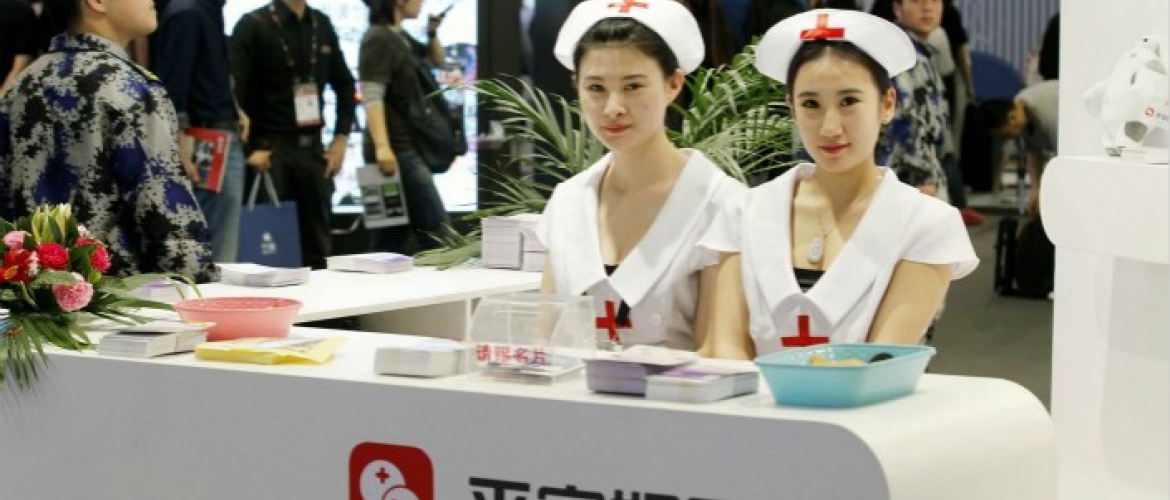 Image courtesy:Digital Insurance Agenda
In part 1 of the DIA interview with Jonathan Larsen, Ping An's Chief Innovation Officer, he shared some of the vision and learnings behind the success of this Chinese Giant. In part 2 of this exclusive interview, he goes deeper into the paradigms of the digital data economy that Ping An created.

A great example of redefining addressable markets …
Jonathan: "In health we thought about this in a very different way. We're the largest health insurer in China, but private health insurance is only 5% of the health pool in China today. The government is 50%, the rest is out of pocket. The private health market is growing at 35%, so most companies would be very happy to just chug along at 35%. At Ping An, the way Peter Ma thought about it was 'no, there is this much bigger opportunity', because we know that the China health system has to transform.
There is no primary care in China, there are no general practitioners. You go to a hospital, you wait for half a day, and you go to a lot of departments, often the wrong ones. If you have a headache you end up going to the neurologist. Obviously, this is not a sustainable system. With rising affluence, an aging population and the onset of chronic disease, the system has to change top to bottom. China has to use technology, and this is acknowledged fully by government policy makers. So we created Good Doctor, a telehealth platform. Today, it has 250 million registered users." Ping An also provides a lot of support to the State Health Insurance System.
Tickets for DIA Amsterdam are still available so just click here to register. Use the discount code - DIA200ISTN - to receive a 200 euro discount code.


How does this cooperation work in practice?
Jonathan: "The municipalities control the state hospitals and they distribute government health insurance payments. By introducing analytics to improve control over-prescription and fraud, we are generally able to get a 10% saving in the first year. From there we can work on co-insuring parts of the risk on an actuarial basis, commercially. On top of that, we can look at how we can contribute to reducing end-to-end system costs. For example, programs that reduce the likelihood of diabetic incidece are hugely important. China's entire per capita medical spending today is what the US spends on diabetes alone. So, when you think of the escalation of costs, it is clear China needs these solutions."




Aging population and increasing costs of health care also apply to the West …
Jonathan: "We have developed an enterprise platform for doctor's clinics. The idea is to de-specialise as much as possible what the doctor has to do and to provide as many digital health services as possible that can complement the doctor's expertise set and what they do with the patient. It's a new perspective on the whole revenue pool and then building platforms using technology and data in an intelligent way, each of which feeds into the other and addresses this much, much bigger opportunity."

The second vector you mentioned was Turning data to value. We notice that many carriers still think that because of their actuarial background they have all the necessary competences in place.
Jonathan: "Ping An has evolved into a big data company. We now have about 25,000 engineers in our technology group and about 80,000 people in technology altogether. We have a very large AI group. We built a lot of our own tools, in deep learning, computer vision and various aspects of big data. We are a cloud provider. Because we have more than 500 million of our own users, we have scale to be competitive as a third-party cloud provider. And because we are a regulated financial institution, we offer a cloud service that regulators have already vetted, orbited and approved. Then we have several capabilities that can help us provide better data services. For example, in blockchain we built an interbank trading platform for about 400 smaller banks in China. We replaced a legacy paper-based system that used to take weeks to settle with an instantaneous hyperledger platform two years ago. Since that time that platform has traded over 2 trillion US dollars in value. It's probably the largest blockchain-based asset exchange in the world so far. And then a lot of security-based services obviously."

Can you give an example of how Ping An has turned all these new competences into new value; not just for Ping An, but also for its clients?
Jonathan: "There are many examples in Ping An, but let me share one; our credit scoring platform.
Ping An is the largest non-bank personal credit provider in China. Through our Lufax platform, we have a business that is a very sophisticated online lending platform. We noticed that the non-bank sector is not on the state credit bureau and we're one of the very few that can aggregate non-bank data with data from the regulated sector. We first built the credit scoring platform for ourselves, but then we figured out that this platform could be scaled way beyond our own client base. Now, we support over 200 banks. They include HSBC, Standard Chartered and other foreign players and have a combined database of over 700 million credit users."

Opening up new data streams …
Jonathan: "We've created a tremendously sophisticated capability that looks at over 6,000 decision variables. It could even be, if you can't substantiate your address, we can get you to authorize us to track you on your phone for the next day or two. We want to see that you actually spend five or more hours in the place that you call your home - to validate that someone lives where they say they do. So, it's a very interesting set of models that we have, sort of between triangulation, validation and actual verification. Because we shared this capability with 3rd parties, we increased accuracy in our predictions by 30% compared to when it was just addressing our own client base, which is a small fraction of the 700 million users."




Very impressive numbers. Your example sort of automatically brings us to the third vector;Redefining user experiences.
Jonathan: "We've done a lot to automate our user experience and eliminate paper entirely from the customer journey. Even our 1.4 million agents basically never touch a piece of paper. Their recruitment is digital, their training is 80% digital, the client segmentation, lead generation, CRM, is all digital and then the client experience itself is digital as well. We've created an app that basically guides the clients through their journey with Ping An across all services. So far we have 100 million registered users. It has transformed the way in which services are offered. Claims are settled pretty much instantly, on the same day, as opposed to a week + in the past."

Similar to what you do with credit scoring; are you also selling this to third parties?
Jonathan: "Yes. The OneConnect platform that I mentioned previously allows us to make these capabilities, that we've built to solve problems for our own costumers, available as enterprise services to companies that we might previously have thought of as competitors. But OneConnect also allows us to source capabilities from anywhere outside Ping An, put them on that platform and enrich the offering."

Clearly, digitization is key in your strategy. The examples you mention are really about creating entirely new business models, with significant new revenue streams. Operational excellence is a qualifier, but an important one …
Jonathan: "Let me share a concrete example of the fourth vector, Radical automation. Imagine you have an accident with your car. What you do at Ping An is take your mobile phone and scan the damage. We have an AI engine with every part of every car model in it. 70% of damage is superficial and that lets us essentially validate the claim and assess it in real time. We offer the customer, as long as we're sure of our data, real time offers. We'll say 'it's going to cost you 800 dollars hypothetically to solve this problem or fix the car'. The customer can then choose. They can either come through our claims process and to our authorized repair shop. Or they can take care of it themselves and we'll transfer the money instantly into their eWallet. 30% of the customers take the money, so that dramatically reduces the process for us and makes it more efficient for everybody."

All your examples offer a win-win: benefits for Ping An combined with benefits for the client. And they are all about thinking beyond the traditional value chain. Even working together with what many others would consider competitors.
Jonathan: "That is true. It confirms the fifth vector on which we operate; we use technology to access a wide range of capabilities through Open ecosystems. We have thousands of capabilities that sit on the OneConnect platform. We've taken the view that the raft of smaller competitors aren't really our competitors. We started by offering mobile capabilities for banks to service their customers and for SMEs. We've graduated to the blockchain, the settlement platform that I mentioned, we offer a lot of the stuff that I've described. The claims management platform, we offer it as a third party service for insurers. We take the view that this is a way of extending our addressable market as well; leveraging our capabilities way beyond our own client base which is already extensive. What's interesting is, as we start investing in and partnering with outside companies, we're able to bring together a very wide spectrum of capabilities. We're just at the point of internationalizing this. And while Ping An is largely, almost entirely, a China based company today, we think that leading with real capabilities like this is quite an interesting way to begin internationalization."

We mostly talked about concepts that are created by Ping An itself. You're also the chairman and CEO of the Ping An Global Voyager fund, the one billion dollar fund which invests in fintech and health tech opportunities. How do these tie into the Ping An business?
Jonathan: "We started the fund in 2017. The objective is to access capabilities for Ping An. We have deployed about a 200 million dollars so far. We want companies that have strong inherent growth trajectories and value trajectories, but we want companies that can be meaningful additions to Ping An's capabilities set as well. That could be technologies, it could be platforms, it could be business models. We tend to focus on minimum tickets of about 10 million dollars and that excludes much of the start-up world. To address that world, we have an accelerator, based in Shenzhen, which is a way for smaller companies to interact with Ping An, to learn about China. We actually have a small pocket of our fund that feeds indirectly into the accelerator targets and partners."

You're giving a very open and comprehensive view of the strategy of Ping An. And what is striking is that it is so consistent. Which is pretty rare for companies that are so diversified and employ more than 100,000 people.
Jonathan: "I think we have, as a company, a fundamental innovation mindset. At the start of every year our CEO sends out a self-assessment. It's basically his scorecard. The first page is creating a permanent sense of crisis in the company. It's his assessment of how well we're doing and that includes challenging everything that we do, from the bottom up, all the time. So that's part of the culture. Through governance and processes, we create a lot of bottom up initiatives. All businesses are incentivized to create new initiatives, whether they be entrepreneurial and new businesses or whether they be fundamental revisions of existing activities. We have a very simple approval process for those. We also have a lot of top-down initiatives and senior management will be involved at a very microlevel. And then we have platforms like the Voyager Fund. They are a source of new ideas, new contacts and new capabilities."




The story of Ping An is a source of inspiration for many in the industry …
Jonathan: "Yes, it's a very interesting example of a high-growth company. 29% compound growth in net income over 30 years, that means we triple every five years. It's a company that started in traditional businesses and has migrated fundamentally to being a technology company. It is thinking about opportunities that start with its own business but take it a long way further afield from that.
I think embracing technology and being a sophisticated developer of technology is fundamental to everything we do in this new data economy."


Jonathan Larsen was one of the thought leaders who shared his vision at the 2018 edition of DIA Munich. Expect a similar level of keynote speakers at DIA Amsterdam 2019. DIA Amsterdam 2019 will take place on 25-27 June.
Tickets are still available so just click here to register. Use the discount code - DIA200ISTN - to receive a 200 euro discount code.
Article originally published on Digital Insurance Agenda.