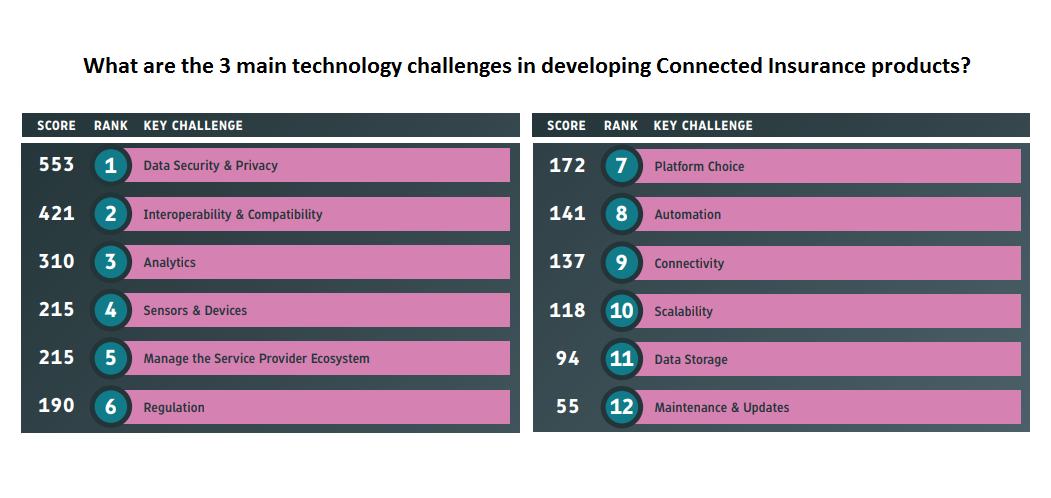 For insurance, the opportunities of connected technology are numerous, and the benefits are clear – so why don't we see successfully implemented connected insurance policies across the globe?
As part of the Connected Insurance Survey, we asked 500 executives what challenges they face in connected insurance – and the top challenges were all rooted in technology.
Which is why Insurance Nexus are releasing an exclusive Connected Insurance Tech Industry Snapshot for 2019, developed as part of the Connected Insurance Report.
Get exclusive stats and analysis now: Download the Industry Snapshot
Why social factors and regulation hinder the development and proliferation of connected insurance, despite significant technological advances
Creating a framework to assess the viability of IoT offering
The need for a "common data environment" and common international protocols if connected insurance products are to become fully viable
Why gaining the trust of a suspicious public is essential, and how effective cyber security can remedy this mistrust
The importance of effective analytics; most insurers are not equipped to handle continuous streams of data, a central component of connected, IoT-driven insurance
Get exclusive stats and analysis now: Download the Industry Snapshot
The Connected Insurance Report was researched and produced in by Insurance Nexus is collaboration with the IoT Insurance Observatory. It is the first of its kind to conceive of insurance IoT holistically, as a paradigm shift necessitating changes in insurer business models, organisational structures and technology stacks. We surveyed the experiences of 500+ insurers and reinsurers to assess where they sit in the connected insurance market and to extract the challenges they face and their stories of success.
Along with a panel of 20 industry leaders who have been operating at the sharp end of the IoT revolution, we looked at these hurdles and opportunities and pulled them apart to give you case studies with actionable insights which will help guide your decision-making as you tackle your own strategic milestones.