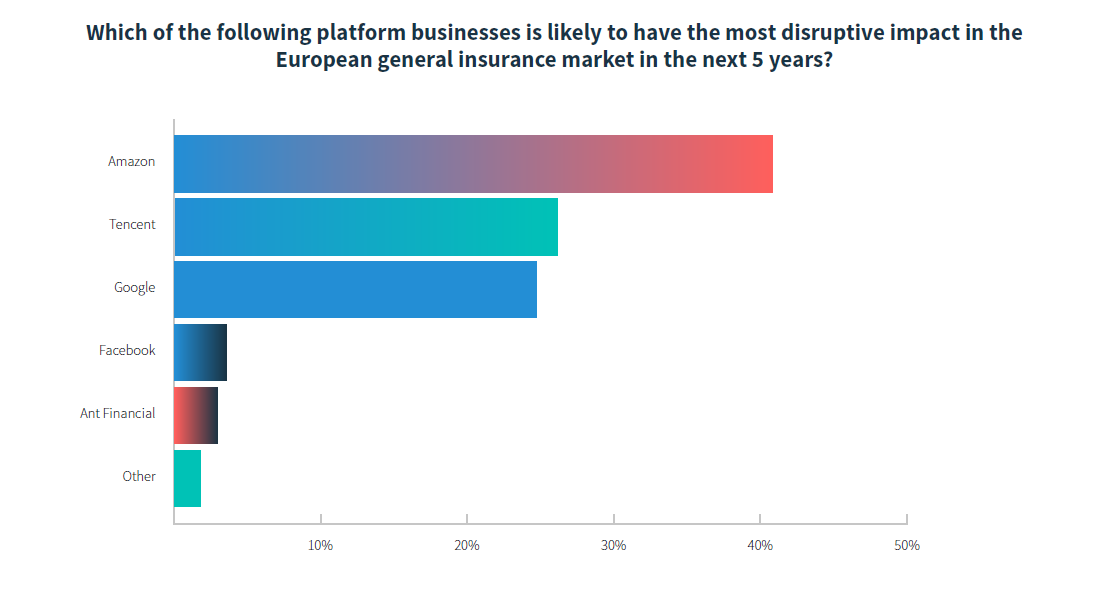 At the beginning of this week QEII Centre in London hosted the 18th edition of the Insurance Innovators Summit. More than 600 participants and over 100 speakers were present during the two days of the event where the highlight was announcing the results of The Future of General Insurance Report 2018/19. The report is based on research conducted by Insurance Innovators and the CII involving over 1000 senior figures from across the industry (insurers, aggregators and brokers).
According to the report, 65 per cent of the senior insurers, brokers and aggregators that make up our survey sample believe it will be a major platform business, such as Google, Amazon or Tencent, that will have the most disruptive impact on insurance in the next five years.

Another interesting find is that consumers, particularly digital natives, are expected to embrace any such offer: two-thirds of our respondents expect, that in as little as five years it will be mainstream for digital natives to manage all of their affairs, from financial services and utilities to telecoms and day-to-day shopping, through a single online lifestyle portal linked to their personal data stores.

The survey cohort expects the switch to an on-demand insurance model to be mainstream practice within just five-and-a-half years. By then, respondents anticipate consumers will commonly subscribe to services that turn insurance on and off in response to real-time data. Indeed, by 2025 they expect a fifth of the insurance they sell to be turned on and off as and when required, and two-fifths by 2029.
Amazon is seen as the biggest threat, with two out of five of our respondents expecting the online retailing and web services giant to have the most disruptive impact on the EU general insurance market in the next five years. In August 2018, Reuters reported that Amazon was sounding out leading insurance firms to see if they would contribute products to a UK price comparison website, a report that pushed shares in existing comparison sites lower. The survey respondents are clear that these concerns are not only justified but should be shared by players across the insurance industry. 82 per cent think that if Amazon moves into insurance it will ultimately be into the whole of the insurance value chain.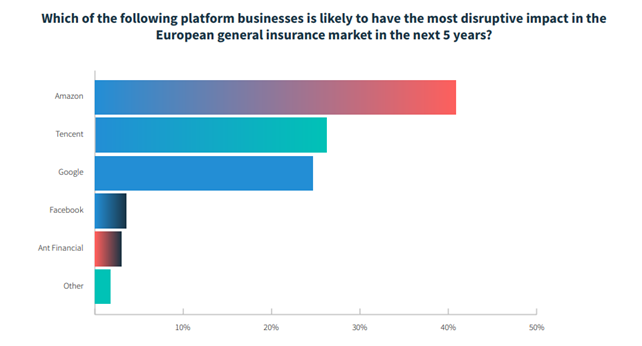 A few select incumbents like AXA-Asia are already showing an innovation mindset and are partnering with technology providers in trying to reach new customers, yet the bulk of the industry shows little urgency to follow their lead. Whilst 86 per cent of the surveyed agree that being easy to partner with from a technological perspective should now be a critical aspect of every insurer's strategy, the findings reveal that, on average, insurers only expect to make open APIs part of their distribution strategy in four and a half years' time.

During one of the sessions chaired by Andrea Silvello, founder of InsurTechNews.com and Sabine Vanderlinden, CEO at Startupbootcamp InsurTech a great line-up of speakers coming from both insurance companies and insurtechs were able to exchange ideas and give their view on the complicated relationship between incumbents and insurtechs.
"Starting a business in insurtech is like swimming up the Niagara Falls," said Sten Saar, founder of Zego. He continued "One of the biggest challenges is that in the VC funding world you are spending 10 times more than you are earning which means that every day, week, month is crucial for the success of the company." Another great point he referred to was that the work pace is very different between incumbent and start-ups so startups should do what they do best and that's reducing the execution time for any task. This combined with hiring the right people is crucial when taking head on a partnership with an established insurer.
According to Karen Stub - VP, Sales & Marketing at IBA, "A common pitfall for both insurtechs and incumbents is thinking that you can innovate more, when actually you need to produce the product and look carefully at the underwriting behind it."
"When going through the selection process, as a CVC it's important to look both at strategic and financial value and the learning that comes from working with the right start-up," said Sophie Dingreville - Investment Director at Munich Re Ventures. "In the next few months, we will be adding at least three new investments to our existing portfolio of participations that are mostly in the insurance ecosystem including insurtech, industrial IoT, future of mobility, cyber security and data analytics."
In looking at his company's own experience, Michael Muzio - Chief Executive Officer at now4cover, shared a sensible insight which many insurtech start-ups act upon. "Insurance just doesn't excite people even if there's tech in it. But of you give them something different enough to stick around the effects might be surprising." He goes on adding that "Simple things suffice and it might be something like not giving people policy numbers and using their emails instead to identify them, that's one thing we do at now4cover."
Vincent Branch - Chief Executive Officer at AXA-XL Accelerate, briefly explained that AXA XL's experience in working with external partners "is aimed at getting in a new mindset and bring in new skills and capabilities that help create a broader and flexible ecosystem".
"Insurers and reinsurers are increasingly going after strategic investments in start-ups having invested, according to CB Insights, over $21B in private tech deals. This year as well InsurTech seems to be following the upward FinTech trend so the most probable outcome is that insurtech challengers will become partners of incumbents on the long run as it has happened in fintech," said Andrea Silvello - founder of InsurTechNews.com.
The general feeling of the event was that the insurance industry is getting ready for a period of consistent change. Even if insurtechs are mainly responsible for all of the attention that insurtech has been receiving in the last couple of years, more and more incumbents will be looking at medium and long term shifts in the way they build insurance products and how they sell them to customers. It's ultimately a matter of agility, resources, innovation and resourcefulness combined that will shape the insurance industry's winners of the next 5 to 10 years.