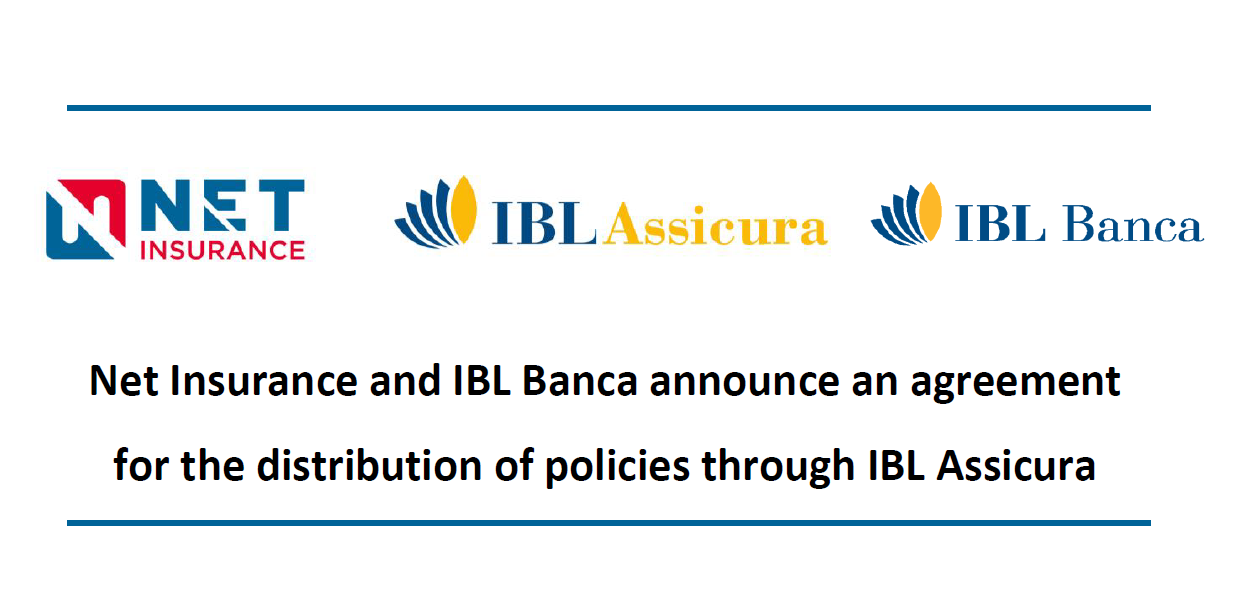 Rome, June 13 - Net Insurance, a company specializing in Protection and in digital insurance products, and IBL Banca, leader in financing through salary-backed or pension-backed loans, strengthen their cooperation though a Protection insurance policies distribution agreement by IBL Assicura, a subsidiary of IBL Banca.
Net Insurance products, in particular personal and home insurance policies, will be distributed by IBL Assicura through its 53 Bank branches nationwide, and through the exclusive agents' and insurance brokers' indirect network.
"The agreement with Gruppo IBL Banca - already one of Net Insurance historic partners in the salary-backed or pension-backed loans sector and one of the major shareholders first of Archimede and now of Net Insurance - is the third major milestone in our network development and business bancassurance process" - stated Andrea Battista, CEO of Net Insurance. "We are excited and I am convinced that over time this operation will give us great satisfaction, also in terms of value creation for shareholders" concluded Mr. Battista.
"The agreement with Net Insurance is an important piece of our strategy intended to improve the distribution activities of our subsidiary IBL Assicura, already fully operational within IBL Banca branches. In such a way, the range of products with solutions specifically dedicated to households is thus broader, relying on a specialized partner and on an innovative approach, " stated Mario Giordano, CEO of IBL Banca.
Net Insurance is an insurance company that provides protection solutions for individual, households and small and medium enterprises. Thanks to its history, financial strength, agility and offer of innovative products and approaches, after merging with the Spac Archimede in 2018, Net Insurance has become a key reference player in the Italian insurance market.
The product range provided by the Company is dedicated to the development of salary-backed or pension-backed loans insurance policies, also dedicated to the Protection business - through non-life bancassurance and retail brokers – and the Insurtech business, thanks to agreements with leading technology partners. A constantly evolving future-oriented company.
IBL Banca is the parent company of an Italian leading banking group specialising in financing through salary-backed or pension-backed loans, with a 15% market share.
Gruppo IBL Banca is a nationwide group present with a direct distribution network consisting of 53 territorial units and a partners' network including bank networks, credit brokers, financial intermediaries and agents.
The Institute was established in 1927 under the name of "Istituto di Credito agli Impiegati" (Credit Institution for Employees); it was turned into a bank in 2004 and into a banking group in 2008 and it is now able to internally and directly cover the whole nationwide salary-backed employee or pension-backed loans value chain.
The customer portfolio of Gruppo IBL Banca is primarily focused on customers in the public sector, civil servants and pensioners. The Group has over time expanded its product range with deposits, deposit accounts, insurance products and other financial products, also through the development of partnerships with leading third-party operators.