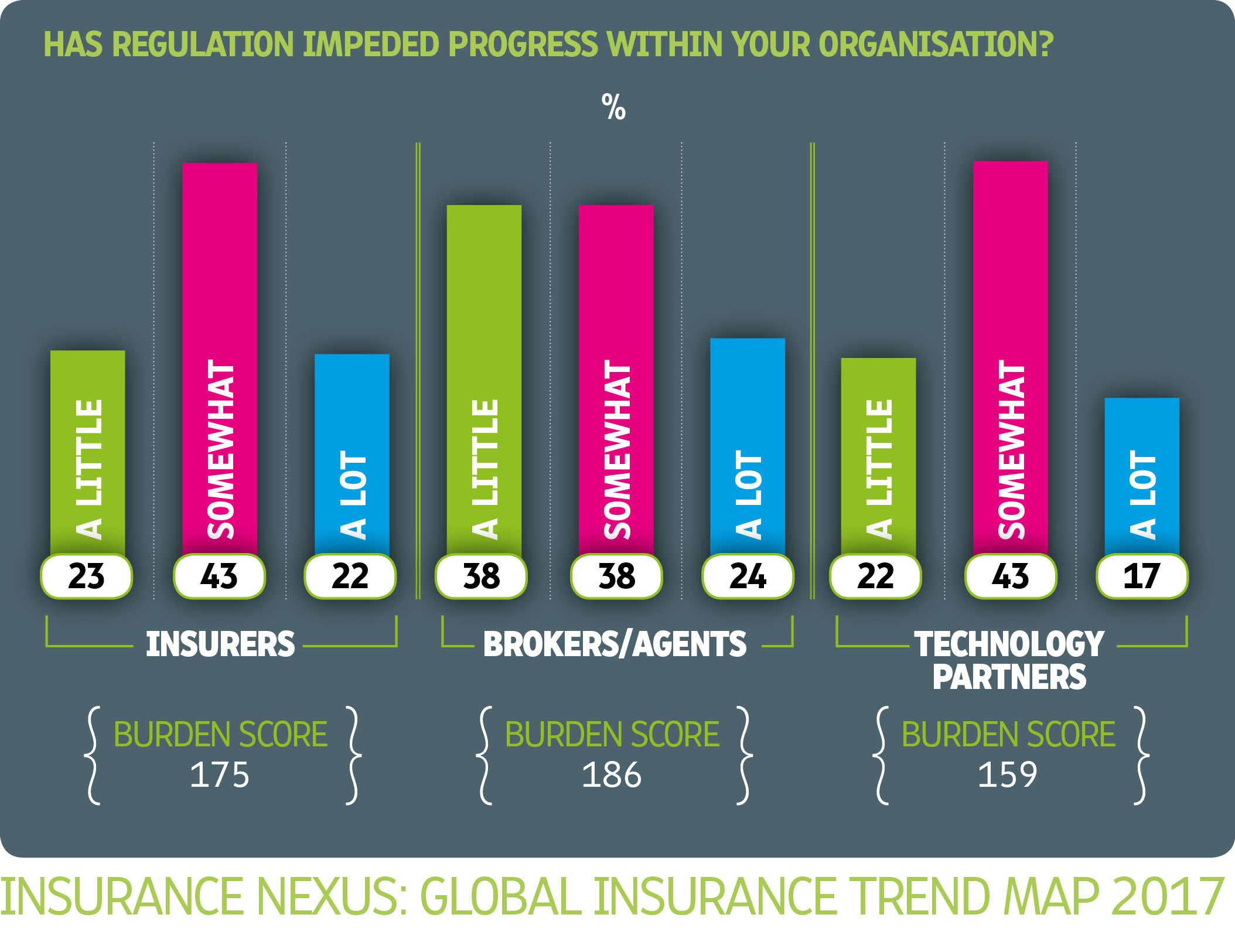 Following on from last week's post on Cybersecurity and Investment Management, in this post we first tackle that omnipresent question for carriers old and new: regulation, to then move on to product development which is the bread & butter of the insurance industry.
Regulation
Regulation affects absolutely every part of the insurance business, from how customer data is held and used to how insurers reinsure themselves and invest the premiums they gather ...
The time and money cost of complying with regulation is often significant, with recent estimates suggesting that 10-15% of the total workforce in financial organisations is currently dedicated to governance, risk management and regulatory compliance.* The opportunity for greater efficiency here is so large that a whole new tech-powered industry – Regtech – has sprung up around it. And, with demand for regulatory, compliance and governance software expected to reach a massive 120 billion USD by 2020,* this is a space to watch.
Demand for regulatory, compliance and governance software is expected to reach 120 billion USD by 2020
The following stats and perspectives are taken from our Global Trend Map; a full breakdown of our survey respondents, and details of our methodology, are included as part of the full report, which you can download for free at any time.
*sources given in full version of report
Assessing the Impact of Regulation
Regulation is a serious issue not just for (re)insurers but for the insurance ecosystem more generally. Out of all our survey respondents (unfiltered), 20% indicated that it had impeded progress 'a lot'. As we see from our our burden chart below, the impact is evenly spread across different ecosystem players.
Here, 24% of Brokers & Agents state that regulation has impeded progress 'a lot' within their organisation, along with 17% of Technology Partners and 22% of Insurers. The trend is the same when we use a weighted score (1 point for 'a little', 2 points for 'somewhat' and 3 points for 'a lot'), giving us an overall 'burden score' of:
186 for Brokers/Agents
159 for Technology Partners
175 for Insurers
While regulation is a concern for insurance companies across the whole globe, it manifests itself differently in different regions. Our stats suggest that regulatory burden is above trend in Europe and below trend in Asia-Pacific (in terms of respondents answering that regulation is impeding progress 'a lot'). Regulatory compliance certainly remains a daily issue in APAC but may, for structural reasons, be easier to deal with there on a 'big picture' level.
In Asia-Pacific, industry participants have the advantage of dealing, in the main, with large national markets (bigger than any US state, for instance) but without the complexities of an overarching regional regulator (like we find in Europe with the EU and Solvency II). That said, carriers wishing to be active across the region still have a multitude of different regimes to comply with.
Additionally, we asked survey respondents to indicate, via an open-text response, which regulations were currently the greatest cause for concern. There were too many responses to list everything but some that stood out were Solvency II and the Insurance Distribution Directive (IDD) from respondents in Europe, and the DOL Fiduciary Rule from respondents in North America.
"Currently the focus is on protecting personally identifiable information, personal health information and personal credit information. Regulations in the future may evolve, requiring companies to ensure that they are using information in a fair and just fashion. For example, much can be inferred from the data from an individual's smartphone but it may not be fair and just to act on those inferences."

Cindy Forbes, EVP & Chief Analytics Officer, Manulife Financial
Regulatory Burden: A Growing Challenge
There is a marked trend towards rising regulatory burden, and we found this to be consistent across our different ecosystem players and regions.
89% of insurers and reinsurers believed regulation was posing a greater challenge to their organisations than during the previous 12 months…
'Increased regulation' was one of the external challenges we explored in our Industry Challenges section, coming in 6th place out of 12 (based on all respondents). Drilling down into different carrier departments reveals that its impact is not evenly distributed across the business: 'Increased regulation' was among the top 3 external challenges for carrier staff working in Actuarial, Analytics, Capital Management (where it took the top slot), Investment, Risk, Senior Leadership, Strategy and Treasury.
The overall balance of these departments suggests the greatest burden from increased regulation within (re)insurers is falling on the investment and risk-modelling side of the business. Europe has certainly been a case in point over the past couple of years, with Solvency II subjecting carriers to more rigorous capital requirements.
Regulation's growing prominence in the eyes of high-echelon staff (Senior Leadership) indicates just how seriously it is viewed within the ecosystem. This, along with the other measures we have presented in this section, creates a perfect storm for the rise of Regtech over the coming months and years.
Product Development
The question is not whether to build products but rather which products will best serve the needs of today's increasingly demanding insurance customers.
What has become clear across this content series is that product development can no longer occur in silos, with one function creating products for another function to sell. Insurers are determined to make every moving part of their business serve the customer, and what this means in concrete terms is that every division of the business has a contribution to make towards the creation of customer-centric products.
The line between product developers and product salespeople, as in so many industries, is therefore becoming blurry. In this sense, Product Development is the central node into which feed all our other 'Key Themes'. And all the indicators suggest that insurers are only just beginning to tap the opportunities for technology-driven product creation.
"The biggest problem these days is, although everybody is talking about Digitisation and Disruption and are modernising their core systems with huge investments in order to support these new trends, the underlying products are not yet 'digital ready' – even new ones."

Oliver Lauer, former Head of Architecture / Head of IT Innovation at Zurich
In this installment, we start by looking at where innovation is occurring (by insurance line and insurance department) before considering some of the broad trends in product development – from bundling and upselling to diversification and Usage-Based Insurance (UBI).
So first up: which departments is product innovation currently coming from? ...
The three highest-scoring departments were Underwriting (with 70% of respondents naming it), Pricing (55%) and Marketing (54%). Other areas that warrant mention were Actuarial (51%) and Distribution (36%). We noted in our earlier post on Marketing & Customer-Centricity that the roots of today's consumer-led disruption are in the rise and ease-of-use of new distribution channels – so insurers that leave Distribution outside of their product discussions do so at their peril!
Which insurance lines are driving the greatest degree of product innovation?
In addition to seeing product as department-driven, we also investigated the extent to which it is line-driven. The chart below shows Auto (voted by 56% of respondents), Home (45%) and Health (41%) to be the three lines experiencing the most product innovation (according to carriers taking our survey). This is corroborated anecdotally by the sheer number of in-market IoT products we see across these fields, from in-car telematics through to smart-home controllers and connected-health armbands.
Life and Commercial are relative laggards in this regard, although we do believe there is ample opportunity in both these areas. This may follow the same pattern we identified with IoT (itself an abundant source of product innovation), where we saw platform implementation in Commercial currently trailing but quickly drawing level with other lines (see our earlier post on IoT). Regional trends for this question warrant some high-level comment:
Health is a substantial driver of product development for carriers in Asia-Pacific and Europe. In North America, however, it appears relatively insignificant
Life appears tagged to Health in terms of how it trends regionally and is consistently the least innovative of the lines
P&C/General, Commercial and Home insurance are relatively consistent across our different geographies
Auto is ahead among carriers in Europe and Asia-Pacific compared to North America
The relative prominence of the different lines, as well as the broad regional tendencies outlined above, remain the same when we widen our scope beyond carriers to consider the industry as a whole.
"The biggest risk the insurance industry faces when it comes to innovation is not taking enough risk. True innovation requires experimentation, which most of the time results in failure. Insurance organisations are built to eliminate failure from their culture. Without failure, you can have no innovation. CEOs demand a positive Return on Investment (ROI), they now need to seek out and understand what it means to have a positive Return on Risk (ROR)."

Steve Anderson, President at The Anderson Network
Key trends in the development of new products
It's clear from this section so far that product development is a strategic priority for a diverse spread of departments and lines. But how are insurers actually going about product development on the ground? Let us now present our trends on a number of product approaches that we identified among our carrier respondents: product diversification, Usage-Based Insurance (UBI) and product bundling/upselling.
"You don't really have to invent new products in my eyes, you just have to make the existing ones easier and more 'digital native'. Today's products have been and are still created for non-digitals. And this situation not only makes new customer-facing digital processes complicated, it also makes core replacements and automation more complicated and expensive than necessary."

Oliver Lauer, former Head of Architecture / Head of IT Innovation at Zurich
i) Product Diversification
The pace of change in the insurance sector is picking up, and many ecosystem players are quickening their iterations both on new and existing products in a bid to stay relevant.
76% of (re)insurers are pursuing product diversification as part of their organisations' growth strategies…
This move towards diversification is not limited to any one kind of insurance market but is driving insurance growth all around the world.
It is naturally very important for insurers looking to break into totally new markets, as is the case in many developing economies, where traditional insurance products may be inappropriate for lower-income demographics (microinsurance being a case in point).
In mature markets, growth will come primarily from addressing existing demographics with more tailored products to fill in under-penetrated lines and segments; there is also the perennial threat that existing customers, tired of products that are suboptimal, will churn to competitors and new entrants who can offer better-suited ones. Whatever the market conditions, by trialling multiple products, insurers can both broaden their appeal and arrive at optimal products more quickly.
ii) Usage-Based Insurance (UBI)
The emerging generation of insurance products differ from those that have gone before in several key ways. One is the on-demand or usage-based component of new products – so that, rather than having idle and inflexible policies that subject the policyholder to the Tyranny of Averages, consumers can enjoy insurance-as-a-service.
32% of insurer respondents have a Usage-Based Insurance (UBI) strategy…
This trend towards Usage-Based Insurance (UBI) is a global one, and there was no significant regional variation across our three key regions. More information about UBI models can be found in our earlier Internet of Things section and in our section on Europe in the upcoming Regional Profiles.
"Most of the innovation in product development will happen where smart connected devices drive new business models based on behavioural data. I particularly expect improvements in pricing. UBI is a bigger game changer than covering events that are not insured today. In any case, there will be a huge need to understand, measure and manage rational and irrational behaviour."

Andreas Staub, Managing Partner at FehrAdvice
iii) Product Bundling and Upselling
A key trend we have witnessed in other B2C industries, like Amazon and Netflix, is the rise of the recommendation engine. This is not just a core component of the customer experience but also an important enabler of new business, insofar as it lets companies push new products to customers that they are actually likely to want and to find useful. We also see this in insurance, in the form of data-driven product bundling and upselling.
47% of insurers have a strategy to bundle and upsell products based on customer lifestyle analytics…
Insurance has always had relatively few customer touchpoints, and even though insurers are now seeking to increase that number, insurance remains a product that is sold rather than bought. Taking full advantage of every selling interaction they have is therefore the surest way for insurers to increase their customers' lifetime value.
Bundling and upselling products is – like diversification – a strategy with strong applications regardless of what sort of insurance market you are operating in. Whether your focus is to chase new customers or to retain existing business, it is better to reap maximum reward on each customer from the outset than to re-engage them (perhaps unsuccessfully) later on.
"The cost of customer acquisition is a critical metric for marketing efforts. Lifetime customer value also helps us know how much we should be spending to acquire as well as how we should expand our share of wallet within the products we offer."

Michael Shostak, SVP and Chief Marketing Officer at Economical Insurance
There are obviously many aspects of product development beyond diversification, UBI and bundling/upselling which we were not able to investigate directly. For this reason, we asked our carrier respondents to indicate additional product-development talking points in open text. Two key points that emerged across their comments were:
The need to increase the service element of products, to keep up with evolving consumer needs and to drive customer retention
The problem of constrained development resources, especially in expert personnel and IT
Now that we have worked our way through all our Key Themes, it's time to move on to our seven Regional Profiles, exploring on a geographical basis the stats and perspectives presented in the series so far. If you'd like to access all our Regional Profiles straightaway, then please feel free to skip ahead and download the full Trend Map here for free.