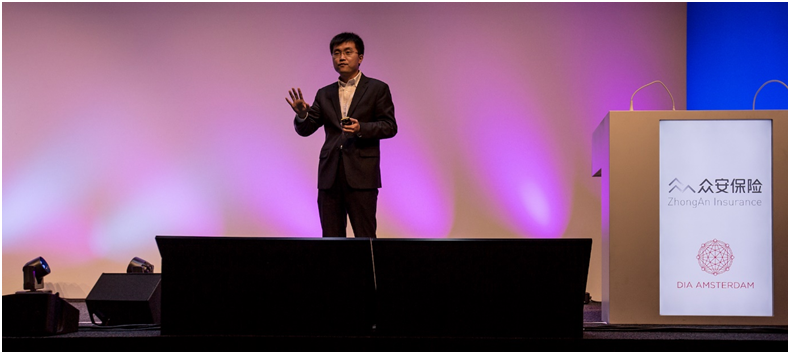 Deep customer insights and thinking ecosystems
We were delighted that Bill Song, the Director of International Business of ZhongAn Insurance and COO of ZhongAn Technologies International Group, accepted our invitation for the closing key note address at the last DIA edition in Amsterdam. The vision behind the first ever Insurtech unicorn is an example for many; deep customer insights and thinking ecosystems to acquire these insights and to deliver at an exceptional level are the keys to success.
Bill, can you share a bit about the background of ZhongAn?
Bill: "We see ourselves as a tech company. Actually we are the first online insurance company in China. If you compare us to a lot of European and American companies, we are still a baby. We only have 4.5 years of history. We were established in 2013 by three of China's largest companies; Ant Financial of Alibaba, social media group Tencent and financial services group Ping An. Last year we had an IPO."
The first IPO of its kind for an internet-only insurer. You raised no less than 1.5 bn USD, at a valuation of 10 bn USD, just four years after the launch - the first insurtech unicorn globally.
Bill: "Yes, quite an amazing score. If you look at our policy number, we should be the number one in the whole world. In the last three years we sold more than 10 billion policies. That sounds like a scary number, but we have such a big population in China. We have more than 400 million customers in our database, which gives us a huge advantage to understand customers from different angles."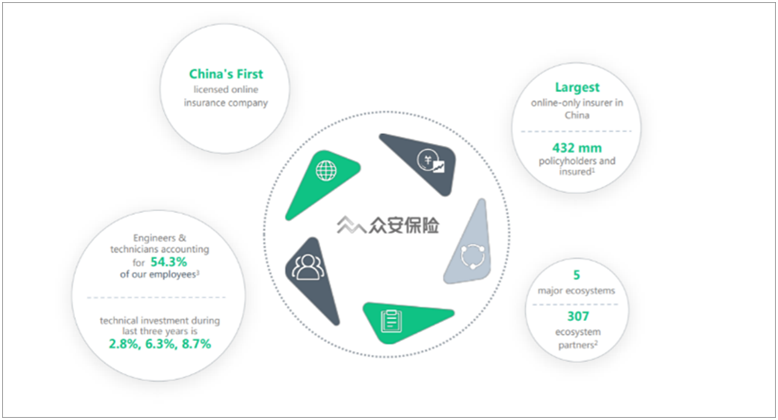 What is the secret behind the success of ZhongAn?
Bill: "We already have more than 3,000 employees at this moment, and more than 50% of them are in IT or engineers. We develop everything by ourselves. When we started we tried to work with the traditional system providers. After two weeks we decided to develop everything ourselves, because the systems crashed every day. Just to give you an idea, last Single's Day we sold over 200 million policies in one day. So we need to have very good technology. If you want to do business in China you need to be able to respond fast and handle big volumes from day one. Fortunately or unfortunately, this is because we are connected with almost all the largest internet players in China. We are currently connected with more than 300 different partners. I think this is quite aligned with DIA's well-chosen theme of partners and ecosystems."
Single's Day is a holiday popular among the young Chinese to celebrate their pride in being single. The date, November 11th, was chosen because the number "1" resembles an individual. The holiday has become a popular shopping date, with sales exceeding 25 bn USD in spending on a single day, November 11, 2017.
You mention the importance of ecosystems in ZhongAn's success. Can you elaborate?
Bill: "Now, after four years, we already have five major ecosystems, connecting us with more than 300 different players. Like Alibaba and Tencent - but we are also connected to almost all of the airline companies and all of the biggest housing providers in China. We started with 'shipping return products'. This has given us a solid foundation. We sell a lot of policies, and by using those policies and moreover its data, it helps us to understand our customers much better. Within the first two years, we entered the travel and accident market and also the online health market. We definitely became number one in China's online health insurance market. Within three months we sold more than 300,000 online health insurance policies. Now, after two years we already have more than 10 million health policy clients."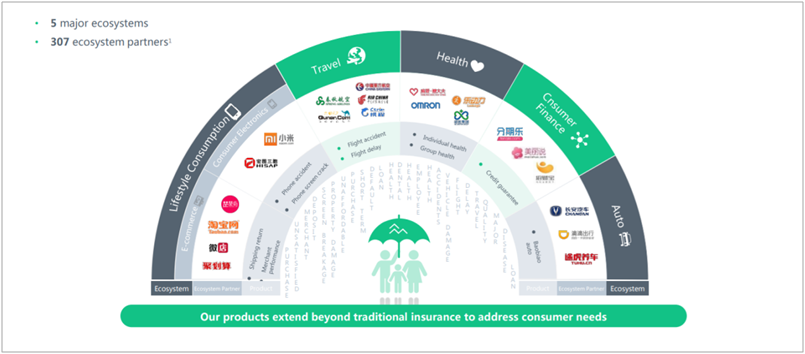 So the key success factor is connecting the nodes in the ecosystem, creating network effects?
Bill: "We have a lot of interesting technology, which is made possible because of our great system and infrastructure. We can't say we are smart, because we started late. We just have a good chance to succeed using the best existing technology. We have already tried many different ways to operate and a lot of different concepts, which learned us that we can do many things. Right now, car insurance for sure is one of the biggest things, but I would say consumer financing is also an interesting segment to consider. Just think that since we already have 40% of the Chinese population in our database, we are able to really understand them and provide them with tailormade solutions and risk assessments. This deep knowledge is now for instance applied in banking. Banks want to offer an online loan and they want to provide an online instant answer. But they simply can't do this. So they ask for our help. ZhongAn provides a data service to more than 400 different companies, including a lot of banks. We understand customers much better than they do, and consequently we are of great value to them."
Huge amounts of data intelligently turned into insights that can be leveraged by other partners in the ecosystems …
Bill: "Yes, but also for ZhongAn itself of course. Let me share our understanding of technology. Starting from day one around 80% of our people came from Baidu, Alibaba and Tencent. Only 15% of people came from the insurance area. There was a lot of debate in the early days, but we all agreed that insurance is just too far away from the customer. In the digital world, there are thousands of digital companies who understand the customer so much better than traditional insurance companies do. Insurers still rely on traditional data, but this is definitely not enough. Insurance is a data game. In the future, IoT, everything within telematics and even wearables generate huge piles of data. The question is if you use this data to really generate tailormade solutions for your new customers. The second time your customer buys the same policy, maybe you could consider different scenarios for pricing. To understand and use your customer's latest data for recent purchases; that would be the preferred direction."
So the data allows ZhongAn to create more relevant offers, increase loyalty and maximise lifetime value …
Bill: "Our mindset is slightly different to the traditional insurance company. We found that general insurance in particular is one of the best products to connect to many things. In our opinion, insurance is a real connector. When we tried to couple customers with online companies like Alibaba, we found we can tailor the insurance for these companies and make their business better. For example, when we launched our shipping return products for Alibaba, it contributed to the 30% increase of their traffic. When we discovered that insurance could be a good connector, we decided to develop our open platform, which is API based. But I still remember that year when Jack Ma came to our offices and said after he saw all our products and solutions that we did a great job and should share all our systems with our competitors. At first we didn't agree, since our systems are our core asset and competency. But today we really understand Jack's vision. He strongly believes insurance should be more digitalized, more open. That's why we already sold our recall system to more than seven companies, including our competitors in China."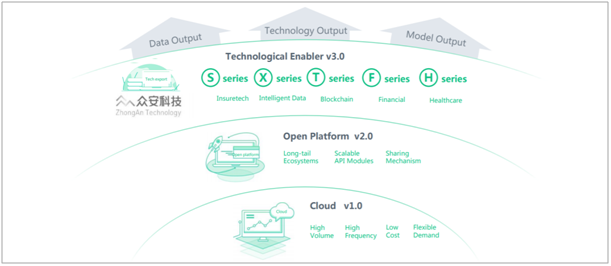 Selling your systems to competitors is a bold move. What kinds of technologies did you develop - and sell - since then?
Bill: "We established ZhongAn Technologies in 2016, which is a 100% subsidiary of ZhongAn. We already developed a lot of products. In many areas people are still just talking what could be a possible business model for technologies such as blockchain and AI. But actually, we are already doing it for years. We have different series, different system solutions for among others traditional insurance companies. The X-series contains AI and AI based data services. We are one of the biggest data service providers in China. Blockchain is a T-series solution. F-series is for shadow banking and for a lot of online financial solutions. Those are just a couple examples; we have many more solutions. We also have H-series for healthcare industry. We are so happy we can contribute to more people enjoying digital insurance. That should be a trend in our opinion."
Your ambition is that more people are able to enjoy digital solutions. How do you envision the digitalization of the insurance industry?
Bill: "We went on a digitalization journey ourselves too. We figured that we had to digitalize the channel. So we've helped different kinds of channels to really go digital. Along the way, we've developed and improved our technology. We could do this because we have about 2 000 IT professionals on board, as a part of our total 3,000 staff. Technology really changed our understanding. As I mentioned before, there is a great distance between insurance and the people. We have to be closer to the customer. We have to admit we cannot compete with those internet giants like Google. They understand the customer much better than is possible for us. They dominate the traffic. They will just let the insurance company bear the risk, if we don't change. We can try to digitalize ourselves and set up new kinds of relationships through ecosystems. Enable our partners, enable many people doing their original job, their own job, better. That's our answer."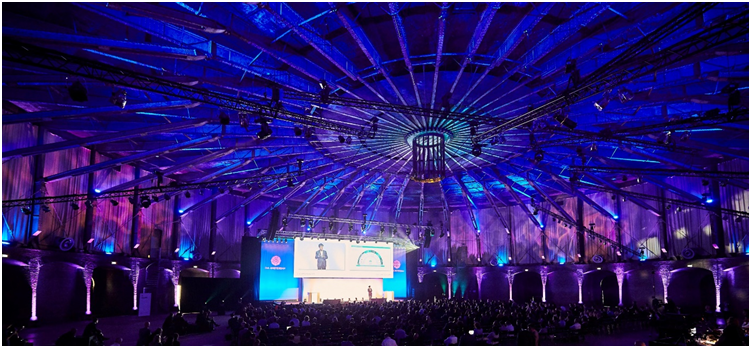 With all these internet giants present, how do you plan to stay ahead?
Bill: "We already have our own methodology to really improve the insurance business. It's not just products, it's also services. Insurance is too far away for customers, but you can overcome that when you connect with them with a lot of services. It is about changing insurance to a more customer service company. After we launch a new package, we monitor our products, change it and launch the improved version. To provide an example: we currently issue 2 million policies per day for due diligence. Fortunately, we get quite good feedback on this short-term policy. And we use that feedback to upgrade our product. This mechanism needs a different mindset, not only in your system but also in your organization structure. Your mindset, especially your senior's mindset. We know that many people want to change, but legacy and mindset are the two most difficult things to change."
What is the next step for ZhongAn as an insurer and insurtech company?
Bill: "ZhongAn has an international strategy, but we must be very humble here. The more we have learnt about foreign markets, the more nervous we became. This is because we honestly don't understand anything outside of China. We have to rely on our partners. Based on this, we made the decision that ZhongAn won't issue insurance licences out of China. That's when we changed internally, from insurance company to insurtech company. We don't know how to handle regulation. I don't even know what the abbreviation GDPR means. So we think we should be very humble, we need to give this to our partners. This year our main focus is on Asia, which is closer. Europe is too far away. We will start in Japan and south-east Asia, try to get more ideas and then we are willing to expand to Europe. Maybe later we will go to the US. We are an open structure, an open architecture."
Do you have any final thoughts on the event and the future of ZhongAn?
Bill: "I was so excited for these two days of DIA Amsterdam. I saw a lot of wonderful companies, terrific ideas and a lot of synergies. If it is possible we definitely want to invest in insurtech, as an insurance company. At this point in time we have the opportunity to invest to help a lot of companies that could play a role in our ecosystem. At the same time, we are also willing to cooperate with insurance companies, try to give more of what we have and share. We don't want to do everything by ourselves. That would be our vision for the world. We share the best of things together and do many things together. Let's build up an insurtech ecosystem platform together, with insurance companies, service providers, platforms and insurtechs."
This article was originally published on Digital Insurance Agenda