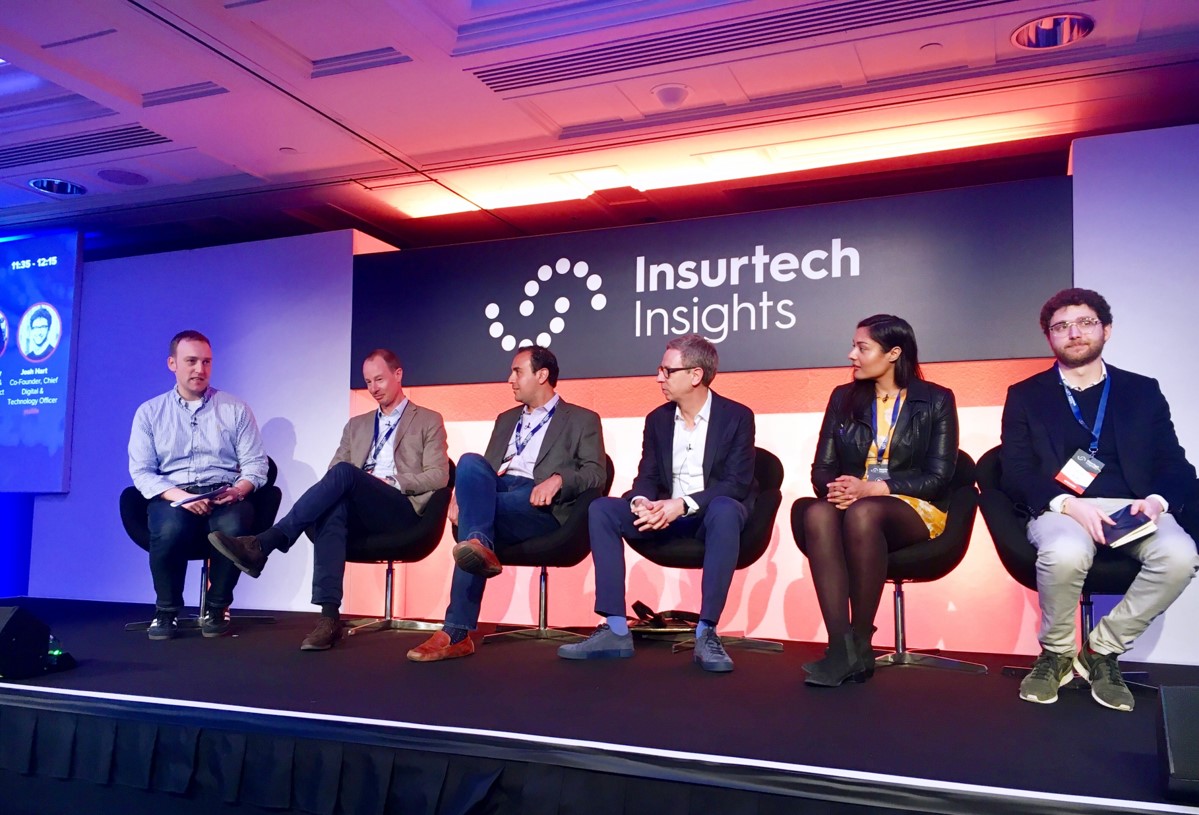 Insights from more than 200 insurance thought leaders at one event held last week in London
Over 2000 attendees were present last week in London at Insurtech Insights, one of Europe's most important insurtech conferences held between 19 and 20 March. Much talk around customer experience and customer loyalty while AI, blockchain and cybersecurity also took up part of the conversation, not to mention the ever-morphing incumbent – start-up partnerships.
What do millennials care about?
Collaboration between start-ups and incumbents was a central point of several panels and among them the one moderate by Robin Kiera, Founder of Digitalscouting.de, especially stood out. One of the main issues, said Josh Hart, Co-founder of Yu Life, is that "as a society we don't care anymore about what our real needs are but more about 'how we feel about certain issues' or 'what feels good'". It might well be that to address a younger audience the conversation needs to shift towards what customers love: Netflix, Audible, Headspace and so on. The point made is that insurers should make sure to look after customers' needs but at the same time give them what they want and enjoy.
The debate around what do millennials care about in relation to insurance brought about some questions like 'Do they want peace of mind?', 'Will they go for the cheapest option?' or even "Do they care about protection?". A good observation made by Jon Cooper, Co-founder at life.io is that they will start purchasing life insurance at a certain moment in life, for example when kids come into the picture.
Historically, the 2008 financial crisis proved that big institutions which seemed solid were not infallible. This, in the eyes of the customers have perhaps created good momentum for emerging brands and start-ups and the results are started to be seen today as companies such as Lemonade and Metromile are gathering a customer base.
True behavior change – is it possible?
Vivek Garipalli, Co-founder & CEO at Clover Health gave some great examples of how tech based on data collection and analysis can help solve certain issues and identify patterns that would be otherwise impossible to detect by doctors alone. This makes AI essential in preventing and in managing the treatment of certain medical conditions like renal failure or type 2 diabetes.
The topic of behavior change continues to be on the lips of many but is it effective? According to Vivek Garipalli real behavior change at scale is very difficult to obtain through incentives, games and rewards alone and that the really effective approach lies in providing customized therapy and medication.
Also on behavior change but related to the motor insurance industry, a panel moderated by Andrea Silvello, Founder of Insurtechnews.com and Co-founder of Neosurance.
Is #ubi #telematics a pricing or customer care play? Great panel moderated by @SilvelloAndrea with the participation of Marijan Mumdziev of @Amodo_IoT, Aldo Monteforte of @TheFloowltd and Armaghan Ahmed of @AdmiralGroup | @ITI_Insurtech #insurtech pic.twitter.com/rQUXV9IhTT

— Insurtechnews (@insurtechnews) March 19, 2019
Aldo Monteforte, CEO & Founder of The Floow, believes that conditioning or changing driving behavior is possible through the use of psychology and neuroscience combined with AI and with the right tools, while Marijan Mumdziev, CEO of Amodo, said that gamification can contribute to behavior change but there is a certain difficulty in gamifying traditional insurance products because of how they are built (annual coverage, low interaction with insurer), so we need to couple gamification mechanics with a proper engaging product.
"True usage-based pricing currently represent just a small segment of telematics policies written globally so it will be really interesting to watch the development of UBI in the next 5 years and this will be possibile thanks to start-ups like Metromile. Will UBI become an important part of the portfolio or will it remain a product for niche groups of drivers? Perhaps with the right adjustments it could become a more popular way of providing auto insurance", said Andrea Silvello.
How will telematics evolve?
Telematics usage has spread in a heterogeneous way in different countries. For example, in the UK telematics is almost exclusively used with young drivers (between 18-25), whereas in the US it's much more spread across different demographics. Essentially, insurers approach the telematics space with similar objectives, that is to better understand and price risk, but most often they use different solutions for to reach that scope. According to Marijan Mumdziev, "there is no significant pattern in terms of how the insurance company puts this technology (telematics) on the market. One insurer in Brazil focuses only on risk prevention; for AIG in Singapore it's only about the product, they want to differentiate through the product and tap into new market segments that they could not reach before." The idea is that technology will always have to be adapted to local markets and a company's specific strategic goal.
Because of the difficulty faced by insurers in buying excessively priced customer data from OEMs (original equipment manufacturers), an opportunity is being created for the ascent of smartphone technology which is evolving at an amazing rate, e.g. the airbag detection technology for smartphones. "The quality of embedded chipsets and portable electronics, combined with data science will lead to a lot of interesting applications. I don't expect there will be a linear transition where data will be coming from cars," Aldo Monteforte added.
Beyond gamification, incentives or rewards, telematics should start focusing on innovation in the way ownership models are addressed. There might well be a fundamental transformation happening in the ownership model of vehicles as less and less people will want to own cars and here insurers have a wonderful opportunity to take advantage of.
The start-ups
Among the many start-ups present at InsurTech Insights, Hero Labs showcased their SONIC water leak prevention and detection IoT-based system. Given the great environmental impact of water loss (3,1 billion l of water are lost every day in the UK) it's in the interest of all to try and reduce water waste and damage related to it, so we'll keep an eye on this start-up. Competition is high in the home sensors/IoT sector and partnering up with insurers means they will need to convince them that they are better than other start-ups operating in the same space.
CredoLab, a fintech credit risk start-up that traces the digital footprint of clients showcased their product with the objective of understanding possible applications of their solution in the insurance industry. "We can bring knowledge from the way credit card issuers are mitigating fraud, how they are acquiring customers at a lower cost" said Michele Tucci, Chief Product Officer at CredoLab. "We have had great conversations with people keen to use the power of AI at every stage, from lead generation to underwriting, maintaining persistence to lowering lapsation rates. We also raised a lot of eyebrows when we showed them how CredoLab mitigates any data security and GDPR concerns. Insurtech Insights has been a great platform for us to share our vision of what the future of Insurtech hold and see it being resonated positively with all the key stakeholders of the industry." - Michele Tucci.
Neosurance, an AI-based insurtech start-up based in Italy is moving against the traditional 'on-demand' approach adopted by most start-ups nowadays. "Neosurance can effectively combine product innovation with process innovation to propose the right coverage to the right customer with the right message while at the same time reducing antiselection and fraud risk because of our push-based approach." said Pietro Menghi, CEO of Neosurance.
Innovation: What are real barriers to integration and implementation?
One advice coming from Tom van den Brulle, Global Head of Innovation at Munich Re, is that focusing on selected domains is preferable. Understanding what the company wants to excel in and defining it will help waste less time when choosing what to invest in and what partnerships to select.
While incumbents are still in a comfortable position because they can afford the luxury of sitting back and observing those start-ups which in the next couple of years will prove to be particularly successful, with the option of acquiring them, this doesn't mean that in the mean time they should stand still and not innovate at all.
As Ali Parsa, CEO & Founder of Babylon, accurately noted "The most valuable companies of today were set up by young people looking at the future rather than people trying to manage their businesses on a day to day basis with no vision of the future."
Coming from German insurtech IPO's Stefan Knoll, CEO of DFV Deutsche Familienversicherung AG, a challenge to all incumbents. He says that "many board members are not brave enough to change anything as it's very risky to change business models just because you have a vision. What happens if it doesn't work? In DFV we were able to abolish the signature on contracts because I'm a lawyer and at the same time the highest ranking in the company, the CEO. For me it's a question of leadership."
Live from @ITI_Insurtech is Stefan Knoll, CEO @DFV_AG, talking about the reasons why he founded an #insurance company and about the importance of offering simple and easy to understand insurance products #insurtech @LutzKiesewetter @MCins_ @stratorob @SpirosMargaris @nigelwalsh pic.twitter.com/Jo2vd4t11v

— Insurtechnews (@insurtechnews) March 20, 2019
Monika Schultze, Global Head of Customer Experience & Digital Strategy at Zurich Insurance, on their experience with insurtech CoverWallet, "They don't leave us alone and continuously challenge us which helps shake up the 'old ways'. On our own it would have taken at least 2 years to implement a similar solution but with Coverwallet we managed to start the process in September 2017 and launch in February 2018. There's no question about it, we need partnerships today."
Precious advices coming from Sabine Vanderlinden, CEO insurtech at Startup Bootcamp for start-uppers: "While looking to gain traction, be prepared, do your research, address problems that are relevant for the organization and also pay attention to financial planning".
If a couple of years back the discussion was mainly focused on pricing risk now it seems that there is more and more interest in building great customer experiences and in interacting with the clients. Large organization are not structurally set up to move quickly so incumbents need to be smart in finding the right partnerships under the right leadership which has a clear vision of what it wants to achieve and some Plan B's and C's just in case. Innovation is a journey, it's not a destination and this applies whether we talk about AI, telematics, cybersecurity, blockchain and you name it.