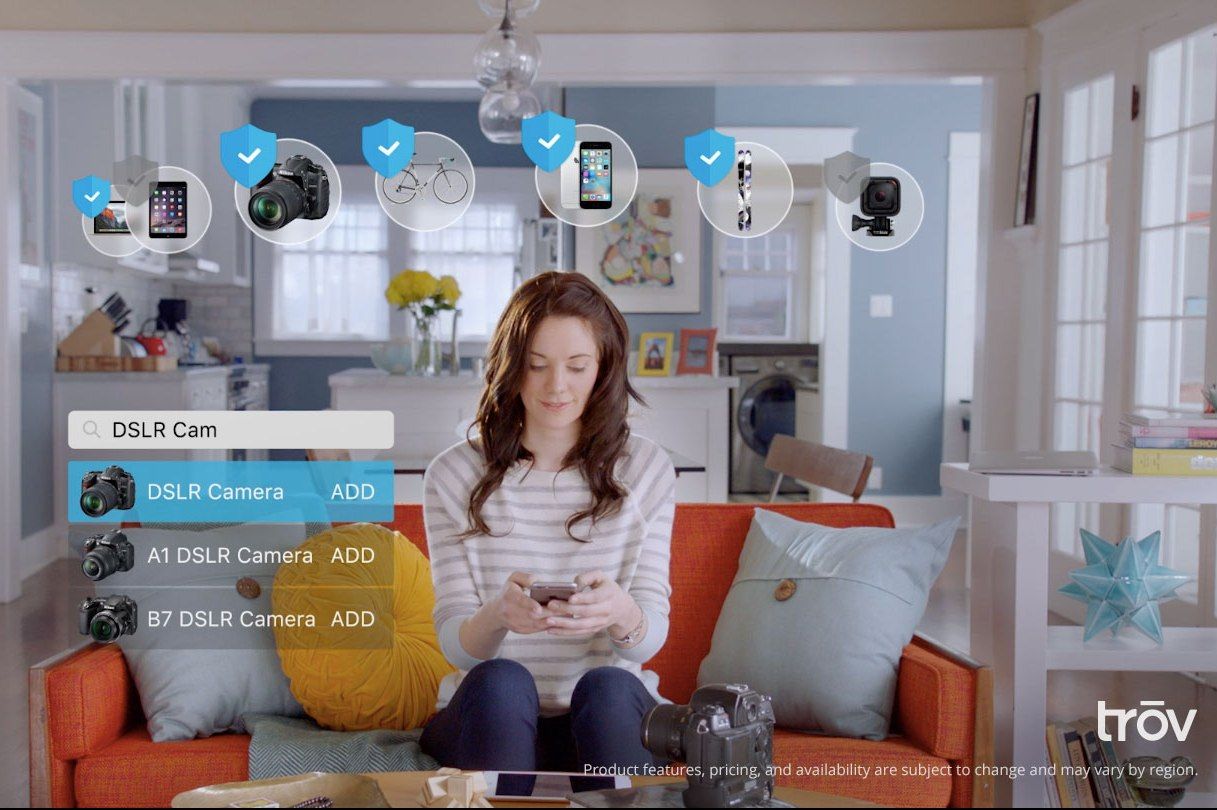 DIAmond Award winner Trōv is one of the most widely referred to cases when speaking about disruption in the insurance sector. But what is Trōv exactly about? What is the business model? How successful is it?
Trōv is the world's first on-demand insurance platform for objects. It is a mobile app that allows users to insure whatever they want, whenever they want to. Trōv users simply snap a picture of a receipt or the product code of a product. This creates a personal digital repository for all things tangible. For selected items Trōv offers a quote to insure each individual item. Customers can then simply 'swipe-to-protect' to purchase the insurance although it is equally simple to 'swipe-to-unprotect'. The claims process is also automated with through the use of chatbots and available on-demand on a smart phone.
Trōv is founded by Scott Walchek who is a successful technology entrepreneur. Over the past 25 years he built companies such as Macromedia, Sanctuary Woods, C2B Technologies and DebtMarket. He was also a co-lead investor and founding director of Baidu, China's largest search engine.
Scott is also one of the 75 thought leaders that contributed to the book 'Reinventing Customer Engagement. The next level of digital transformation for banks and insurers' (www.reinventingcustomerengagement.com).
What inspired you to create Trōv?
Scott: "At some point I realized there is an enormous latent value in the information related to the things people own. From obvious things such as receipts and warranties to actually having an overview of what you own and what the current replacement value of each item is. We want to curate ways to turn this into value for consumers. From keeping information on items up to date to, for instance, arranging insurance for these items.
We're a technology company, not an insurance company. We're new in this space. So I started with testing our first ideas about a proposition and the assumptions behind it with several senior executives of large P&C insurers such as AIG and ACE. What I assumed is that at the end of the day the core metric of success is the ratio of insurance to actual value. The better this ratio, the better the balance sheet.
Of course this is an oversimplification, but everyone agreed that in essence this is how over the past 200 years value in insurance is created. Now, what is remarkable is that insurers do not really know what consumers own, and what the exact value of these goods is … What if they did know? This would disrupt markets. It would lead to much better risk assessment driven by real knowledge of the true value of what people really own."
Trōv's main target users are millennials, a target segment that most incumbents find very difficult to reach and engage with. Why does Trōv strike the right chord among this generation?
Scott: "We're in the Australian market for a year now and entered the UK market a few months ago. Around 75 percent of our users is aged between 18 and 24. It appears that we are successful in tapping into the specific needs of this group. We do this by explicitly tapping into four key millennial trends. The first is 'On-demand'. We can see that from how millennials consume entertainment, shopping etc. Services need to be 'now, 24 hours a day, on my device'. The second trend is 'Don't lock me into a lengthy contract'. We enable micro-duration. Customers can turn their insurance on and off as they see fit. In practice they hardly do. But it is about the psychological benefit of being able to do so. The third is what we call ' Unbundled convenience': 'Let me choose what to protect, the things I really care about.' The fourth is  'People/agent optional'. Millennials want to engage with their smartphone without having to talk to an actual person."
Trōv is based in the San Francisco Bay Area. But you decided to launch first in Australia and the UK. Why there?
Scott: "Ha ha – there's a linear story and a non-linear story to that! The linear story is that micro duration is still new to the industry so our hypothesis requires testing. The regulatory environment is important if you want to get to market fast. Australia and the UK have a single regulatory authority versus the 56 bodies in the United States. But we're also in the process of filing in the US.
The non-linear story is that I just happened to meet Kirsten Dunlop, head of strategic innovation at Suncorp Personal Insurance at a conference in Meribel in France. She immediately understood the strategic impact of Trōv and that is when it took off."
Since the Trōv concept is so new to consumers, it must be extremely interesting to learn what exactly strikes the right chord …
Scott: "Customers just love the experience. Our NPS is +49. However, we're learning every day. With a completely new concept such as Trōv, it is impossible to know exactly what to expect, honestly. It turns out that Trōv reveals new consumer insights. There is still a significant number of valuables that our audience wants to insure but that we cannot provide a quote for, for instance. Although more than 60 percent never turns off an insurance, the ability to 'switch' an insurance on and off turns out to be an important psychological benefit. This appears to be category dependent. Sporting goods are switched on and off more often than smart phones and laptops.
We're constantly measuring and improving every step of the funnel. From leaving Facebook to downloading the app, to registration, to actual swipes. We will share concrete numbers on uptake and conversion rates at DIA Amsterdam. But to already share two big learnings: we designed Trōv for use on smart phones, but much to our surprise funnel figures multiplied when we decided to add a web interface. And we are actually even attracting better quality customers."
In Australia you decided to partner with Suncorp, in the UK with AXA and in the US with Munich Re. What are the success factors of a partnership between an insurtech and an incumbent?
Scott: "At the end of the day it is about relationships and people. We understand their internal challenges. Everyone agrees that real knowledge of individual insured goods and the actual value of those goods improves the loss ratio. But we need to figure out how this works exactly through experimentation. This requires internal dedication, throughout the whole organization, starting at the top. It is not about conducting small pilots, but the willingness to experiment while going all the way, investing for several years and learn as we go what insurance will look like in the future and how consumers want to engage."
What are your future plans and ambitions with Trōv? We can imagine that Trōv could also be an interesting partner for retailers and producers of durables. With Trōv they could seamlessly sell insurance ...
Scott: "We have three lines of business. The first is what we call 'solid'. This is about expanding the Trōv app geographically, covering more categories and continuously developing the technology. Trōv will be launched in Japan, Germany and Canada shortly. Then there is 'liquid'; offering white label solutions to financial institutions, for instance in relation to connected cars and homes. The third line of business is 'gas'; basically Trōv technology embedded in other applications; insurance as a service. This could be attractive for all sorts of merchants, telco operators etc."
This would make Trōv even more part of the context in which consumers makes decisions about the risk they are willing and not willing to incur. And it also taps into the exponential growth of connected devices, similar to how machine-to-machine payments are increasingly taking place …
Scott: "Yes. What we're now doing with Trōv is really the beginning. Trōv is about providing our customers with exactly the protection they want, exactly when they want it. With more and more connected devices and sensors and new data streams everywhere we can make the whole experience so seamless they don't have to do anything at all."
DIA Amsterdam is the two-day conference connecting insurance executives with insurtech leaders. It's the largest 'must see' event on insurtech and insurance innovation worldwide. Check www.digitalinsuranceagenda.com for more info.
InsurTechNews readers enjoy a 200 euro discount if they use the following code during the registration process: DIA2017DIGITALTECH200.
This article is reproduced with kind permission. Some minor changes have been made to reflect insurtechnews.com style considerations. For the original article see here.