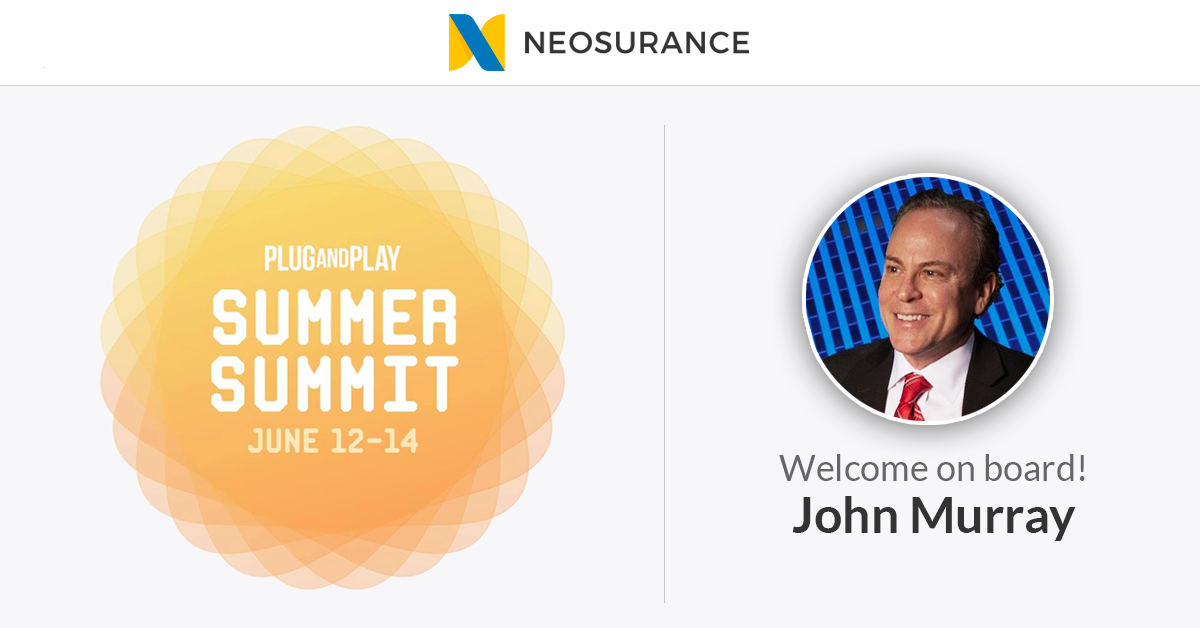 In the frame of Neosurance strategic expansion plans in the United States, Neosurance announces John Murray to join their global team effective June 11th, as Vice President Business Development US.
John is a global marketing veteran with 15+ years of experience leading B2B and B2C digital strategy, e-commerce and business development for Fortune 500 and startup companies in insurance, financial services, healthcare, cleantech and home services.
Neosurance provides insurance companies and digital communities with Customer insight and profiling platform to enable the sale of instant micro-policies through push notifications on the smartphone, when and where it matters with the help of Behavioral Sciences and AI.
"Following up on the unique experience we made in 2017 with the Plug and Play acceleration program in Silicon Valley, we are now ready to deliver on our promise to launch Neosurance in the US market. John, with his unique combination of insurance and tech knowledge and network is the perfect fit for our growth plans in the American continent and beyond " said Pietro Menghi, CEO of Neosurance.
John will be joining the Plug and Play Summer Summit 2018 in Sunnyvale, Silicon Valley from 12th June to 14th June and looks forward to meeting all Neosurance clients and business partners present at the event. Plug and Play Summer Summit 2018 will focus on eight accelerator programs: Energy, Health & Wellness, Travel & Hospitality, Enterprise 2.0, Insurtech, Mobility, Internet of Things, and Real Estate Tech.
"Together with our new and experienced team member, John Murray, we are looking to bring to the US the instant insurance technology dedicated to app-based and web-based communities. " added Andrea Silvello, co-founder of Neosurance. The startup's technology platform has been perfected during the last year and is now much easier to embed in any digital customer journey (mobile and web). Silvello continues "Basically any digital community can integrate the Neosurance SDK in a matter of hours and immediately enable their clients to purchase insurance products offered by the insurance companies that are currently using Neosurance technology."
In parallel and consistent with its expansion plan within the Old World, Neosurance is honored to be a VIP participant at the InsurTech Insights conference, the largest InsurTech conference in Europe which will be held in London on 19th and 20th of June. Pietro Menghi, CEO of Neosurance, will moderate the panel discussion "Ask the Insurtechs: Win customers by mastering mobile" (Tuesday 19th at 4:40pm BST) with great panelists on stage: Adam Erlebacher (Founder of Fabric), CJ Przybyl (President & Co-founder of Snapsheet), Peter Goodman (CEO of Homelyfe) and Tim Attia (CEO of Slice).
About Neosurance
Neosurance is an insurtech start-up providing insurance companies and digital communities with a Customer insight and profiling platform to enable the sale of instant micro-policies through push notifications on the smartphone, when and where it matters. By enriching and analyzing contextual, behavioral and emotional customer data over time, Neosurance is capable of identifying the right moment and the potential specific protection need for the single customer, who can choose to activate the cover with a few easy taps on the screen: the right insurance product to the right person in the right place with the right tone of voice. Neosurance brings together Behavioral Sciences and Artificial Intelligence to empower people to enjoy safer and happier lives.
About Plug and Play Tech Center:
Plug and Play Tech Center is a global innovation platform and accelerator that helps connect startups with corporations and investors while providing them with logistics and mentorship support. Plug and Play has its main headquarters in Sunnyvale, California, and has a network of more than 300 tech startups, 180 investors, and a community of leading universities and corporate partners. Their successful portfolio includes Dropbox, Soundhound, Lending Club and PayPal.
About Insurtech Insight:
Insurtech Insights is the largest Insurtech conference in Europe, taking place on the 19th 20th of June 2018 in London, with 150+ speakers and 1,000+ participating leading Insurtech innovators, including C-level executives from large European carriers, leading startups and growth Insurtech, VCs and PEs.