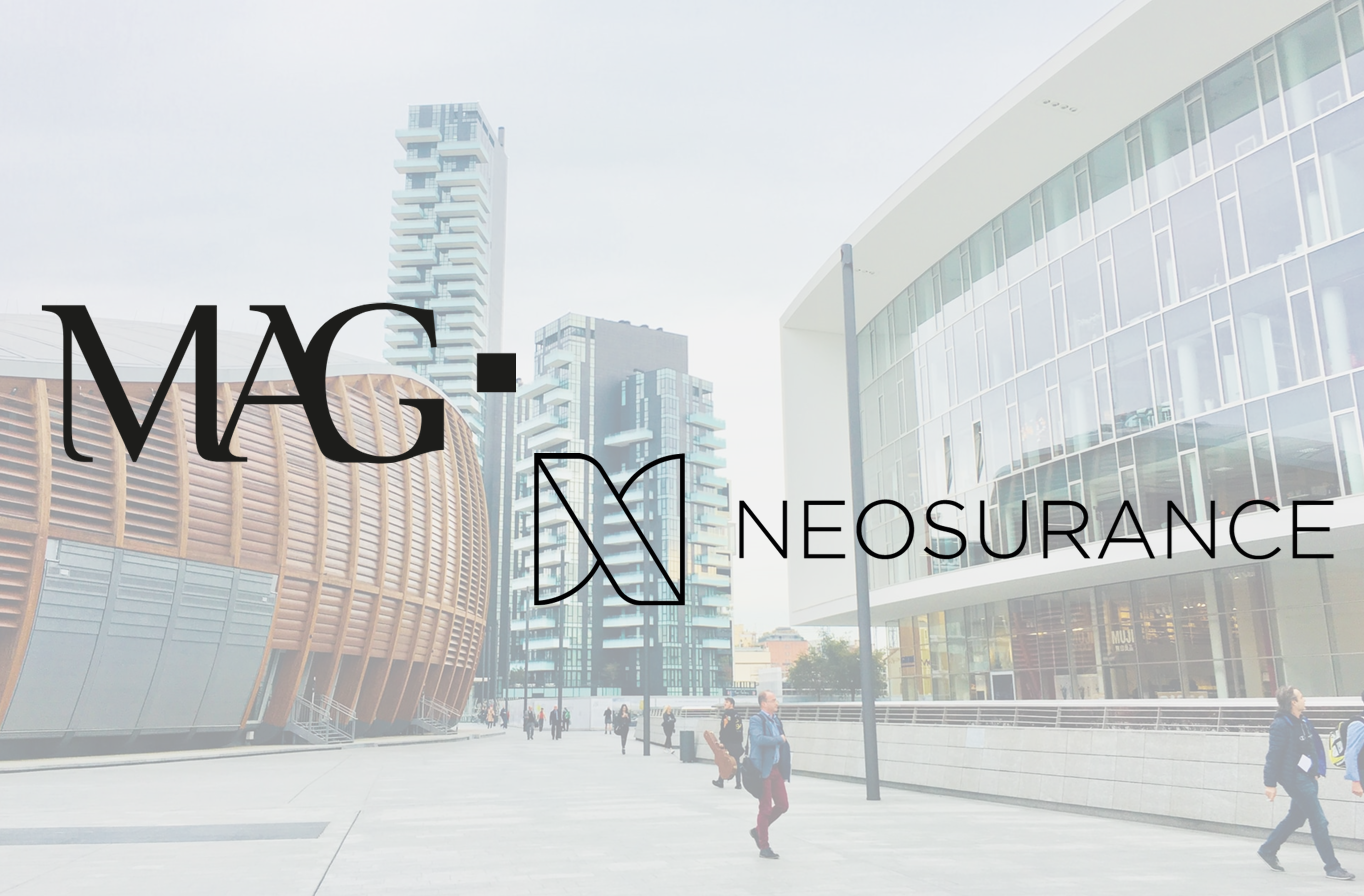 Image courtesy: Photo by Erin Doering on Unsplash
New digital scenarios for hyper-personalized protection solutions
Milan and London, 30 March 2022 - MAG SpA Group, for over 40 years the leading insurance broker for Italian companies active in both domestic and international markets, acquires the majority of the insurtech scaleup Neosurance, a digital broker and technology enabler operating in the European Union, the United Kingdom, America and the Far East.
Thanks to the acquisition of 50.065% of stakes, MAG will help accelerate the development of disruptive solutions aimed at innovating products, processes and channels in the insurance industry. With this investment MAG strengthens Neosurance's corporate structure and joins the founding partners, Neosperience SpA and Digital Tech Srl.
This operation will contribute to the adoption of open insurance across the industry, while providing businesses, consumers, employees and other insurance intermediaries with a more accessible, transparent and integrated offering of policies.
MAG counts over 8,000 business clients in almost 150 countries and more than 300 million policies managed in Italy. This group has a strong propensity for innovation and offers more and more effective and personalized solutions. On the other hand, Neosurance enables the B2B2C distribution of innovative policies through digitization and hybridization of sales channels, partnering with non-insurance ecosystems, such as apps, platforms and digital properties of clients and partners of both MAG and Neosurance.
The agreement will allow Neosurance to accelerate its international growth on a global network of insurance and reinsurance players and distribution partners, benefiting from a vast commercial network. MAG will push on digitization, enabling new large-scale revenue and business models, complying with its consulting approach, which aims at responding with efficient and customized solutions to the needs of companies as well as individuals.
The industrial synergy between the two companies will facilitate access to new b2c markets both by scaling up innovative products already launched by Neosurance - such as pay-per-use theft coverage, instant micro-insurance for sports and travel and health policies that can be activated in a few clicks - and by creating new insurance solutions.
In this respect, the "Open Insurance Platform as a Service" conceived and developed by Neosurance combines artificial intelligence, behavioral sciences, compliance and user experience design, specifically to promote effective integration with the digital contexts in which we live nowadays.
MAG President, Pierluca Impronta, declares: "The MAG Group has solid roots in the Italian business culture and promotes its values​, with a constant eye on innovation. The digital transformation we are experiencing is also revolutionizing the insurance sector and I believe it is essential to play a key role in this new scenario. For this reason, this agreement with Neosurance represents an important opportunity that will allow us to be even more flexible and forward-looking, by meeting the protection needs of companies as well as individuals ".
Pietro Menghi, CEO of Neosurance, states: "We will work together on an intense roadmap of projects, which will finally open the doors to the large-scale application of the Open Insurance paradigms in Italy and abroad. In order to truly innovate this sector and increase the resilience capacity of millions of individuals and families, technology alone is not enough: the trust of operators with a strong commitment in our territory, recognized on the markets and with a clear vision of the future is paramount. We are extremely happy to bring innovation to our industry with MAG, maximizing the economic and social impact of insurance".
Dario Melpignano and Andrea Silvello, CEOs of Neosperience and Digital Tech respectively, conclude: "We have strongly believed in this operation since the beginning of the collaboration with MAG. It represents an ideal step to strengthen and enhance Neosurance, creating immediate and prospective value for all shareholders of our organizations. The opportunities for synergy with MAG in Italy and abroad are a source of pride and satisfaction for our entire teams ".