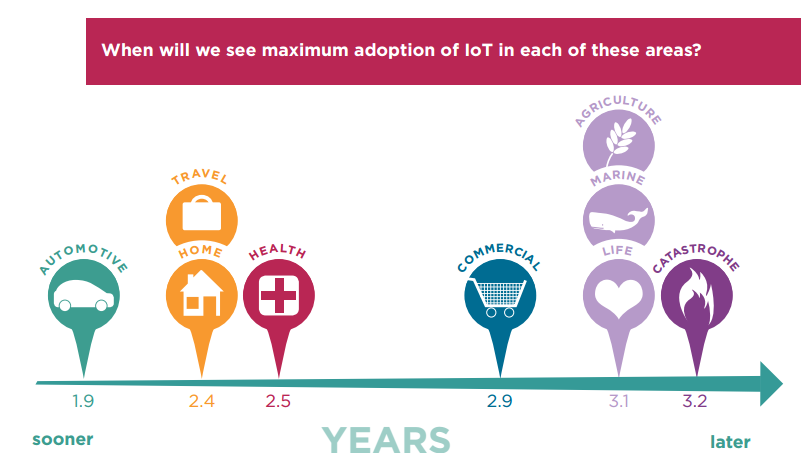 At the beginning of the year, everyone is looking at the crucial elements of change that will affect their business in the next twelve months.
And when it comes to IoT that change is set to happen very rapidly.  In fact, by 2020 it's predicted that most homes in the UK will have smart thermostat.  And by 2020, 411 million smart wearable devices will be sold, worth a staggering $34 billion (CSS Insights). 
But how will this impact insurance? And how can you prepare?    
This survey infographic was compiled after asking 350 senior insurance executives how they view the impact of IoT on insurance. And with a staggering 90% of them agreeing that IoT is set to revolutionise insurance, the survey acts as a valuable tool as you plan your own strategy.  
By downloading the complete 8 question survey, you'll delve into: 
Future-thinking: Identify when IoT will become mainstream for insurers
Investment: Understand how high IoT ranks as a priority for insurers
Focus: Evaluate which department has the most to gain from IoT
Profits: Pinpoint when the industry will see real returns from IoT
The IoT survey infographic can be downloaded here 
Remember you can still join the Insurance IoT Europe Summit where you will hear over 45 speakers that will be sharing their expertise, including:
Ian Thompson - Chief Claims Officer, ZIP/EMEA Zurich; Mark Evans - Marketing Director, Direct Line Group; Dirk Schmachtenberg - Senior Innovation Manager, Munich Re; Josep Celaya - Chief Innovation Officer, Mapfre; Matteo Carbone - Founder & Director Connected Insurance Observatory; Thomas Hallauer - Research & Technical Director, PTOLEMUS Consulting Group.