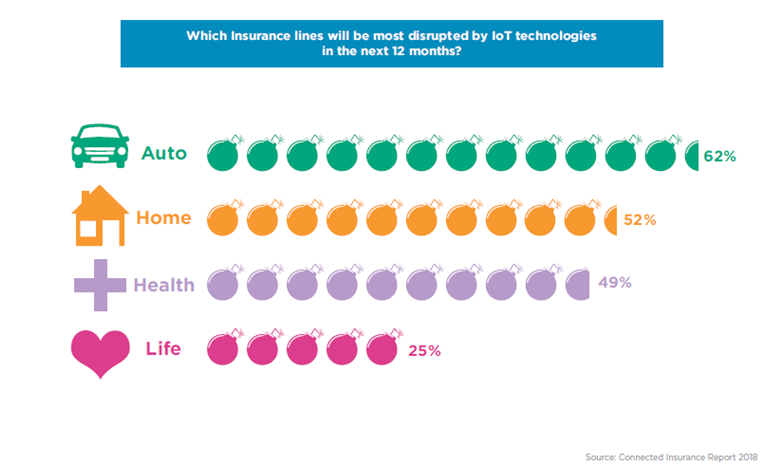 The conversation around IoT has moved on. It's no longer about what IoT is; it's now about how to drive tangible business and customer value from it. And one thing's for sure – IoT will unleash a torrent of data, so vast that even the most masterful of data scientists will struggle to keep up.
For the insurance industry to truly reap the rewards of this treasure trove of data, there is an urgent need to improve the speed and accuracy of data analysis. To date, it is Artificial Intelligence that offers the greatest potential to uncover the patterns that could revolutionize risk prevention services for insurance.
Insurance Nexus surveyed 500+ insurance executives to get to the bottom of what is driving change, creating obstacles and making a difference as insurance carriers work to develop a value proposition for connected insurance. The full results will form part of the Connected Insurance Report 2018, due for release later this year, but here are some early findings ahead of time, to give you a flavour of what to expect.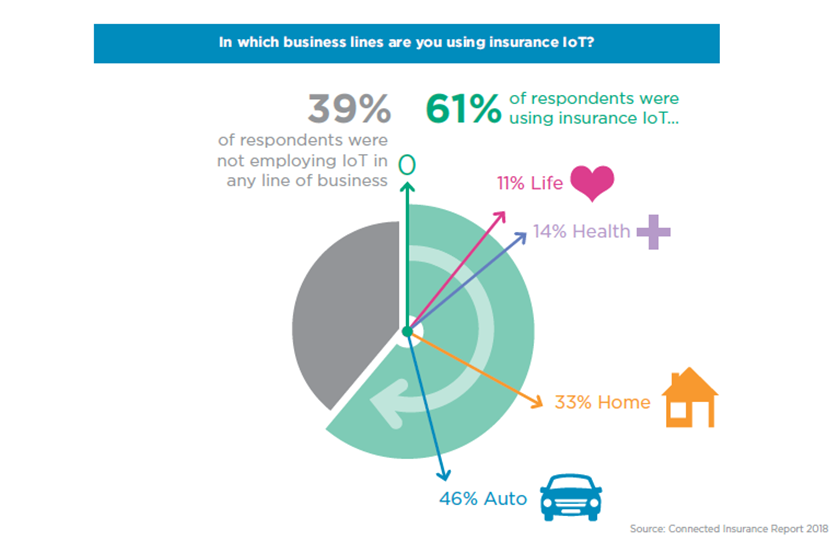 When asked in which business lines they are using IoT, 39% of respondents indicated they were not using IoT whatsoever while 61% are doing so as the spread of connected insurance continues in the main insurance sectors. It doesn't come as a surprise that the Auto insurance business line leads the way with 46% - the highest percentage when it comes to IoT usage, followed by Home with 33%, Health with 14% and Life with 11%. Auto Connected Insurance, mainly car telematics, has been around for a while now so it had a natural advantage because of the early start with pilot projects in Europe and specifically Italy.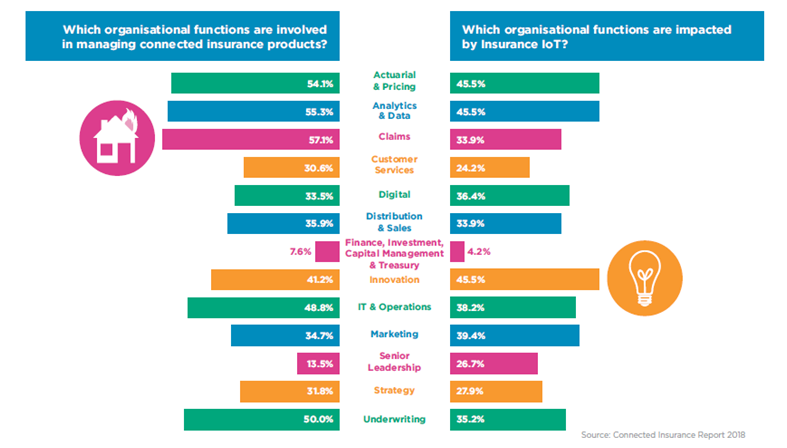 The above infographic confronts the organisational functions which are involved in managing connected insurance products with the perceived impact of IoT on the same organisational functions. Interesting enough the Senior Leadership seems to have a low involvement rate (13.5%) when it comes to managing such products but according to respondents are impacted by IoT in a higher proportion, to be precise double the effort invested. Leadership should keep a close eye on connected insurance products because the potential impact on the organization and on their roles should not be underestimated.
You can get more insight on Connected Insurance, IoT & AI from this webinar with Francesca Smith – CEO and Managing Partner at Cambridge Consulting Associates, Stefaan de Kezel – Programme Director Innovation and Smart Synergies at Ageas, João Pedro Machado – Director of Business Transformation at Fidelidade, Jenny Trueman – Head of Connected Homes and Product Innovation at Direct Line and Christian Zeiler – Open Innovation Lead, Generali.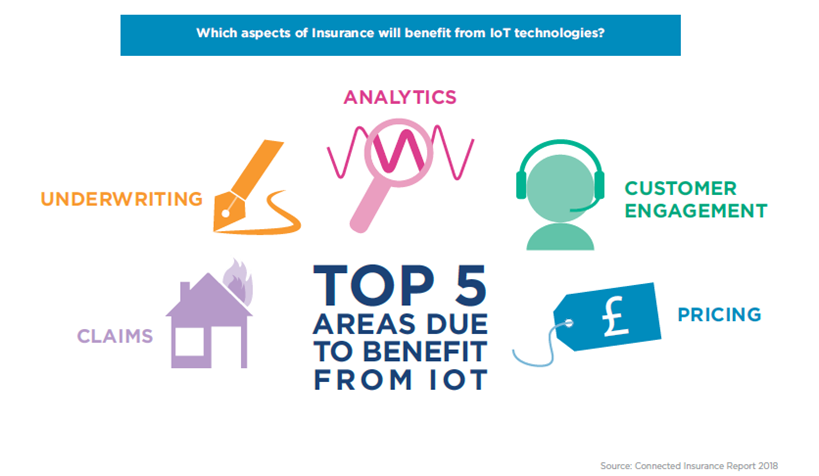 The main areas to benefit from IoT technology are, in no particular order, according to respondents: underwriting, claims, pricing, customer engagement and analytics.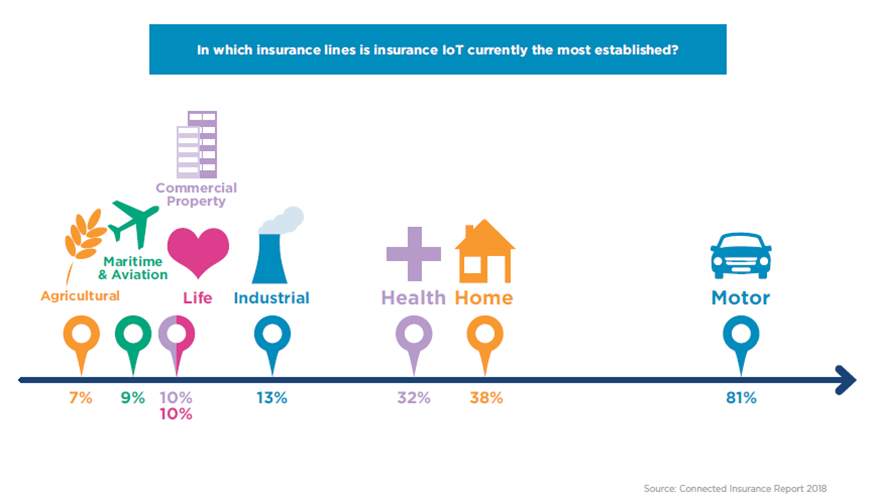 Going more in detail compared to the first graphic shown in this article, the image above also includes other insurance sectors when looking at IoT penetration. Motor, home and health top the list followed by Industrial with 13%, Life and Commercial Property with 10% each, Maritime & Aviation with 9% and the Agriculural sector with 7%.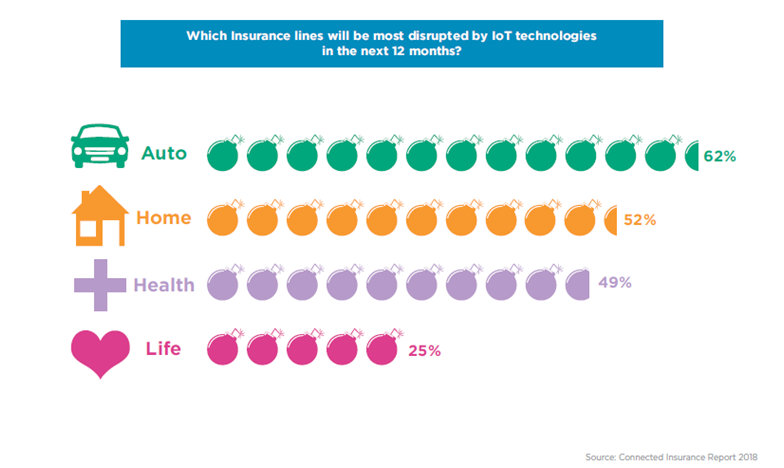 Even if Auto Insurance is already ahead of the game, respondents expect for it to continue the disruption trend when it comes to IoT technologies in the next 12 months. Next in line are Home, Health and Life.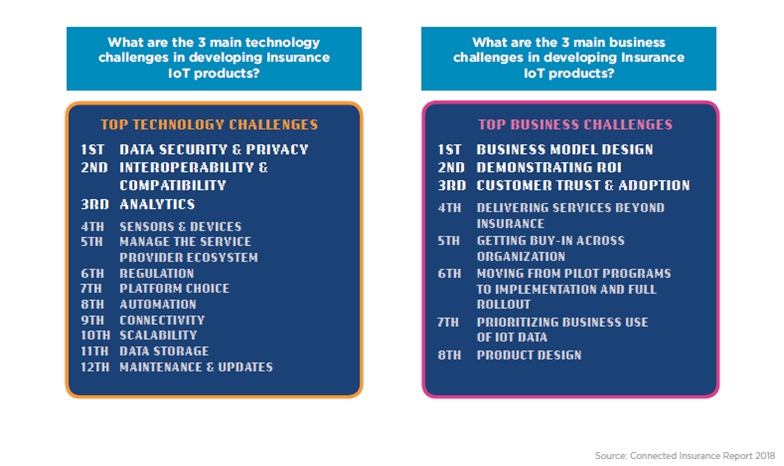 When asked to point out the three main technology challenges in developing insurance IoT products, respondents placed Data security & Privacy, Interoperability & Compatibility and Analytics at the top of their list. Then they were asked to identify the business challenges with which they are confronted when developing IoT products. It emerged that they were most concerned about re-designing the business model and demonstrating ROI for the new IoT-based products. Customer trust & adoption came in third and it continues to be the one of the main barriers when seeking to launch new products on the market.
You can still join the 3rd Annual Connected Insurance Summit Europe on June 11-12 in London. Register now and unlock the value proposition for Connected Insurance by joining 300+ innovators from across the insurance industry.