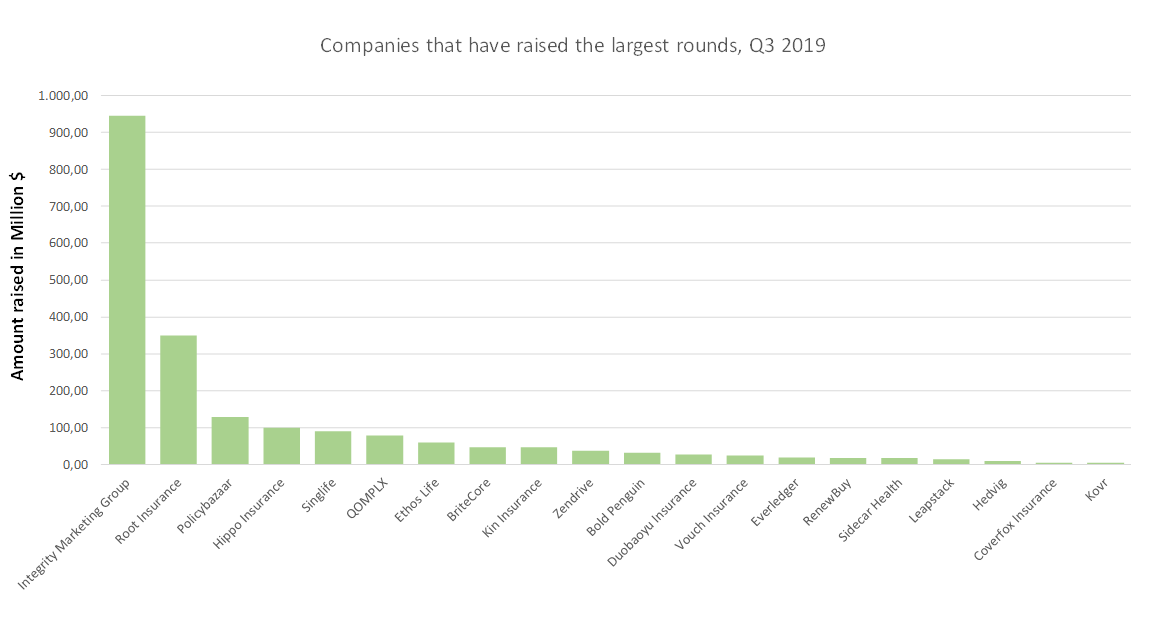 Image courtesy:based on data provided by Venture Scanner, Q3 2019
In Q3 2019 the biggest amount raised was in Insurance Infrastructure/Backend category with $1,12B. Next comes the Auto Insurance category with $517M followed closely by Life, Home, Property & Casualty Insurance with $442,51M in funding.
Source: based on Venture Scanner data from July 1, 2019 to Sept 30, 2019
The following graph shows total funding by quarter over time into Insurance Technology. Funding in Q3 2019 reached a remarkable $2,1B based on Venture Scanner data, surpassing the two previous quarters of 2019 and doubling in size compared to Q3 2018 when funding was $1,05B. The growing trend in insurtech investments is thus confirmed for the second half of 2019.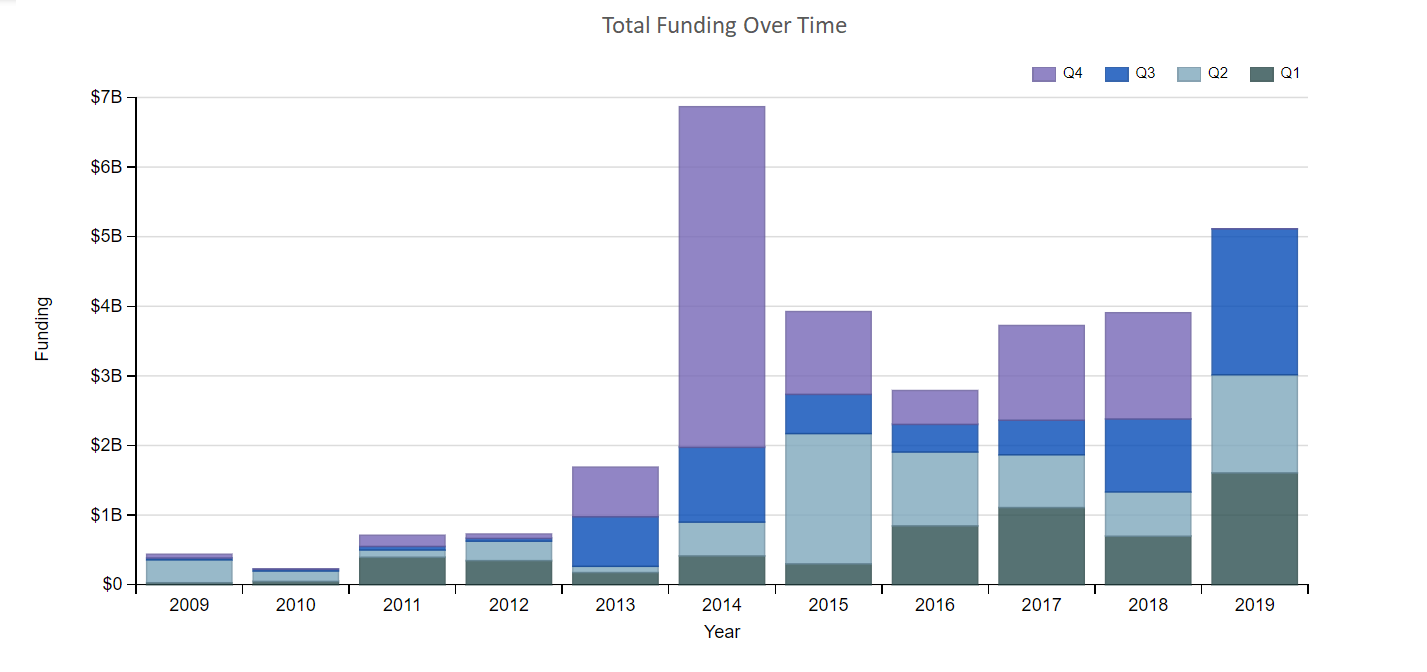 Source: graph by Venture Scanner, data as of Oct 22, 2019
In the below graph funding amounts are distributed by investment stage over time in Insurance Technology. Until now 2019 has revealed itself to be more mature if we look at the nature of the investments compared to 2018 when 75% of funding fell in the early stage category. In contrast, 2019 is characterized by a growing percentage (49,42%) of late stage investments, while early stage and seed rounds make up the other 50,58%.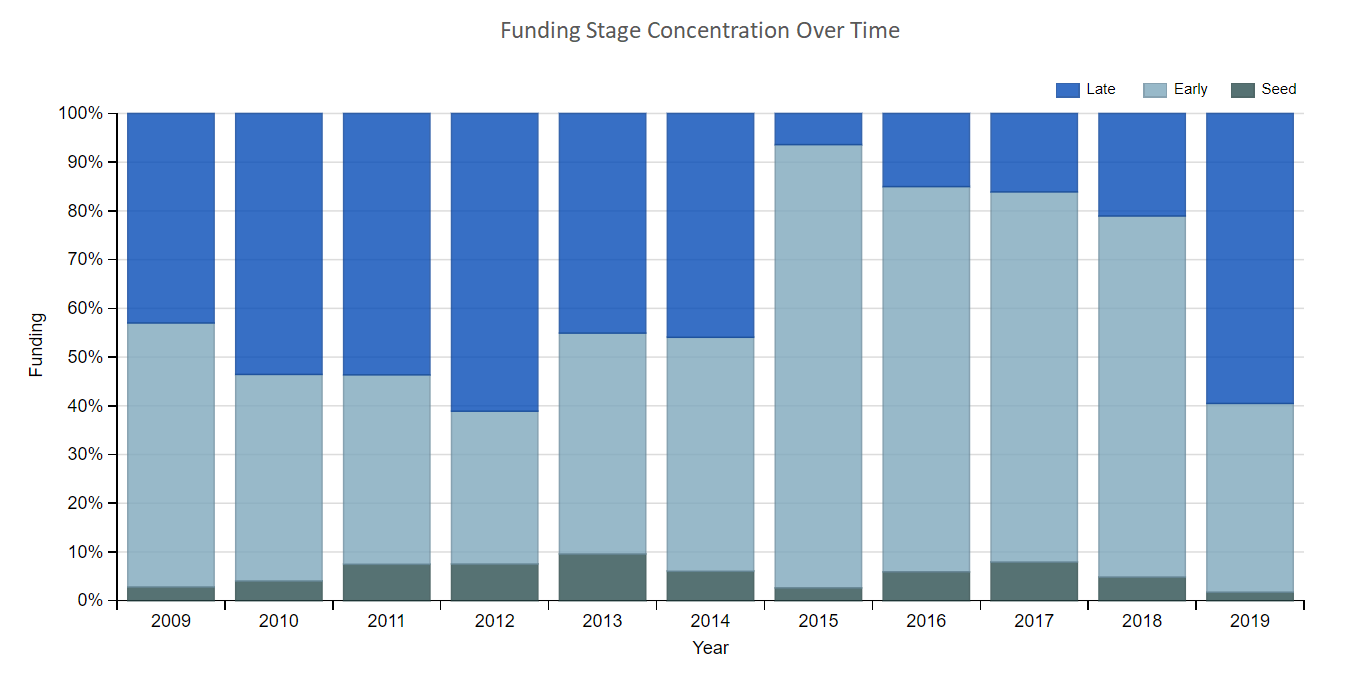 Source: graph by Venture Scanner, data as of Oct 22, 2019
The table below highlights the companies that have raised the largest rounds in Q3 2019.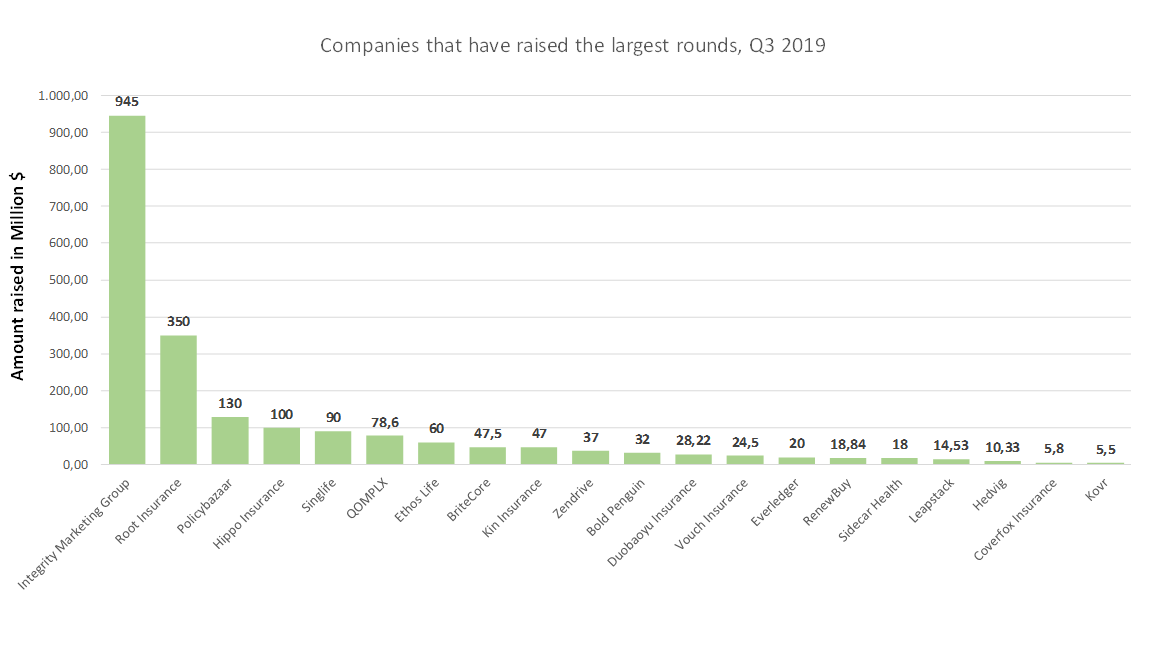 Source: based on Venture Scanner data from July 1, 2019 to Sept 30, 2019
Dallas-based Integrity Marketing Group raised a $945M loan from the private debt market, in a deal backing private equity firm Harvest Partners' strategic growth investment in the company according to Reuters. The three lead investors were Owl Rock Capital Partners, Antares Capital, Crescent Capital. Founded in 2006, the group focuses on serving the senior market through life and health insurance products.
Root Insurance, the mobile-first insurance carrier based in the US, has raised $350 M in a series E round on August 20th of this year. This last round was led by led by DST Global and Coatue and the total funding to date is $527.5M. The company uses an app-based system to rate drivers according to how they drive by including individual behavior data in their quotes. Root now offers its services in 29 US states and is planning on continuing its expansion.
Policybazaar is India's largest insurance aggregator website founded in 2008, with $476.6M raised to date. They are specialized in making comparative analysis of the insurance products of various insurance policies based on price, quality and key benefits. The company raised a series G round of $130 M this September with Tencent Holdings as lead investor.
California-based insurtech company Hippo Insurance raised $100M in a series D round led by Bond on 24 July 2019. Having raised $209M to date, Hippo offers homeowners insurance with a customer-centric model by leveraging big data, like municipal building records, and innovative technology, such as IoT for preventing perils. According to Business Wire, the investment will be used to push the expansion of Hippo's insurance products to more than 80% of the U.S. homeowner population by the end of the year and deepen Hippo's direct-to-consumer product portfolio.
Sing Life (formerly known as Singapore Life), a wealth tech and life insurance company based in Singapore, raised $90M in a corporate round at the beginning of July from Sumitomo Life Insurance. As part of the investment, Sumitomo Life has acquired around 25% of the total issued and outstanding shares in Singapore Life. According to e27.co, Singapore Life said that the funding will be used to focus on the expansion of products throughout Singapore and beyond with mobile-first approach.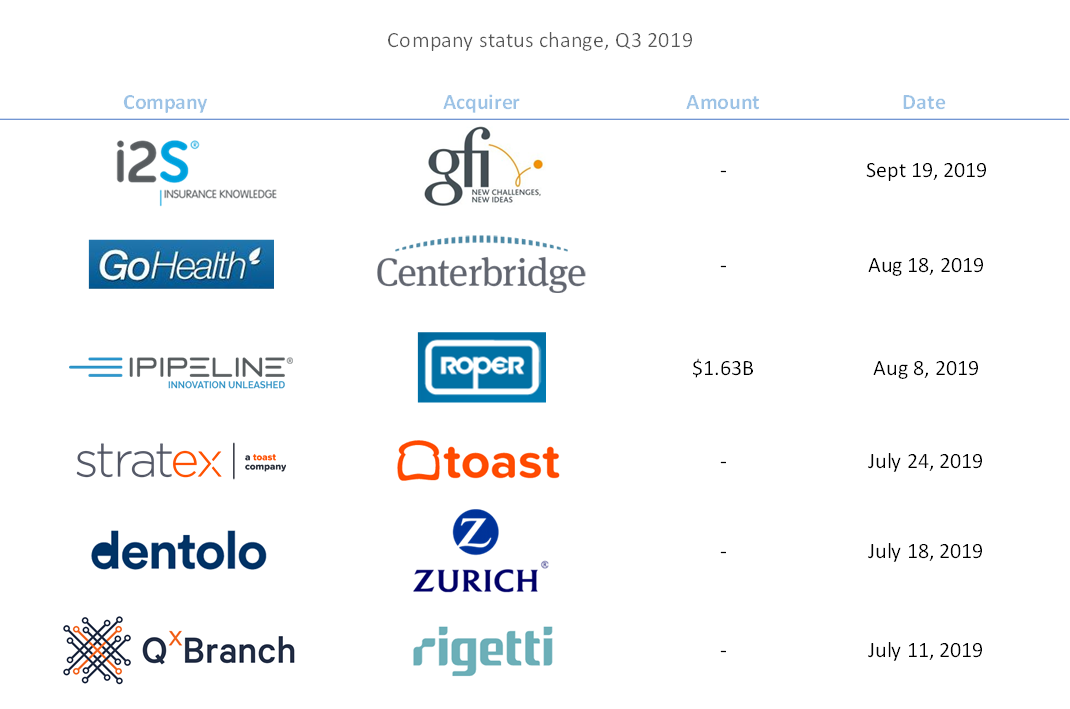 Source: based on Venture Scanner data from July 1, 2019 to Sept 30, 2019
The above table shows companies that have exited or shut down in Insurance Technology in Q3 2019. Among these, Roper Technologies – who operate businesses that design and develop software and engineered products and solutions for a variety of niche end markets - acquired iPipeline in an all-cash transaction valued at around $1.63 billion. iPipeline's cloud-based software delivers award-winning solutions for the life insurance and annuity industries. iPipeline's suite of SaaS-based applications provides workflow automation and seamless integration across a broad network of approximately 150 carriers, 1,350 distributors, and over 500,000 agents.