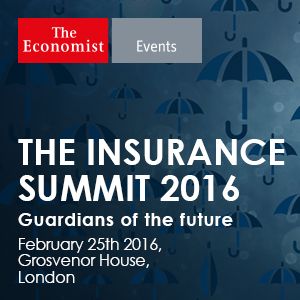 Under the skin of the risk business: The Economist hosts conference to explore the re/insurance industry's role
What should the role of the re/insurance industry be in 2016?
The re/insurance industry is undergoing perhaps its greatest-ever transformation. As traditional practices and norms are washed away by a tidal wave of disruptors amid fast-paced economic and social change, The Insurance Summit 2016, hosted by The Economist, aims to unravel the complex issues that are shaping tomorrow's industry.
Speakers include an accomplished group of experts from across the re/insurance spectrum, from the innovators to regulators and industry leaders, who will share their insights on the key issues that everyone in the re/insurance sector ought to be talking about. 
They will explore topics ranging from the ways in which the digital revolution is shaping the firms of the future, to how new capital and global M&A creates disruption and opportunities, through to ways in which the industry can use data and expertise to be a true force for good by supporting the sustainable growth in underdeveloped economies.
Also on the agenda:
Closing the global protection gap: Learn about new growth prospects
The insurance company of the future: Challenge the adequacy of business models
Expanding into new markets: Opportunities consolidation offers
Disruptive technologies: What is about to transform the industry?
Tackling climate change, fostering sustainable development: Insurance and these challenges
Joanna Izmajlowicz, Programme Manager atThe Economist said: "Unprecedented change in the re/insurance sector invokes a need to re-evaluate how business is transacted and its purpose. While the re/insurance industry is a master at understanding risk, it faces plenty new challenges from evaluating the threat posed by cyber technology and new forms of terrorism, to adapting as new players and sources of capital disrupt old models.
"Through an exciting agenda, this conference aims to challenge our speakers to demonstrate fresh thinking about the direction of the industry."
Key speakers include: Bart De Smet, Chief Executive Officer, Ageas; Lise Kingo, Executive Director, Global Compact, United Nations; Robert P. Hartwig, President, Insurance Information Institute; Maurice Tulloch, Chairman, Aviva Global General Insurance and Chief Executive Officer, Aviva UK & Ireland General Insurance and Chair, ClimateWise; Graham Wright, Group Managing Director, MicroSave; and Michael Lynch, Founder, Technology Entrepreneur, Invoke Capital.
Join us: The Economist's Insurance Summit 2016 at Grosvenor House, London, on 25th February, 2016  http://www.insurance.economist.com  
Contact
Laurence Allen, Marketing Manager
+44 207 576 8321