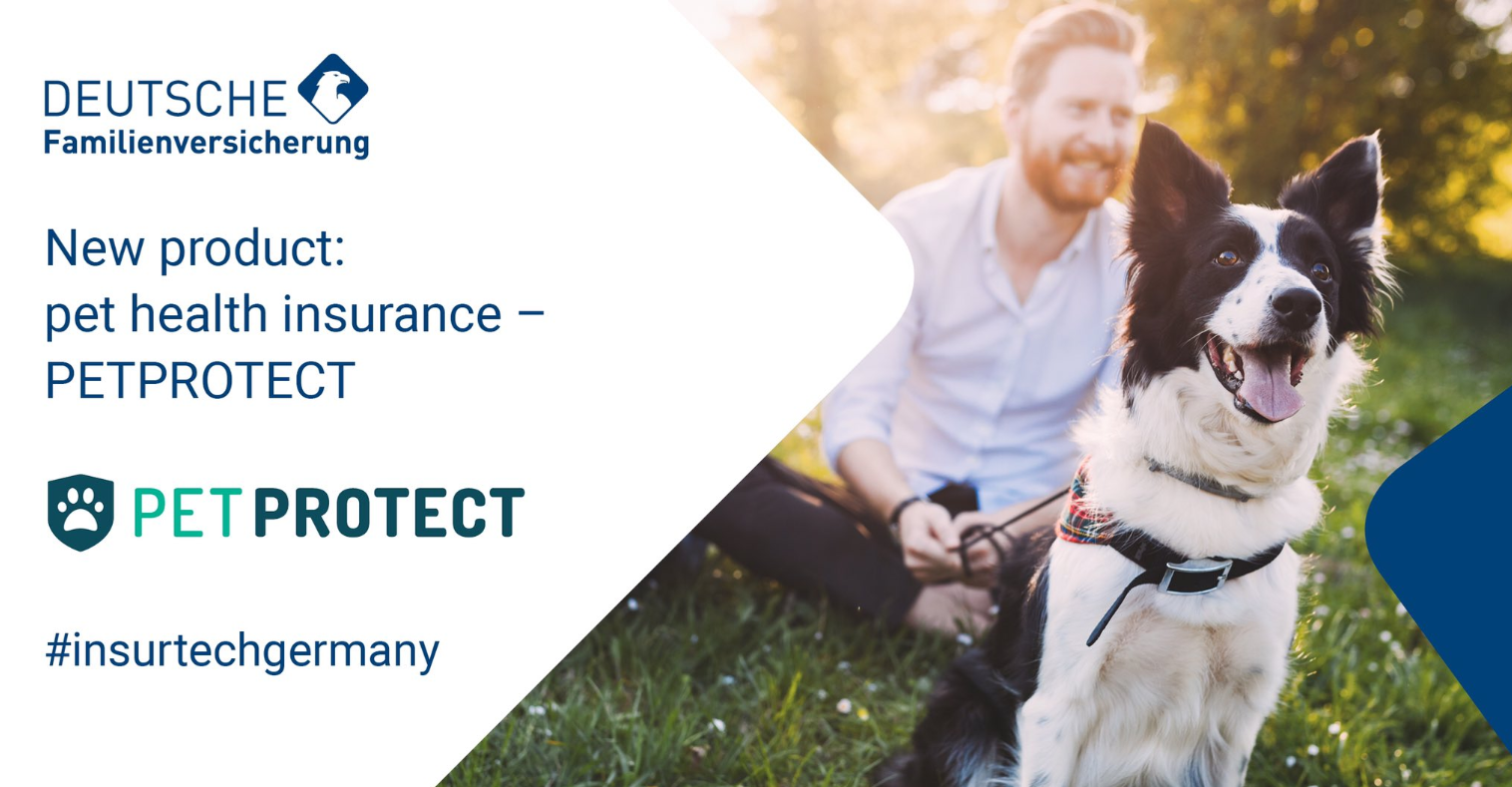 Insurtech expands cooperation with ProSiebenSat.1 Digital
New digital insurance under the brand "PETPROTECT" (www.petprotect.de)
Distribution via high-reach TV and online channels of the ProSiebenSat.1 Group

Frankfurt am Main, May 15, 2019 - DFV Deutsche Familienversicherung AG ("DFV", "German Family Insurance"), a strongly growing and Europe-leading Insurtech company, launches pet health insurance "PETPROTECT". The existing cooperation with ProSiebenSat.1 Digital will now be further expanded for the distribution of the new product. Since today, May 15, 2019, ProSiebenSat.1 Digital is promoting the new animal health insurance of Deutsche Familienversicherung on the group's high-reach TV and online channels. ProSiebenSat.1 Digital has developed a high-performance marketing concept specifically for the new cooperation. The marketing takes place under the newly created brand "PETPROTECT" and via the website www.petprotect.de.
Dr. Stefan M. Knoll, CEO and founder of the German Family Insurance: "We are very pleased that we can offer another digital insurance product," PETPROTECT ". With ProSiebenSat.1 Digital, we have a promising and already established distribution channel at our disposal. Animal health insurance is still a relatively new product and has enormous market potential. "

Animal Health Insurance in Germany — Great Market Potential
The market for animal health insurance is still in its infancy in Germany but demand for it is increasing rapidly. About 9.2 million dogs and 13.7 million cats live in Germany, and a maximum of 17% of all dog owners and 6% of all cat owners have animal health insurance.
DFV is thus entering a promising market segment with its new product, "PETPROTECT." DFV is consistently implementing its growth strategy and demonstrating its business's high degree of scalability across various product segments. As a fully digital insurance company, DFV can quickly and flexibly adapt its product offering to the needs of the market.
If everything goes according to plan, Deutsche Familienversicherung intends to catch up with the rest of its competitors in this product segment as well. Dr. Stefan M. Knoll: "Based on our flexible and state-of-the-art IT platform, we were also able to launch animal health insurance products based on the 16er matrix logic. For example, German animal health insurance covers all the risks that a dog owner might face if his pet gets sick."
Animal health insurance will be assigned to the property insurance line and is part of DFV's corporate strategy to increase the share of property insurance new business in 2019 from 3.5% (2018) to 10%.
About DFV – Deutsche Familienversicherung AG
Based in Frankfurt am Main, Deutsche Familienversicherung is the first digitized insurer and the only functioning Insurtech company on the German market today. The easy-to-understand, reasonable and excellent insurance using the 16er matrix has set new standards in the industry. Just enter the age fill it out: Easy. Makes sense. For more information, go to: www.deutsche-familienversicherung.de