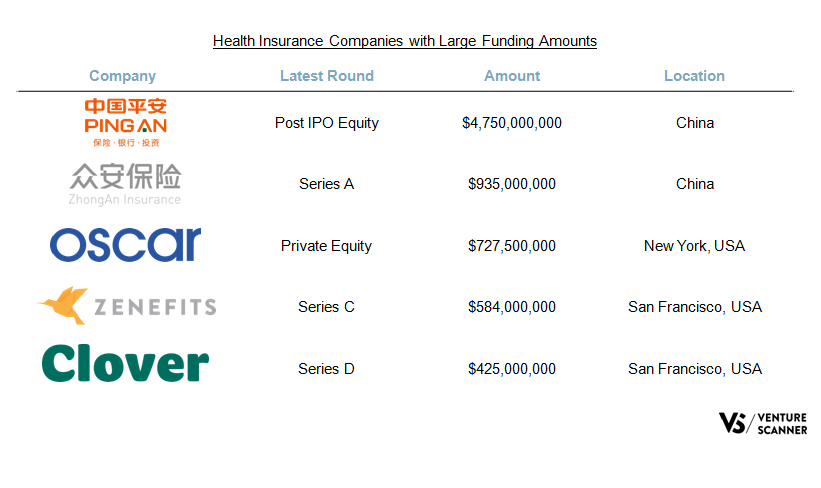 With the help of Venture Scanner data, InsurTechNews is able to offer you a quarterly update on the state of the InsurTech sector. The purpose is to capture changes as they happen regarding startups and the types and amount of funding that they receive.
Insurance technology startups raised $397 million over the last quarter between July and September 2017 – that's 39% less compared to the previous quarter (April through June) when insurtech startups raised $655 million, although it is in line with the Q3 funding average across the last 5 years.
Auto was to category to raise the highest amount of money in the past 90 days[1] – $214M -  followed by Comparison/Marketplace with little over $100M while the third place goes to Employee Benefits category that raised $47M. Total investments to date in insurtech have hit $19.46B according to Venture Scanner[2] who are currently tracking 1430 insurtech companies over 14 different categories.
Overall insurance technology funding grew at a CAGR of 36% from 2011-2016, and 2017 is currently at 55% of 2016 funding 
Insurance Technology Funding Over Time
Source: Venture Scanner, data cumulative as of September 2017
There were 40 funding events this quarter, 60% of which occurred at the Seed stage, confirming the trend set in previous quarters.
Recent Insurance Technology Funding Round Counts
Source: Venture Scanner, data as of Sept 2017
Let's take a look at the top 5 events of this last quarter accounting for 65% of total quarterly funding, all Series B funding types for companies based in the US.
Notable Recent Insurance Technology Funding Events
Source: Venture Scanner, data as of Sept 2017
Nauto come first with its first series B round of $159M in July this year, bringing the total amount of funding to date to $173.85M from 4 rounds. The company was founded in 2015 and it proposes an autonomous vehicle technology system that offers an artificial intelligence-powered connected camera network and smart cloud system for its clients. It identifies dangers and alerts the drivers, and provide coaching and feedback at the end of trips. Nauto's real-time sensors and visual data help fleet managers detect and understand the cause of accidents and reduce false liability claims. Second but maybe most importantly, Nauto is helping to aggregate a complex set of data that will be highly valuable in the development of self-driving cars.
The Zebra is a US-based company founded in 2012 and has raised $40M in its latest round. The Zebra simplifies car insurance by allowing drivers to anonymously compare dozens of insurance companies in real time. Drivers begin seeing estimated quotes with as few as two pieces of information. Real-time updates provide a transparent shopping experience by giving consumers the ability to instantly see what affects their rates.
The third on our list is Stride Health, a healthcare insurance-based platform that helps its users minimize their taxes and follow effective health plans, which raised $23.5M at the end of August 2017. F-Prime Capital Partners led the round with participation from other investors that included Venrock, New Enterprise Associates and Portag3 Ventures.
Lumity, a California-based startup has raised $19M in its second funding round to date. The startup looks to provide employers with tools for health care cost optimization and at the same time makes the job of picking a healthcare plan much less complicated for employees. With one dashboard, users can control and measure their plan's design and receive real-time insights into benefits.
Last in this top 5 is the startup SyncHR which provides a Human Capital Management (HCM) cloud-based support technology for companies. It allows for centralized, interrelated data to be managed in a robust way: easy to access, correct, control, and analyze.
There were 5 insurance technology exits this past quarter, all of which have been acquisitions.
Notable Recent Insurance Technology Exit Events
Source: Venture Scanner, data as of Sept 2017
Allied World was acquired for the impressive sum of $4.9B by Fairfax Financial Holdings Limited lead by Prem Watsa as chairman and chief executive officer. Watsa has the fame of being "the Warren Buffett of Canada" because he oversees an insurance conglomerate, bases his investments on their long-term value and runs his companies on a decentralized basis.
Second on the Venture Scanner list of acquisitions is Pacific Comp, a California-based workers' compensation carrier,  who was bought by Cooper Point Insurance Company for $150M in September 2017.  Third place goes to a $104M deal which lead to the acquisition by Zoopla - one of UK's top properties listing website, of the website Money.co.uk. The latter is a financial comparison website founded in 2008 which allows users to compare financial products like credit cards, mortgages, loans, and savings accounts. The website had revenues of £24.7 million in 2016 and gets 2 million customers a month.  
A closer look at health insurtechs
Companies within the health insurance category are generally better funded than their peers. Health insurance has a median funding $5M higher than the average of other categories, and a third quartile that is $22M higher.
Insurance Technology Category Funding Quartiles
Source: Venture Scanner, data cumulative as of September 2017; companies are categorized by function, and therefore can exist in multiple categories.
Overall health insurance funding grew at a CAGR of 116% from 2011-2016, and 2017 is currently at 36% of 2016 funding.
Health Insurance Funding
Source: Venture Scanner, data cumulative as of Sept 2017
This category is by far one of the most exciting mainly because of the names and amounts of money being circulated.
Health Insurance Companies with Large Funding Amounts
Source: Venture Scanner, data as of Sept 2017
Ping with a total of $4.750B to date is China's largest insurer by market value. Zhong An is next in line with $935M raised. On the other side of the Pacific Ocean there is the well-known Oscar Health which raised some $727.5M to date. Zenefits has just hit $584M and Clover Health, which combines a data-driven approach with prevention focusing in particular on older and low-income users, has raised a total of $425M. US and China are clearly all time champions of health insurtech fundrasing.
[1] The numbers are provided by Venture Scanner and refer to the last 90 days as of Sept 2017.
[2] Some insurtech start-ups may fall into more than one category.