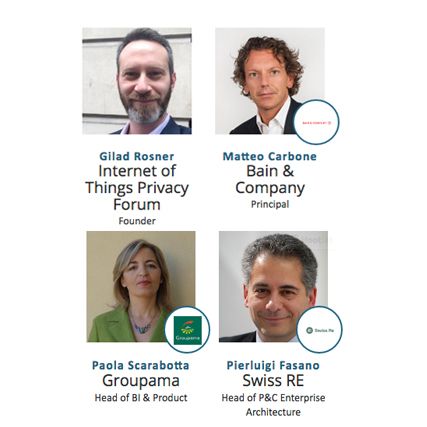 Privacy, security, standardisation, connectivity… these are all concerns affecting the uptake of IoT in insurance.
Insurers understand the value of IoT for their business but there are some major obstacles in their way to making it mainstream.
Recently, FC Business Intelligence sat down with four big wigs from the Internet of Things Privacy Forum, Bain & Company, Groupama and Swiss Re and asked them what keeps them up at night when thinking about IoT adoption.
Listen to their podcasts here 
These podcasts were conducted with some leading names on the insurance IoT scene including:
Gilad Rosner, Founder, Internet of Things Privacy Forum
Matteo Carbone, Principal, Bain & Company
Paola Scarabotta, Head of BI & Product, Groupama
Pierluigi Fasano, Head of P&C Enterprise Architecture, Swiss Re
Hope that you enjoy the podcasts, don't hesitate to let us know your thoughts via email!