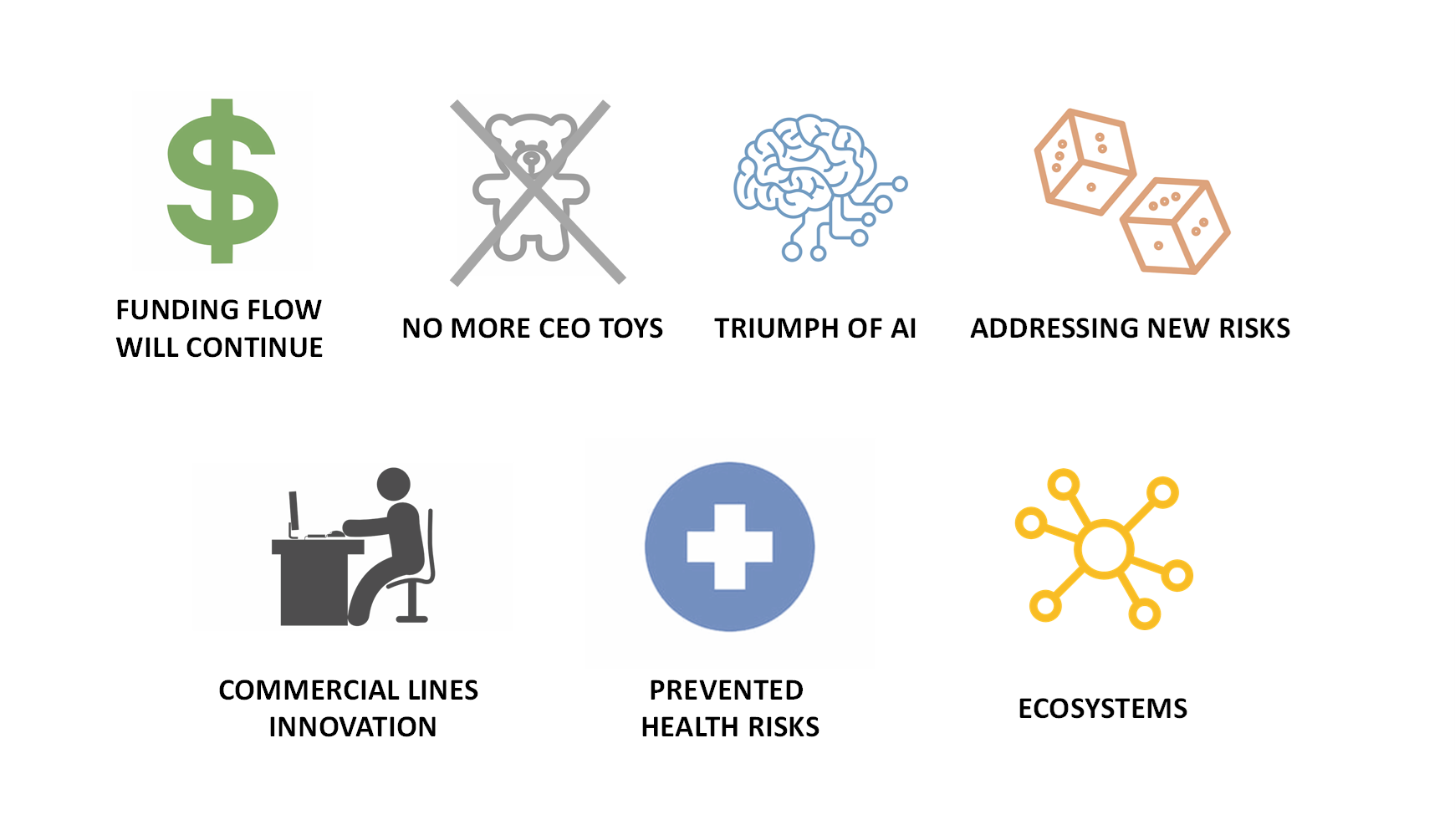 We interviewed our top insurtech influencers to get some precious insight into what 2020 has in store for us and we came up with these 7 most relevant trends: from addressing new risks related to the gig economy and innovation in commercial lines, to achieving the right balance between bots and human touch points. Investments will continue to flow in and an increasing number of category leaders will come from high growth markets in Asia, Latin America and Africa.
1. Funding flow will continue
Concentration of funding and a select number of significant exits: funding will continue to concentrate around a small number of businesses that have traction or are winning the marketing war. Incumbents looking to accelerate transformation will make some large acquisitions
Sam Evans, Founding Partner at Eos Venture Partners
Those hoping that insurtech disappears, leaving the industry in peace, will be sorely disappointed next year. The success of some startups will continue to inspire entrepreneurs and attract them to our industry. The developing track record of exits will continue to attract more venture investors looking to deploy capital into insurance-related businesses. The competitive nature of the insurance industry will keep innovation firmly on the agenda of insurers and reinsurers. The refusal of some incumbents to face up to the future of the industry will force some very experienced professionals to leave and partner up with technology entrepreneurs... and the cycle will continue. 2020 will be a busy one!
Matthew Jones, Principal at Anthemis Group
Based on 2019 insurtech funding data I would say that late stage investments will surpass seed and early stage investments in 2020. I also expect to see more important players coming from the Asian continent focusing on health and mobility.
Andrea Silvello, Founder of Insurtechnews.com
2. No more CEO toys
Incumbents are going to invest more and more on solutions that truly impact their business processes, the way they are assessing, managing, and transferring risks. As I wrote a couple of years ago in my InsurTech book, it's unthinkable for an insurance company today not to pose the question of how to evolve its own model by thinking of which modules within their value chain should be transformed or reinvented via technology and data usage. No more time for CEO's toys as Alexa skills for selling insurance policies.
Matteo Carbone, IoT Insurance Observatory
In 2020, we will see more fintech companies bring back human interactions to their customer relationships. While consumers have gone digital with most of their financial transactions, they still want human touch points during key life moments and complicated financial decisions. Companies will continue to try to figure out what that balance is in all types of industries, but especially in financial services.
Jennifer Fitzgerald, CEO and Co-founder of Policygenius
A large number of InsurTech's will fail: Investors and customers are now looking for proven solutions, the promise of success is no longer enough as the market matures. As a result, a large number of businesses that have struggled to gain traction will either fail, be taken out or be forced into raising money at lower valuations
Sam Evans, Eos Venture Partners
Increasingly we see the demand for real business results. Therefor those players with a working business model will get more into the spotlight.
Robin Kiera, Founder at Digitalscounting.de
Businesses of all sizes have been facing a remarkable rise in technical complexity and fragmentation. I believe the world will see a future of enterprise application development which enables the rapid adoption and customization of functionality and, at the same time, aggregating specialized software tools and platform partners without utilizing engineering bandwidth for insurtechs and legacy carriers alike. No longer is supporting a single archaic platform necessary with the advent of low-code, no-code platforms such as Unqork (office desk worker) or BuildArray (non-desk worker). Imagine quickly creating new custom business processes and data workflows without developing a single line of code, allowing for faster customer deployment and utilization. Cheers @Gary Hoberman and Matt Doyle!
Robin Smith, President and Co-founder at Goose & Gander
3. Triumph of AI
Pace of claims innovation to increase: The leading platforms leveraging AI to support FNOL, triage, assessment, anti fraud, settlement and enhanced customer service will see significant success
Sam Evans, Eos Venture Partners
Meanwhile, the back-office solutions, like Groundspeed and RiskGenius, are engaging in real implementations as insurance-specific artificial intelligence hits the tipping point. People fail to realize that once artificial intelligence works, the game as we all know it is over. The A.I.-powered systems that are accurate will eat manual human processes for breakfast.
Chris Cheatham, CEO at RiskGenius
I expect more startups to address the 'price & product' part of the value chain, as only a third of our European InsurTech dealflow did in 2019. Insurers often say « insurance is all about data ». With new data sources - especially live data - available on every business lines (telematics for car insurance, wearables for health insurance, water consumption trackers for home insurance, accounting data for trade credit insurance, satellite data for weather insurance, etc), and new algorithms enabled by AI technologies - including Machine Learning -, new players are expected to compete with insurers at the heart of the insurance business: risk assessment.
Florian Graillot, Founding Partner at astorya VC
Voice technology and assistant systems will continue their rapid growths. It remains to be seen if the insurance industry is going to take advantage or is going to be late on that party to - as we were late to the internet, mobile internet and social media.
Robin Kiera, Digitalscounting.de
4. Addressing new risks
Sharing economy focused InsurTech's will enjoy significant traction: InsurTech's are better positioned to capitalise on the opportunity in the sharing economy, dominant players will start to emerge
Sam Evans, Eos Venture Partners
The insurance industry has not historically catered to the needs of gig economy workers, who in previous decades have lived on the fringes of the W-2-dominant workforce. But with the gig economy on track to represent 40% of the workforce by 2020, we will see meaningful innovation from insurance carriers geared toward offering financial protection to the unique needs of this group.
Jennifer Fitzgerald, Policygenius
Startups are expected to enter the space, either leveraging new data sets to compete on usual risks, or even addressing emerging risks, on which insurers don't benefit from having years of historical data. These expected new models could be leveraged either to price products, where insurers themselves could be customers, to analyze existing portfolio to make sure the level of premium is consistent with the level of risks, or enabling new players offer products to their niche customers (e.g. Tesla leveraging its connected cars' data, to sell EV-dedicated car insurance products, where existing insurers are pricing these customers with models built when EV didn't exist…).
Florian Graillot, astorya VC
A lot of opportunities for insuring new business risks: from risks of the emerging digital platforms to risks related to digital assets of a company.
Matteo Carbone, IoT Insurance Observatory
I believe parametric insurance will keep growing as extreme weather events have become the norm with floods and forest fires hitting hard both people and industries.
Andrea Silvello, Insurtechnews.com
I also believe the cyber market is ready to be disrupted. Cyber Insurers must provide a more holistic cyber insurance product which reduces major enterprise cyber risk. I believe a focus in 2020 will be selling 'compliance as a service'. Let's think about the looming threats of cyber security and data privacy...uugh. Combined with recent regulatory changes, individual personal data and privacy will be mandated across the US in the near future. Is there a way to preserve the utility of data in a way that does not create unnecessary risk for the organizations storing it or underwriting the policies? Layering security for maximum protection and compliance could lend itself to a much needed product within cybersecurity: requiring data tokenization to become part of the policy itself. I can see a successful product co-created by TokenEx and CyberPolicy to be extremely beneficial for the small-medium enterprise client (while mitigating risk for underwriting at same time) who may not have the resources to implement these solutions or afford expensive alternatives. Hint-hint @Keith Moore and Alex Pezold
Robin Smith, Goose & Gander
An increasing need to serve the underserved: This past year lots of work was done to address the needs of the millennials, the elderly and the SMEs. More niche segments will emerge in the future and what is certain is that one-fits all product design approaches are not in favour. There is certainly more to be done in 2020. Many people do not have access to insurance. This includes over 3.8Bn of low-income individuals in emerging countries and 8.6% of people with no bank accounts in Europe. This is where inclusive insurance can help insurers access newer risk pools by serving those that have not been served by traditional insurance. An understanding as to how to make friction-free mobile first digital propositions and micro parametric insurance work in developed markets will increase in 2020.

Sabine Vanderlinden, CEO at Startupbootcamp InsurTech
Accelerated unbundling, invention and reinvention of products will accelerate a "product arms race". Insurers will follow InsurTechs in offering new "unbundled" products, driving growth in microinsurance, event-based on-demand and new services as well as introduction of new products for new risks and products like cyber, digital identify, space insurance, and more. In particular, we will see accelerated reinvention of auto due to the rapid adoption in emerging tech like autonomous, telematics, rideshare, and more to retain customers and revenue. Tremendous changes are still on the horizon. As we enter 2020, the future of insurance is intensifying and shifting. Future market leadership and success will be defined by focusing on the customer experience, business innovation, and technological leadership.
Denise Garth, SVP – Strategic Marketing, Industry Relations, and Innovation at Majesco
5. Commercial lines innovation
2020 will be the year of commercial insurance innovation. I will be paying close attention to a number of distribution plays, like CoverWallet (being integrated into Aon), BoldPenguin and Embroker. As distribution plays and back-office solutions expand, the speed and diversity of commercial insurance solutions will explode.
Chris Cheatham, RiskGenius
I'm currently seeing an increasing appetite for using IoT on commercial lines. We are just at the infancy stage of this trend, but there are already a few niche insurance products in the market. I'm expecting to see more experimentation on this field in 2019.
Matteo Carbone, IoT Insurance Observatory
6. Prevented health risks
Prevention is certainly on the card: Prevention is starting to become an important behavioural improvement driver for many market players beside health and insurance players. Alphabet, Amazon, Apple and even retailer Walmart are all investing in health with an aim to reconstruct the healthcare value chain. This will include insurance too. Top health digital players, namely Oscar, Bright Health & Clover Health have jointly raised $2.6Bn in investment in a market valued at $10+Trillion. They are set new customer engagement standards by combining the very best of digital platforms and ecosystems.
Sabine Vanderlinden, Startupbootcamp InsurTech
Life and health makes a transformational leap forward: The integration of evolving life sciences including genetics, epigenetics, molecular diagnostics, facial analytics and microbiomes will lead to some ground breaking developments
Sam Evans, Eos Venture Partners
7. Ecosystems come to age
The demands of agility, speed and innovation are dramatically different as we enter 2020 than they were entering 2015. To succeed in the future of insurance, which is coming faster than most realize, insurers must lay the groundwork of a new digital insurance business model that embraces customer, technology and market boundary changes with vision, energy and speed. Here is what I see:
Evolving reinvention of the overall insurance industry & ecosystem for all entities – insurers, MGAs, Brokers, Reinsurers, industry orgs, channels, solution vendors, partners, entrance of outside industry players and more. In particular the shift in power base from insurers to MGAs and reinsurers who are redefining their roles in the ecosystem, particularly for new products & new market opportunities that offer greater growth and decreasing dependence on insurers.
Innovative partnerships, ecosystem development & connections will gain momentum and move beyond ecosystem to business partnerships that drive growth through embedding of products in other businesses, revenue sharing, white labeling, and new channel options.
Denise Garth, Majesco
The importance of affinity partnerships will increase: Affinity partners are emerging as a critical distribution channel for InsurTech's, allowing engagement, benefit of an existing trusted relationships and provide access to a significant amount of data to support product development, usage-based coverage and enhanced underwriting. Leading companies will continue to expand into new markets, white labelling and license agreements will lead to rapid proliferation of new technology. An increasing number of category leaders will come from high growth markets in Asia, Latin America and Africa
Sam Evans, Eos Venture Partners
Ecosystems will keep on growing together. We will see Western insurech trying to expand to Asia and Asian players expanding to the West and European companies expanding to the US and the other way around. Slowly but surely we see a truly global insurtech and insurance ecosystem.
Robin Kiera, Digitalscounting.de