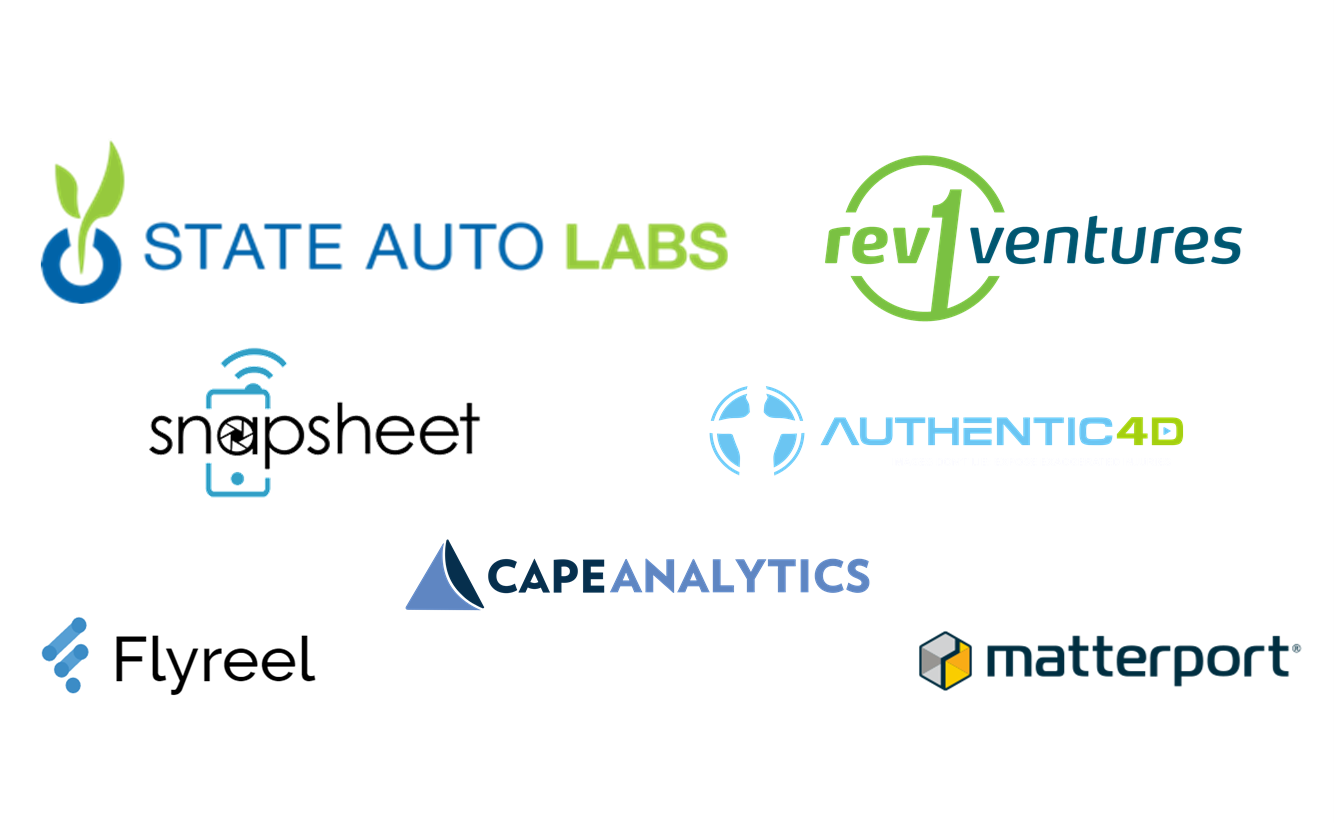 Columbus, OH--May 22, 2019--Today, State Auto Labs, the innovation arm of the State Automobile Mutual Insurance Company, is revealing impressive momentum just a year-and-a-half since launching its $25 million corporate venture fund to support entrepreneurs and innovations in the insurance industry. In partnership with investor startup studio, Rev1 Ventures, State Auto Labs has been steadfast in its commitment to identifying, adopting, and investing in transformative insurance technologies and solutions.
To date, the fund has invested in five insurtech startups, including Flyreel, an artificial intelligence (AI) solution for property insurance that raised $3.85 million recently; Snapsheet, the leader in virtual claims solutions; Matterport, a world leader in 3D capture technology and data; Authentic, Inc., which improves efficiencies in medical claims, and Cape Analytics.
"State Auto Labs has been a very valuable partner for us," said Ryan Kottenstette, CEO and Co-Founder of Cape Analytics, the provider of the most accurate and up-to-date property data for insurers and reinsurers. "More than simply an investor, they bring a deep perspective on insurance, paired with a collaborative approach, and a sense of urgency — all of which are key ingredients in building a company from scratch."
"There has been an enormous amount of change to the insurance industry, and our approach has validated that disruptive ideas need a disruptive approach," said Mike LaRocco, President and CEO of State Auto Automobile Mutual Insurance Company. "One of the challenges insurtech startups face is bureaucratic red tape and processes; however, because of our nimble approach, State Auto Labs is accelerating investments in this space, and as a result, is also accelerating advancements in the industry."
As part of this initiative, State Auto works directly with startups to provide rapid feedback on whether a technology solution may be a fit with internal operations. When there is a fit, State Auto moves forward toward a full operational partnership as efficiently and quickly as possible. To date, State Auto has operationalized 15+ new technology solutions. State Auto Labs is unique in that all portfolio companies are in a working relationship with State Auto's core business.
State Auto Labs continues to focus on partnering and investing with startups addressing four key areas:
Technologies that connect, collect, and communicate with people, vehicles, offices, and homes (i.e., Internet of Things and wearables),
Data-driven innovations that improve analytics and decision-making (i.e., machine learning and artificial intelligence),
Technologies that help the independent agent run their business, and
Operational solutions that seek to anticipate the changing needs of insurance customers and agents, while also tapping into excellence with internal operations.
"Rev1 continues to seek out ways to better support entrepreneurs through real-world experience that helps them develop their solutions, prove their market, and ultimately, build scalable and successful companies," said Tom Walker, CEO of Rev1 Ventures. "We are thrilled with the abundance of strong insurtech ideas coming out of Columbus. State Auto Lab's momentum speaks to the potential of our unique approach that focuses on furthering insurance innovation from the inside out."
For more information about the fund and how to connect, visit http://www.stateautolabs.com.