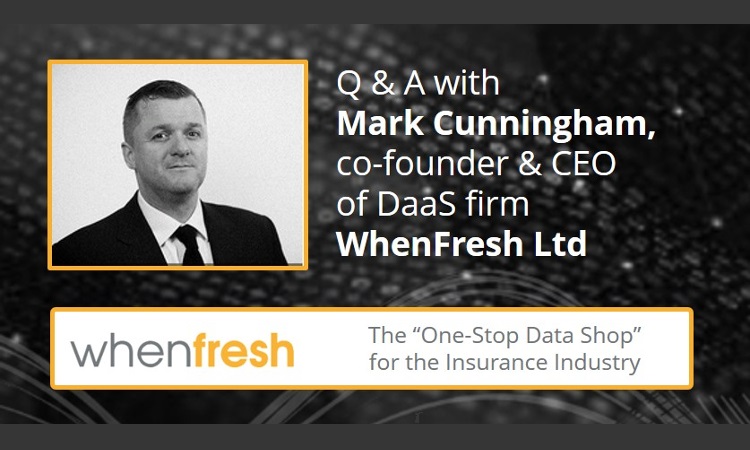 Mark, could you please tell us why you first decided to invest time and effort in the company which is now WhenFresh? What were the main drivers for you?
The UK insurance market needs to change.
Generating a quote is unnecessarily complex for the consumer. Without exception, applying for Home Insurance is a long-winded nightmare, trying to answer page after page of very detailed questions about your home. Very often, you just don't know some of the answers so can either just give up, or (possibly worse) guess. Or you can go to an insurance UI that has nailed making data do the work. Our new "BehindTheBricks" API-based service fixes this, as the consumer need only enter an address and the insurance application form is instantaneously pre-filled for them. This greatly reduces consumer input and improves the quality and quantity of quotes the Insurer can give. It's a real game-changer.
In the USA, Lemonade and Trōv have shown how user interface and rapid customer experience is driving customers away from traditional insurers. Our mission is to provide the traditional insurance companies with the tools available to bring them into the new world of customer engagement.
Insurance companies are focused on the business of insurance. For the most part, they are not focused on new technology and new ways of presenting data to a customer, or indeed using data in a new and exciting way to lower their costs and improve their margins.
WhenFresh is a DaaS business and the core idea behind WhenFresh is that, by bringing together a vast, unique range of high quality datasets, then applying advanced analytics and truly creative thinking, we can deliver highly effective new solutions for all sorts of applications and industries, and we see huge opportunities in the Insurance sector.
We think Insurance is really challenged by strict and unwieldy software. Data as a Service (DaaS) business models mean you can get the best of what you need to move as fast as you want. So, you can skip form-fills, get prices written on the fly and embrace the best of the technologies that make transacting with travel or retail or banking a less onerous process for the consumer.
What is your USP and what is WhenFresh's main offering at the moment in terms of services? How easily can a client integrate your solution with their existing technological platform?
Our USP is people. We are expert data people. We have worked in retail, software, lending, travel and property portals. We have managed more quotes to supply and more abandoned baskets (in our lives in retail and banking and travel) than the entire insurance industry.
What we are doing is taking the technology and experience we have gained from building the checkout for Tesco.com and the operating software that joined Lastminute together, combined with the data smarts that built the Zoopla Property data analysis team with programmers and data architects from Insurance Software houses and comparison sites. We have the ex-Head of Data from Rightmove on the Board ensuring the data viability and processes. The WhenFresh USP is the team - these people know data and they know insurance
BehindTheBricks is a great big insurance data shop. If you need to get data for insurance, we have it here and you can buy it as a flat file or via API one record at a time. The API model offers a fantastic 'toe in the water' for smaller insurers/reinsurers because it gives you all the upside of being able to answer questions about any property without the capital expense of buying national data sets and all the economies of scale with no volume commitment.
The offering in practical terms is: Send us an address or a location and tell us what you want to know: Age? Bedrooms / Bathrooms? Building Materials? Size? Value? Proximity to trees? Any Shrink / Swell? Rebuild cost? Nearest water? Flood scores (and you can have these by half a metre from the property)? Title extent?… the list goes on and on and on.
You can ask us about as many as 5,000 properties per second and get an answer in 1/24th of a second on all of the above questions. If any one company needs over 5000 queries per second (that's 432,000,000 per day – per customer) then that's a First World problem! But we can instantly scale.
In a sentence – you can take ANY form used in the insurance sign-up process or in the aggregator space and reduce the entire onboarding process around the property to one question:
Which address do you want to insure?
You do not need to ask any more questions.
We've spent years pulling together an unrivalled combination of over 200 high quality private and public data feeds, including Zoopla, Prime Location, uSwitch, CLS, Bluesky, Future Climate Index, Property Assure, you name it… all in one place.
As regards ease of integration, we really deliver. We secured £3m in Series A funding from CLS Data Ltd in 2017 and that's mainly been invested in accelerating product development and building the API so Insurers, Banks and Utilities can use WhenFresh as a "one-stop shop" where they can easily access the data they want in the format they need. It's a Microsoft NuGet integration and its so simple that one new Insurance customer recently met with us, liked what they saw… and we had everything tailored to their data schema and started delivering a live feed within hours.
Are you planning to expand these services to other sectors or maybe you're looking at options outside of the UK as well?
For the time being we're laser-focussed on establishing the BehindTheBricks API service within the UK Insurance market. Insurance Form Pre-Fill application is the obvious entry point, but we also see great potential in appending the data we can supply to validate and review existing policies to improve pricing and reduce risk, as well as seeing applications in reinsurance. Outside the Insurance sector, we already provide a range of products and services to the Financial Services, Utilities and Property – and we intend to expand on this in time. As for international expansion? That's also something for the future, but it's no coincidence that our data science team are partly California based.
Could you also talk a bit about your clients, who are your most important ones and what industries do they come from? It would be great if you could give an example of a recent project implemented for one of your major clients.
We're something of a "secret weapon", so pretty much all of the client projects we undertake are tied up with NDAs – but I can give you a couple of examples:
Using our BehindTheBricks API one major Insurer has cut down to almost no questions when bringing on new clients. In their online application form they only ask for the address that needs to be covered and we fill in the rest. Another insurer uses BehindTheBricks to reprice the policy cost on their back books when calculating renewal quotes.
But the best application we have seen in terms of doing something really neat was using the BehindTheBricks data to re-profile and therefore renegotiate the cost for an insurer re-insuring their back-book risk onwards. This kind of Data as a Service could be big game-changer for the reinsurance space: putting more data into the hands of the insurers creates a genuine value-add and drives down insurance costs.
How do you see the stage of development of technologies such as big data analytics and artificial intelligence for the purpose of profiling? Should we brace for more to come? Do you think that such technologies are already or will significantly impact the daily lives and habits of people or will it be more of a backstage/ unseen mechanism?
You can bet the farm on it! We think it's all about making the world simpler from the consumers' point of view and, whilst the use of data, analytics and technologies will continue to become more and more prevalent, we hope and expect its usage to become less obvious and more frictionless.
We're also very mindful of consumer perception and ensuring the data-driven solutions we provide are used for "spookily convenient" applications rather than "creepily all-knowing" ones!
Did the recent implementation of the famous GDPR have any impact on your business? How did you manage it?
We're all about big data and from our formation in 2012, we've always adhered to the very highest standards and best practice in the way we source, validate, store, use and supply any form of data. As a supplier to the UK's major Financial Services, Insurance, Utilities and other National institutions, holding the highest standard of compliance is of course paramount.
We should also stress that all the data we hold and supply relates to the property, not to the people in the property, which also simplifies our GDPR position. So, in short, it had very little impact on our business as the DPA, good practice and common sense meant that we were pretty much automatically GDPR compliant already.
Any advice for insurance companies that are still struggling to keep up with the pace of innovation?
To be brutally honest, if an Insurance company is struggling to keep up with innovation, they need to ask themselves whether they want to be around in 3 years' time!

Clearly some businesses are more agile than others, but every insurer must recognise that the pace of progress is only going to keep speeding up. Convenience of quote and speed of response is everything if you are consumer facing; in the new generation of customers slow is as good as broken.
Are you asking questions in a quote form you do not need to? The direction of change in data handling is not going to lend itself to gathering data that a customer does not need to give over, that you are not processing well, or where you ask questions a customer could not reasonably be expected to know the answer to. Companies need to get a lot better at being able to call on data and not to keep data.
Can you pay out as quickly as you collect? Lemonade is proving a compete winner in recognising how to multiply successful market breaking practices by focussing on the speed of response around the pain points. Is paying out on claims a moment when people recommend your company or resent using you? Lemonade has absolutely nailed this.
The other thing I'd say to those Insurers who rely too heavily on Motor income – is to develop other markets. With Tesla, Google, Volvo et al racing to produce ever safer and cleverer cars, the advent of self-driving with no accidents is on the not-too-distant horizon. The motor insurance market looks sure to shrink rapidly in the foreseeable future and, as we all know, the future seems to come around pretty fast.