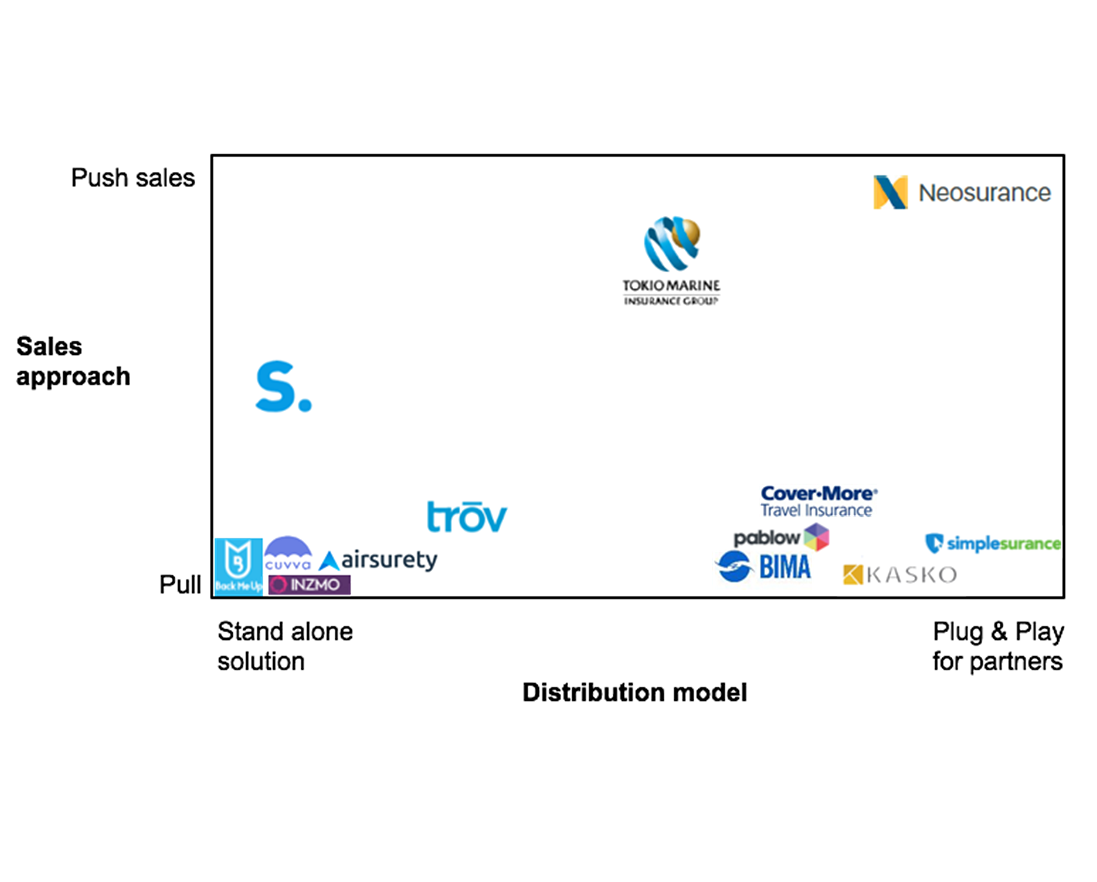 As insurtech startups are slowly but surely expanding to cover more and more business categories, the US remains the indisputable leader with over 580 companies based on its territory. Hitting the peak in 2015 with 103 insurtech startups founded, the insurtech industry continues its growth – with a 340% growth in number of exists between 2011 and 2016 according to Venture Scanner.
Insurtech startups are plenty – around 1022 globally – and just having a good idea is often not enough to succeed in the insurance world. You need both the technology component and insurance sector knowledge in order to go out there and close deals with insurers.
Source: Venture Scanner
After winning the Horizon 2020's SME Instrument "Phase 1" award, Neosurance, the insurtech startup that offers innovative technological solutions for on the spot micro policies to insurance companies, has recently reached an agreement to recruit Pietro Menghi in the role of CEO. Pietro Menghi comes with a 20 year long career in the Insurance industry, having played key roles in Swiss Re and later in Willis, with a constant focus on Innovation.
At the same time the company has gained a pre-seed investment of 230.000 Euros from Business Angels, such as Matteo Carbone - founder and director of the Connected Insurance Observatory - who took up the role of Senior Advisor and from Pietro Menghi who also participated in the funding round , with the company being valued at over 3 million euros.
"2016 was for us the year to lay the foundation and achieve the first international recognitions, and with the new year starting we are happy we can announce important news once again", said Andrea Silvello who alongside Dario Melpignano is co-founder of Neosurance. He continues, "in fact, we have achieved our first objective and started to generate revenues, thanks to a deal with a top Italian insurance company that started using the Neosurance platform for its client base. The proven interest and credibility of our innovative solution is only the first step of a multiyear development program where we position ourselves as the technology provider that enables insurance companies to propose the right policy at the right time, with a push approach."
Neosurance has been one of the startups chosen by Plug&Play - one of the world's greatest startup accelerators - to take part in their Selection Day on February 22nd at the headquarters of Sunnyvale, California. With this occasion they will be pitching in front of 40 Senior Executives and VCs in order to gain even more traction on the market. 
As announced previously, Neosurance has a number of ongoing talks with potential investors, aiming at completing a stage of Seed Investment for 1 million euros in the coming months in order to support its ambitious development path. In addition, deals have been signed already with several communities such as Models Corner Milan, a model club, TiAssito 24, an Italian app assisting the client in car management, and KLCC Runners Group, a runners club in Malaysia, thus it will soon be possible to subscribe micro insurance policies to cover specific short lasting events. Furthermore, deals are in progress with other communities that will be announced at a later stage, in Italy and abroad.
"I am taking this new professional challenge with enthusiasm, as I strongly believe in the Neosurance value proposition and potential for international development. My professional background in the insurance industry and the network of relationships which I have built along my career go hand in hand with the undisputed technical and managerial qualities of the two co-founders: I believe the diversity and complementarity of this team are distinctive features, difficult to match in such young enterprises", Pietro Menghi has stated.   
"I started my research on just in time insurance more than one year ago. I remember a couple of discussions on Linkedin and Twitter with a few insurtech folks in the first months of 2016 focused on one-time insurance, on incidental channels… and on whether insurance products will continue to be sold or will be bought .", says Matteo Carbone.
Terrific #linkedin discussion about contextual #insurtech @pascalbouvier @robmoff @asanwal https://t.co/b9joXVnyNv pic.twitter.com/1IKoaP5EbJ

— Matteo Carbone (@MCins_) 19 gennaio 2016
Great discussion on #insurance incidental channels https://t.co/A8VdmX9nbw @pascalbouvier @FGraillot #digitaltech pic.twitter.com/EP6jX6XgM7

— Matteo Carbone (@MCins_) 14 marzo 2016
"insurance is sold, not bought" will #InsurTech change it? https://t.co/Df6d8e9M7J @pascalbouvier @Minh_Q_Tran @OHEV pic.twitter.com/gK31tSPHuo

— Matteo Carbone (@MCins_) 10 maggio 2016
Carbone continues, "I was attracted by the business model and the technological platform created by Dario and Andrea. Neosurance is an interesting initiative focused on a push approach to selling insurance on the smartphone using AI, as opposed to many on-demand approaches I have seen, making use of demand aggregators, as opposed to creating their own app. The profiles of the two founders and their team is a great mix of tech skills and consultancy pragmatism in the business model set-up. It was interesting to hear from them about the first interactions with big insurance groups that have hundreds of years of history at their backs and about the process of closing the first three collaboration agreements. Their main gap was accessing insurance knowledge to effectively communicate with them and to figure out the insurance use cases - common issue in many insurtech startups"
#insurance is sold not bought. What about #insurtech?https://t.co/WdS02cOJuM@pascalbouvier @Minh_Q_Tran @tek_fin @WFSULLIVAN3#AI #iot pic.twitter.com/6BTqj2V4B2

— Matteo Carbone (@MCins_) November 12, 2016
"Pietro's role is to close this gap: I met him more than 10 years ago when he was a Swiss Re executive and his entrance as CEO was key for my decision to invest in Neosurance. There is a long pipeline of insurers interested in using the Neosurance platform and he is the right person to make it happen".