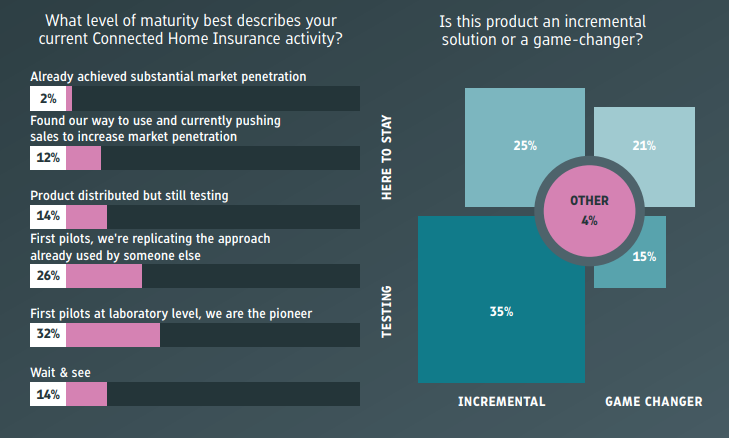 With 58% of home insurance execs in a pilot project and 14% still configuring their offering, home insurance represents one of the biggest opportunities for growth in the connected insurance space. Of all the insurance lines examined during the report, home was the one most tantalised by the potential and elusiveness of the IoT. This is echoed by the research made into attitudes towards connected insurance. Firstly, respondents from home were the most likely of any line to see the IoT as leading to an incremental, rather than a transformative, change in their business: 60% felt that way, almost 22 percentage points more than in the health and life sector, however a substantial minority, 46% have made up their minds that the IoT is here to stay.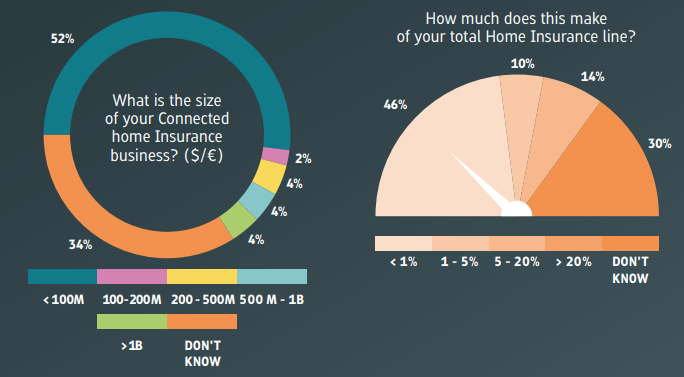 With the statistics suggesting that the industry is soon to emerge from 'R&D mode', is the market ready for a sudden influx of connected home propositions?
Insurance Nexus are releasing an exclusive Connected Home Insurance Industry Snapshot for 2019, developed as part of the research conducted for the Connected Insurance Report.
Get exclusive stats and analysis now: Download the Industry Snapshot
Statistics on how far insurers are on their journey towards connected home insurance, relative to auto, life/health and commercial lines
Industry attitudes towards the transformative potential of IoT
Why we can expect an explosion of connected home product offerings in the near future
Why insurers are likely to experience more resistance in extending connected insurance to the home and why a model of the new insurer/customer relationship is required
Get exclusive stats and analysis now: Download the Industry Snapshot
The Connected Insurance Report was researched and produced in by Insurance Nexus in collaboration with the IoT Insurance Observatory. It is the first of its kind to conceive of insurance IoT holistically, as a paradigm shift necessitating changes in insurer business models, organisational structures and technology stacks. We surveyed the experiences of 500+ insurers and reinsurers to assess where they sit in the connected insurance market and to extract the challenges they face and their stories of success.
Along with a panel of 20 industry leaders who have been operating at the sharp end of the IoT revolution, we looked at these hurdles and opportunities and pulled them apart to give you case studies with actionable insights which will help guide your decision-making as you tackle your own strategic milestones.