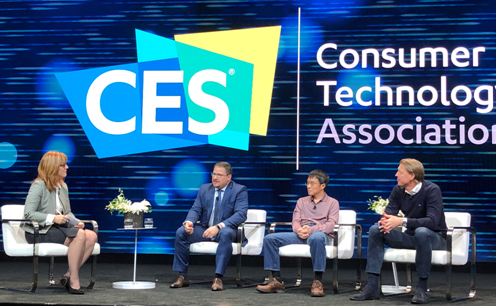 For the past seven years now, I've made an annual pilgrimage to CES in Las Vegas to learn all about the latest research in technology and how it is being integrated into new consumer products. Understanding how technology makes our lives better is integral to understanding the rapidly evolving nature of human behaviour. It is also critical for the insurance industry to understand these trends because it will shape the future of how customers will think of insurance. This article explores key trends in technology as unveiled at CES 2018 and the opportunity for the insurance industry to embrace these trends to their advantage.
Capture & Use of Data Goes to New Heights
An ingredient technology for any major innovation in 2018 and beyond is going to be data. Data is becoming a resource like electricity. But unlike most resources, data is expanding and can grow indefinitely. According to Brian Krzanich, Intel's CEO during his CES keynote, "Data is going to introduce social and economic changes that we only see once or twice in a century. It is time to think about the importance of data differently." This new perspective is necessary he said, because "almost everything we associate with technology generates data." Krzanich predicts that by 2020 the average person will create 1.2 gigabytes of data per day. In addition, an autonomous vehicle will generate 4 terabytes a day while a smart factory will generate 1 petabyte (1024 terabytes) of data per day.
The 5G network will facilitate the collection of this massive amount of data. The new network is faster, more reliable and with almost no latency. It is being tested in the United States and chips with 5G radios are being developed for use in any device. In 2018, we can "expect to see a lot more news on 5G as more companies and partners get involved", said Verizon president Hans Vestberg. With AT&T announcing they will have mobile 5G by the end of 2018, Vestberg promises that Verizon will be first to market. Consumers will likely see the launch of 5G capable phones as early as 2019.
Shown left to right: Sue Marek, Editor in Chief, SDxCentral; Cristiano Amon, President, Qualcomm Incorporated; Qi Lu, Group President & COO, Baidu; Hans Vestberg, Chief Technology Officer, Verizon
With all this collection of data, computers are now used for recognition, prediction, decision making, and even thinking. Hardware companies are rushing to launch the next wave of hardware that supports both the collection and processing of massive amounts of data. It is specifically being designed for artificial intelligence (AI) and neural network applications. At Nvidia's keynote, CEO Jensen Huang showed off how they're training machines to recognize and categorize images, in this case flowers. The technology behind it all was able to recognize hundreds of flower images per second. What's more, they showed how their new chipsets are smaller and use less power.
Shown: Jensen Huang. CEO Nivida, showing rapid pattern recognition of flowers
New Immersive Realities
Steve Koenig, senior research director at the Consumer Technology Association, predicts that virtual and augmented reality technology will be greatly enhanced to redefine realism in 2018.  Again, the capture and processing of enormous amounts of data will make this happen.
This past year, Facebook launched Facebook Spaces in beta. Using the Oculus Rift virtual reality (VR) glasses, you can communicate in the virtual world with your friends, and even share photos and play card games.
Shown: Facebook Spaces
Intel is looking to take augmented reality (AR) and VR to new heights through volumetric video capture. They want to capture scenes far beyond the traditional 3D pictures you stitch together in VR by recording the volume and depth of a picture too. This will give you the sense of actually being inside the movie. Imagine if you did this for the Super Bowl. You would literally see from the perspective of the quarterback as he throws the winning touchdown. Basically, a series of volumetric cameras are placed all around the football field and absolutely everything is recorded. This past fall, the company launched Intel Studios. It is the world's largest volumetric video capture and production facility in the world. In addition, they will be working with media partners to capture volumetric video at this year's winter Olympics.
Shown: Volumetric Camera & Ski Jumper
Immersive reality will facilitate new realms of human connection via digital means. Not only will the insurance industry adopt buy online and chat bots as a way of servicing customers, but insurance providers will also be able to communicate with customers in new realities created with AR and VR. It would be possible to integrate these technologies (AR and VR) throughout the entire customer journey; a journey that could also include risk, claims and medical assessments as well as sales and service. Just like the picture above where two people are sharing Facebook photos in VR, you'll be able to interact with objects and other forms of information while communicating with your customers. In addition, volumetric recording capabilities can have profound impact on insurance claims. Imagine a dash cam or a home security camera that records everything from all angles so you can see damage, or crime in action, from any perspective.
Autonomous Car Development Accelerates
The race to develop working autonomous car technology has really accelerated as presented at this year's CES. Hardware makers like Intel and Nvidia are making chipsets dedicated to the requirements of autonomous driving including the ability to connect 5G networks, render and process high definition maps, and neural processing for artificial intelligence.  
Dedicated hardware allows automakers and technology companies to create platforms with an ecosystem of services and open APIs. At a CES press conference, Shoichiro Toyoda, president of Toyota, reaffirmed the company's commitment to further develop Mobility As A Service.
Source: Toyota
APIs connect autonomous systems to services people need, including ridesharing, insurance, and mobile retailers. The operating system will handle software, security, maintenance, safety, and dealership management. Everything is connected to Toyota's big data so that machine learning is at the core to make smart decisions quickly.
At CES, Lyft and Aptiv are examples of how invested ridesharing companies are in developing autonomous cars. Lyft was offering rides in Las Vegas using Aptiv's autonomous vehicles. Implementation in ridesharing programs could be the catalyst that gives instant adoption and scale for autonomous vehicles.
Shown: Lyft self-driving vehicle powered by BMW and Aptiv
Another major progress to note is the company HERE. They make high definition maps that contain LIDAR (which stands for Light Detection and Ranging) information so autonomous vehicles have awareness of objects and road conditions. At CES, a number of partnerships were presented indicating the importance and progress in high definition map technology. They have partnerships with Intel, Pioneer, DJI, BMW, Audi and Nvidia.
Smart Cities
The discussions around smart cities is a huge trend at CES this year. Why is that? According to the Consumer Technology Association, 70 per cent of the world's population will live in cities by 2050. This poses a huge challenge for transportation, pollution, and security.
Shown: Jim Hackett, CEO, Ford
New Ford CEO, Jim Hackett delivered the opening day speech but did not showcase any new cars or the latest in car tech like his predecessors. Instead he described Ford's strategy to transform the company from being known simply as an automaker to being known as a company that uses data, software and AI to redefine civic life too. In the same way the original Model T transformed America's civic life through transportation, Hackett is looking to do that again through a vision of an open source, data-driven operating system that can be used by city planners, architects, technology companies and even the citizens themselves to redefine urban living.
Shown: Smart Cities Panel from Left to Right, Nick Bowden, EIR, Sidewalk Labs; Adam Blake, CEO, Zego; Lesa Mitchell, MD, Techstars Kanas City; Rodney Williams, CEO, LISNR; Nagesh Rao, Chief Technologist, SBA
A panel on this topic was staged at Eureka Park at CES where they showcased 1,000 startup companies. Representation on this panel included Sidewalk Labs, the Alphabet Company building the Toronto smart city. They prefer not to use the term "smart city" but rather "city operating system". The mandate is to develop technology along with new regulations and policy so that the new operating system can solve the challenges of urbanization. Some of the ideas discussed on the panel included the following:
Ensuring everyone always has access to the fastest routes. Navigation is expected to be optimized in real-time and will take into consideration construction, road closures, and train delays.
Autonomous and accident-free transportation.
A more efficient use of energy, where cities will adopt LED lighting and use sensors to centrally manage all heating and cooling for more efficient use.
Using networked surveillance and AI to detect early on any threat the city may face.
Protecting people's privacy, their locations and other personally identifiable data. Smart city developers are trying to use predictive modelling that addresses urbanization challenges while respecting the privacy of individuals.
There are challenges with transforming an existing city with these new ideas. There are challenges with government, policy, regulation and transforming an existing urban area while keeping existing services and traffic running. This is one reason why SideWalk Labs is working with the City of Toronto to transform Toronto's Quay Side which is currently unused to start testing smart city ideas and operating systems.
Insurance Shifts to Manage New Risks
AIG is one of the very few insurance companies that regularly participate at CES. They are part of the forward-thinking conversation that takes place each year and they integrate the insurance mindset into the talks to facilitate the management of risk as new technologies, like autonomous vehicles to smart city operating systems, emerge.
Shown: CEOs from AIG, Lex Baugh and Gaurav Garg
Lex Baugh, CEO of North America General Insurance for AIG, and Gaurav Garg, CEO for AIG's Personal Insurance Business, hosted a panel discussion and the topic was "Who's Responsible for Driverless Car Liabilities and Risks?" They opened the discussion by introducing some work they've collaborated on to determine the consumer perception around the future of mobility and where they think the risk lies. AIG surveyed 1,000 driver-aged people in the U.S., 400 in Singapore, and 400 in the United Kingdom to gauge public attitudes toward autonomous cars as this will likely shape how regulators respond.
Baugh (who heads commercial insurance) and Garg (who heads personal lines) partnered in this study because they fundamentally believe that rapid development of mobility technology does not eliminate risks, it just shifts the risk elsewhere. In the case of autonomous vehicles, for example, the risk is shifting from humans to machines, and thus from personal lines to commercial.
Source: AIG, The Future of Mobility and Shifting Risk
Consumers were surveyed about their perception of fault when riding in the driverless car, and a lot of the liability was perceived to now fall on the likes of the:
car manufacturer
software developers who develop the "brains" of the car
manufacturers of the sensors, cameras and traditional car parts
companies that develop and maintain roadways used for autonomous cars
companies that develop the infrastructure that allows vehicle-to-vehicle communications
suppliers of mapping systems and data

Companies are already preparing for this shift. Car makers such as Volvo, Mercedes-Benz and even Google have made public that if their commercially available vehicle that's being operated in autonomous mode is at fault for a collision, they would take liability and responsibility.
In spite of this, the AIG survey also asked if occupants and operators of the driverless car have some liability for maintenance, software updates and general operations. Responses in the three countries ranged from 39 per cent to 51 per cent% in favour of passengers and operators having some degree of liability and responsibility for these items.
The AIG survey also included asking consumers about their sentiment on driverless cars. In the U.S. and U.K., 42 per cent of those polled said they were comfortable with sharing the road with driverless cars, while in Singapore 46 per cent were comfortable. Similarly, Canadian insurance comparison website, Kanetix.ca, conducted a similar survey recently and got similar results with 41 per cent of Canadians indicating they were comfortable with the idea of driverless cars.
Another aspect that impacts public policy is comfort around security from hackers and privacy of data. In the U.S., 75 per cent were concerned about hackers taking control of cars and 67 per cent were concerned about data privacy. Singapore and the U.K. had similar figures.
Conclusion
As you can observe, an overall reduction of risk could result in fewer premiums. If, however, the reduction of risk results in an improved standard of living due to our smart new world, I should think most would welcome this change. In the meantime, insurance companies need to continue to track what risks will be transferred, to whom and by how much. They need to partner with the manufacturers and third parties involved in the development of the mobile services platform. They also need to consider self-disrupting how underwriting is done, perhaps by using more real-time data captured by IoT.
Our world is about to get super smart and it all starts with the applications and conveniences we can build with the data that is being collected. The global insurance industry needs to pay careful attention and CES is one way for us to stay in touch and in tune with what's going on. It's essential to stay abreast of technology trends and the resulting change in consumer behaviours to help with the management of risk as the world transforms. It's an opportunity just waiting to be seized.
About the author 
Andrew Lo is President & CEO at Kanetix Ltd where he leads all digital innovation and operations. Kanetix is Canada's largest digital customer acquisition platform for insurance and financial services.