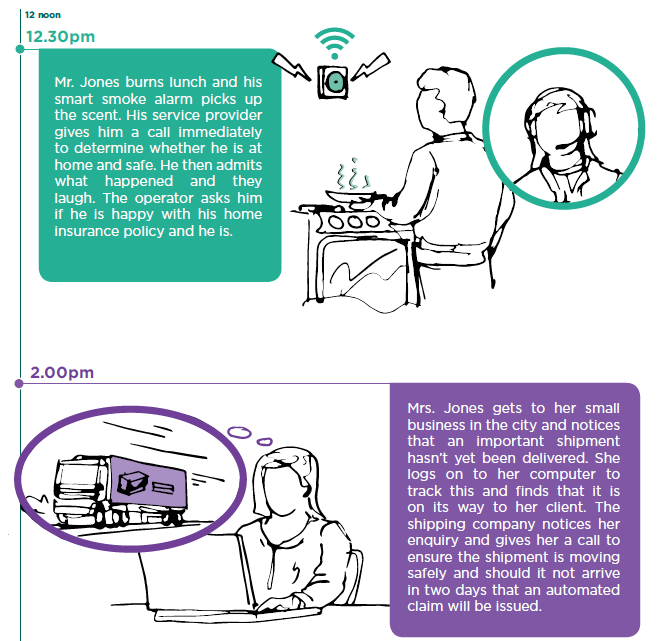 Figuring out IoT applications for your customer is complicated and making the connection to insurance is really hard to understand when it hasn't really been done before.
Talk about the connected world and the influence of IoT is at an all-time high. Companies are popping up providing all sorts of connected devices, connected lifestyles and connected services. With many sources estimating that there will be several billion connected devices on the planet by 2020 – a fact that comes up time and time again as we read about the future – it feels inevitable that the way we evolve in to this augmented reality where the lines between real and virtual will result in more connected 'stuff'. A vital piece of the puzzle that is often missing is around insurance. Where do insurers fit in to not only providing insurance in the connected age but becoming part of the connected age?
Let's take a look at how two average families actually live in a connected world.
Check out the complete infographic of the Joneses and Martin's – two fully-connected and insured families right now.
See how insurance IoT works for your customer to:
Meet your customer's real-time needs: access up-to-the-minute, relevant data and employ analytics to understand behavior and finally get your 360 customer view in place
Identify product upsell opportunities: proactively position products in accordance with on demand insurance indicators to increase overall business revenue
Create proactive customer support services: build a new business plan that incorporates customer service as your solution and move from risk response to customer protection services
To view the infographic of the Joneses, go here: events.insurancenexus.com/iot/infographics
The step to introducing IoT in to your business is not an easy one. Getting your implementation process right is fundamental and making it customer-friendly is critical to getting your plan off the ground.
The two infographics have been created by Insurance Nexus in the run up to Insurance IoT USA (November 15-16, Chicago), the world's largest meeting place for the connected world and insurance.  During the event, InsurtechNews together with Insurance Nexus will be announcing the winner  of the InsurtechNews IoT 2016 Leader Award. Voting will be open soon to the public so be sure to follow us on Twitter @insurtechnews and via newsletter to have your say in who will win.