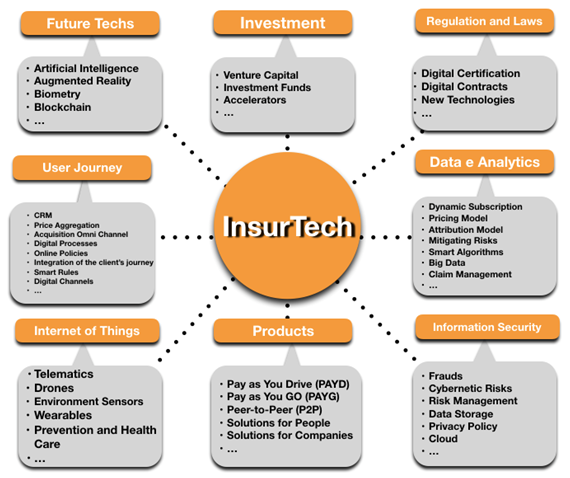 Brazil, September  2017 - The Electronic Commerce Brazilian Chamber (camara-e.net) launched in August, during the insurance and technology experts' meeting, at São Paulo city, the first Insurtechs' ecosystem mapping in Brazil. The initiative aims to design a map with all companies developing innovative technologies and solutions for the insurance market.
"We are going to do an X-ray of this segment raising the initiatives with investment solutions, Internet of Things, user's journey, products, information security, data analysis and future technologies, among other categories that compose this ecosystem", says Gustavo Zobaran, coordinator of the Insurtechs Committee of camara-e.net. "The map will be a living organism that will allow us to monitor the evolution of this sector in the country and to disclose data every three months".
From 2013 to 2015, Insurtechs' worldwide investment in startups increased 750% reaching US$ 3.1 billion, according to Everis research. From the companies that received investment, 12% of them bring health solutions, 19% focus on energy use and 32% work on on-demand e-commerce platforms. "There is a tendency to invest in innovative and risky business models and we want to see if this trend is confirmed in the Brazilian market as well", says Zobaran.
Currently, Brazil has 25 Insurtechs in operation, but there are several ongoing projects and startups being created specifically to operate in the insurance market with innovative solutions in several categories. "We expect to have the first version of this map in three months, which will give us a broader view about the operating areas and the investments' possibilities of this market" says Zobaran.
Starting this Friday (September, 15th), the Insurtechs' Committee will make the map available on the camara-e.net website (camara-e.net) so the segments' initiatives can register indicating in which ecosystem's categories they fit into.
Dynamic map of the Insurtech Ecosystem
How the new tech initiatives are distributed in the Brazilian insurance market
NOTE: Examples of categories in which Brazilian Insurtechs can register. This number may decrease or increase depending on the business environment.


The Insurtechs' Committee of camara-e.net was created this year to discuss, foment and stimulate disruptive projects in the insurance market. Its main challenges are: to educate companies and people interacting in this ecosystem; disseminating insurance culture as a necessity; acting as hub of the sector, becoming present in all discussions related to Insurtechs; creating a talent pool of people who see the segment as a business and work opportunity; producing content; promoting attitudes' change and behavior which brings the insurance companies closer to their clients and projects / initiatives being able to solve a problem; promoting exchange with the international market by creating and participating in knowledge and business missions.
About camara-e.net - Founded in 2001, camara-e.net is the main Brazilian multisector entity in Latin America and the most representative about the digital economy in the country, forming  consensus in the sector within the main public and private agents, national and international, and promoting online business development in Brazil. In its associates' board, camara-e.net has the most important players in e-commerce, among them infrastructure companies, social media, public keys, payment channels, insurance and e-banking. More information: www.camara-e.net.
Press contact:
Gisele Ribeiro – gisele.ribeiro@insightnet.com.br