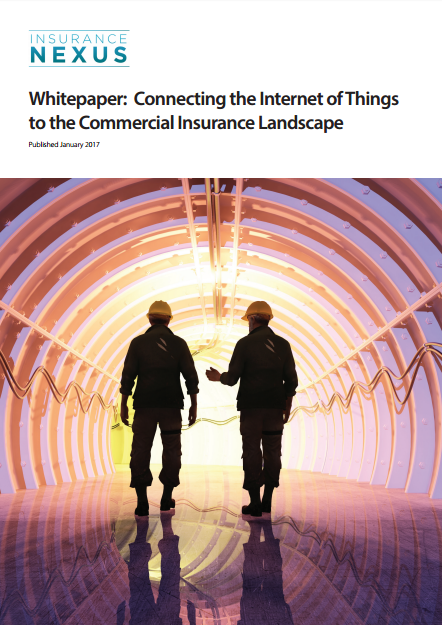 The progression of connected devices for personal insurance lines is well underway.  But what about commercial lines?  How can connected devices be used for commercial insurance to drive customer engagement and reduce losses when claims do occur? Could this, in fact, be the real sleeping giant in this new, connected world?
Insurance Nexus spoke to key figures in insurance to find out.
They interviewed RSA Group, Erie Insurance, Carrot Insurance, John Hancock, Intact Insurance, American Family.  As well as leading tech companies, L&T Infotech, Tech Mahindra, Verisk Insurance Solutions, Hortonworks, Octo Telematics. 
Connecting the Internet of Things to the Commercial Insurance Landscape
The Internet of Things, or IoT as it is more commonly referred to, is no longer the very frontier of science as far as consumer-focused products are concerned. Wearable fitness monitors and in-vehicle telematics services are commonplace in both Europe and North America. Taking their application into the insurance sector has been a growing trend over the past few years, particularly in Europe.
But while the theoretical benefits of using IoT in a commercial environment seem clear, it has yet to make similar advances in the B2B area. Executives who attended IoT North America 2016 in Chicago agreed that connected commercial insurance was certainly something to strive for and yet there remained a number of roadblocks preventing widespread uptake. Insurance Nexus interviewed a number of those executives to find out just where IoT opportunities lay in commercial insurance and how best to meet those challenges.
Size the prize - where could IoT make a positive impact
Primary among the many concerns insurers and their clients have about embarking on connected commercial environments is the investment required to bring their operation up to speed.
It's not just a question of software and improving the number and quality of the machines (and people) that have to crunch the inevitably huge amounts of data that IoT creates. It's about building in that connectivity in the first place.
In the consumer world, connecting a customer from a health perspective can involve little more than installing an app on their phone to make use of existing accelerometer or calculating technology.
There is no such organic evolution in the commercial world, with perhaps the exception of small to medium fleet vehicles. We are talking about adapting million-dollar pieces of equipment integral to mining or marine operations, or managing thousands of employees on a health plan. Certainly, data management systems are one investment consideration but so is adding sensors to, or altering, heavy-duty industrial plants. Integrating IoT isn't undertaken on a whim.
But there are compelling business cases. Take a recent study of marine catastrophes from RMS. It was conducted on the anniversary of explosions at the Port of Tianjin in China, considered the largest man-made insured global loss with an estimated total insured property loss according to the Insurance Information Institute1 of $3.5bn.
The RMS study found that the ports at risk of the highest losses weren't the biggest. Smaller US ports figured highly for example, because of their exposure to hurricanes. What would stop these smaller yet higher risk ports from being overlooked, experts determined, was better data and modeling. These are the two top deliverables of IoT in connected insurance.
Moving forward
Insurers generally accept that Europe has been leading the way in IoT in general although personal connected health has enjoyed a more rapid growth trajectory in the US than other connected insurances.
The learning from many of the executives interviewed seemed to be that looking to Europe for inspiration on the commercial connected insurance front would be a useful approach. "From the automobile telematics side, my sense is that Europe is more advanced in that there are more programmes and it's more generally accepted," states Jack Ott. "In the US there are a couple of major players who have very, very strong programmes and that's it." Ott does admit that this is in the process of changing, however.
For North American market and connected commercial insurance in general to move forward however, it means the very function of insurance will change and as a result, it is going to alter the very function of insurance companies. This requires serious executive sponsorship.
"No one department can drive the IoT programme," warns Amit Unde, AVP and CTO Insurance, L&T Infotech. "It has to come top down because to use the IoT effectively it has to be embedded into your underwriting, your expense models and in claims processing. It is organisation-wide."
But while challenging, there is definitely a sense that this will become the future. "There's a real opportunity with regard to property and loss control, especially because property claims are very expensive," Octo's Kramer adds.
Rahim Rajpar, Vice President at John Hancock Financial, insists that insurers need to begin playing the long game, something that seems counterintuitive when it feels as if the technology landscape and IoT in particular is changing almost daily: "Most people when they think strategy, they think what are we going to do in the next one to two years but strategy is really a long term game and we really need to start investing now, laying the foundation for new types of projects and initiatives that we'll start to see in the next five to 10 years."
Matteo Carbone, founder and Director of the Connected Insurance Observatory, summarizes: "Connected insurance is a big opportunity [in commercial insurance] but it won't come overnight. It's the less mature use case today because it's more difficult to figure out the commercial process [or] the industrial process, how to put sensors on that process and how to get at the data. But the opportunity to change the product's structure, the paradigm you are using to insure that kind of risk is really large, it's impressive."
Access the full whitepaper here.
By reading the 10-page whitepaper, you'll discover:    
The benefits of using IoT in a Commercial context for loss prevention and ultimately reducing claims
How to overcome the challenges around infrastructure and technology in commercial lines
Examples from commercial buildings, mining, construction and marine insurance
How some of the world's leading insurers see this space evolving over the next few years
If you'd like to find out more about how companies are seizing the opportunity of connected devices for commercial insurance, we invite you to check out the IoT Insurance Europe Summit, taking place on June 26-27, 2017 in London.  
The Insurance IoT Europe Summit is now in its 2nd year and brings together innovation, strategy and product development experts from leading European insurers.  Over 200 people attended last year and we're predicting 300 for 2017.  

The event will tackle the strategic issues around customer engagement, data ownership, cyber-security.  Then we'll drill down into the various applications of IoT – the connected home, car, person, and a special look at commercial insurance.