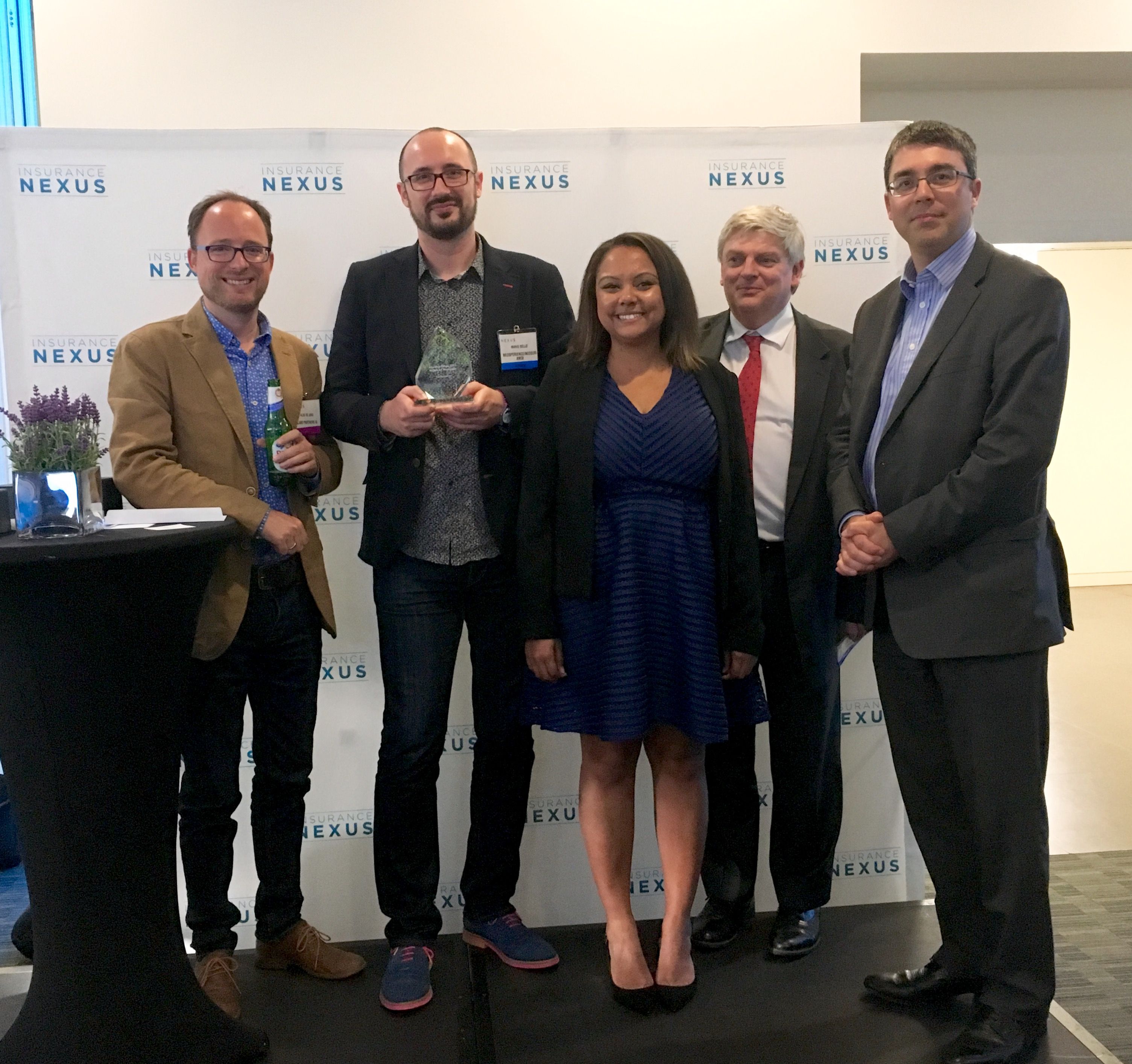 InsurtechNews was present at the first day of the IoT Insurance Europe Summit on June 7th where we had the chance to listen to some great speakers talking about the current context of Insurance IoT and how the big players see the future of insurtech or how they are trying to shape it. Among the most debated subjects of the day: privacy issues, data encryption, data protection rules and sanctions.
The Q&A sessions  managed to get the audience engaged thanks to some thought provoking questions and considerations expressed at the end of each round of talks. Only to mention some of the insurance companies present: Octo Telematics, AXA, Groupama, Allianz, Swiss Re, Aviva  and many other players such as Bain & Company, IBM, Intel.
The first day of the summit concluded with the award ceremony which announced Neosurance as the winner of the InsTech IoT Newcomer Award.
The start-up provides a solution for insurance companies which is based on push sales of short period micro insurance: just one swipe to get insured. The core of the project is the A.I. machine learning system that is able to work with IoT data and to "learn" on the go. The insurer  is thus capable of coming up with the right insurance proposition precisely when the client needs it, without even having to ask for it. Imagine you're a  a tourist landing in London Gatwick and you forgot to previously buy a travel insurance: no problem, a personalized notification arrives on your device asking if you want to get insured in a few steps directly from your device. Easy, fast, comfortable.
Neosurance was founded in 2016 by DigitalTech International in partnership with Neosperience and is the result of interactions with insurance companies throughout Europe and Asia, where the second office DigitalTech is located. The first 5 months as participants at the Connected Insurance Observatory also left their print, allowing the company to better understand the dynamics within the insurance sector and the digital disruption opportunities.  
Roc – Connect, a Smart Home as a service (SHaaS) provider, won the IoT Innovation Award. They focus on B2B opportunities by offering white-label smart home products and services as a managed offering to larger companies in key industry verticals (service providers, retailers, insurers, manufacturers and utilities)
We look forward to our next event and do make sure to stay up to date with the latest insurtech events by checking our event calendar here: http://insurtechnews.com/agenda