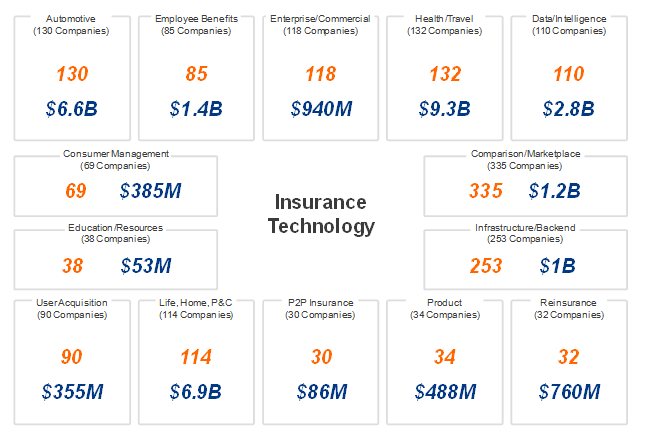 Dear readers, as we've announced last month, thanks to the recent partnership between InsurTechNews and Venture Scanner we are now able to offer you the second quarterly update on the state of the InsurTech sector. The purpose is to capture changes as they happen regarding startups and the types and amount of funding that they receive.
Insurance Technology Startup Count by Country
Source: Venture Scanner, data as of April 2017
Venture Scanner is currently tracking over 1220 startups globally as of April 2017 that fit in the insurance technology category, with a major concentration in the US (see map above), followed by Asia, Europe and Australia.
Total funding to date per insurtech startup category
Source: InsurTechNews elaboration of Venture Scanner data as of April 2017
Insurtech startups are creating new businesses in 14 categories with a total funding up to date of $18 Billion. They come in various shapes and sizes with different business models and distribution strategies. Health and Travel and Life, Home and P&C are leading by far with a record number of funding to date.
Insurance Technology Funding Amount By Round
Source: InsurTechNews elaboration of Venture Scanner data as of April 2017
Since 2013 there has been a clear tendency towards Seed and Series A funding rounds which means that the insurtech sector is passing through a period in which more early stage startups are emerging and investors are ready to bet on them.
Recent Insurance Technology Funding Round Counts
Source: Venture Scanner, data as of April 2017
This trend is also confirmed for the first 3 months of 2017 according to Venture Scanner data that analyses 6 types of funding.
Notable Recent Insurance Technology Funding Events
Source: Venture Scanner, data as of April 2017
Technology startups raised $417 Million between January and March 2017 so let's take a look at the most notable among them.
Tradeplus24 raised $100Million in this recent round and it specializes in providing Swiss SMEs with state of the art Insurance and Receivables Finance solutions. It basically means that Insurance is getting into Lending for SMEs.
Next on the list is San Francisco based Nuna. It raised $90 Million in January and is a company that provides information technology and data science services to government agencies and employers with the objective of improving how people use healthcare through data.
CXA Group is a corporate benefits aggregator with headquarters in Hong Kong and Singapore which has completed a successful Series B round of $ 25Million. The company generates annual revenue of 10 million singa-dollars and has 45 Fortune 500 companies among its 500 corporate clients.  Employers can leverage the CXA platform to combine all their vendors into a one-stop marketplace, digitizing claims, health data and payment flows between employees, companies, insurers and providers. Employees are provided with a fixed benefits wallet to choose the most relevant mix of insurance and wellness services from the available range of providers to suit their personal needs.
Simplesurance raised 20,5 Million this March and it currently operates in all EU countries, Norway, Switzerland, US & Canada. The insurtech startup developed a cross-selling platform that enables online shops to cross-sell product insurances together with their main products with no paperwork.
Chicago based Jellyvision created a virtual benefits expert helper named ALEX (basically a communication platform) which helps employees make important and sometimes complex decisions like choosing a healthcare insurance plan, saving for retirement or managing finances, in a simple and engaging way.
Selected Investor Activity in Insurance Technology
Source: Venture Scanner, data as of April 2017
VC investors tend to follow up on investment rounds showing consistency and demonstrating that initial investments are paying off.
Notable Recent Insurance Technology Acquisitions
Source: Venture Scanner, data as of April 2017 
There have been a total of 7 exit events between January and March 2017, all of which have been acquisitions.
Venture Scanner is an analyst and technology powered startup research firm offering one time snapshot or continuous coverage on any emerging technology sector. Through Venture Scanner, customers can research the categories that make up a sector, learn about the companies within categories, and analyze funding and operational data.