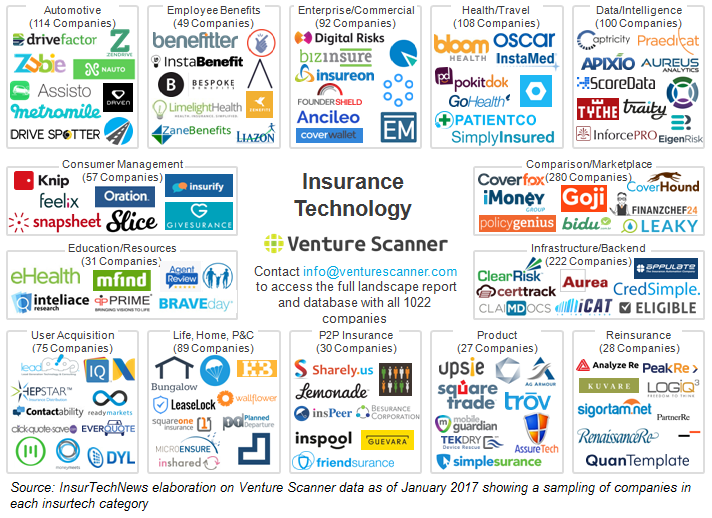 Thanks to the recent partnership between InsurTechNews and Venture Scanner we are now able to offer you a quarterly update on the state of the InsurTech sector. The quarterly updated wants to capture the changes as they happen regarding startups and the types and amount of funding that they receive. Which are the sectors within InsurTech that are seeing the highest growth and where is it still lagging behind. Our Managing Director Andrea Silvello will present an updated comment on the InsurTech investment trends at FintechStage in Milan on May 5th. You can use this promo code to join the discussion - FTSMI17@50
Insurance Technology historical trends
Venture Scanner is currently tracking over 1000 startups that fit in the insurance technology category, with a total of $17B in funding up to date. The major concentration of startups is by far in Comparison/Marketplace and Infrastructure/Backend which makes them part of the "Established" group. This is consistent with the fact that in order to move towards an insurtech ecosystem the starting point is rethinking the backend systems that can make technological progress and integration possible. Same goes for Comparison and Marketplace which also has lots of players and was certainly guided by the customer's needs: that is having efficiency, easy access, information and transparency when it comes to insurance policies.
Reinsurance, Auto Insurance and Life, Home and P&C are leading by far with a record number of investments, over $14B up to date,  and some years behind them which can easily place them in the "Heavyweight Insurtechs" category.
Innovation quadrant for insurance technology  
Source: Venture Scanner, data as of January 2017
Management Platform and P2P Insurance can still be considered as emerging categories so they have the least amount of funding but we should give them some extra time so that they can prove their real value. Friendsurance is a well-known example of P2P insurtech startup which has raised $15.3M since 2010 and is based on the concept of reward applied on small groups of users with a cash back bonus at the end of each year if they have no claims. Their approach is aimed at keeping people motivated and engaged in seeking to obtain customer loyalty.
The Insurance User Acquisition group at the moment encompasses 75 tracked Startups with $325M in Total Funding. These are companies that help insurance providers identify new client leads and then manage the acquisition of those targets. This is crucial for insurers if they want to reach out to their more digital customers who are very inclined to shop mainly from their smartphone and which often act based on momentarily acquisition impulse. If Insurers have a way of capturing potential clients directly where they feel more at ease then the change to make some sales dramatically increases. Even more so if the acquisition process is swift, uncomplicated and transparent. Neosurance for instance is a startup that develops AI and machine learning solutions for insurance companies to enable the sale of spot micro policies via push notifications. The value proposition for clients is building a digital customer experience journey on the basis of contextual, behavioral and emotional data through a "learning by doing" approach.
Venture investing in insurance technology 
Source: Venture Scanner, data as of January 2017
VC Funding into the space is dominated by health insurance startups which together with Travel make for 29% of all venture funding and 8% of total companies in the insurtech startup sector.
Insurance technology funding by vintage year
Source: Venture Scanner, data as of January 2017
The year 2013 was for Insurtechs a fantastic year, with more than $3 billion in funding and can be explained by very high interest for new technology concentrated in such a short time span. Startups founded in 2013 account for 46% of the sector funding over the last decade, which makes it that much more incredible, and include companies like ZhongAn, Oscar, and Zenefits. These results were not to be repeated with the same enthusiasm in the following years reaching a low in 2016, but it's all part of the normal cycle of innovation. So even if funding hit a low in 2016, exit events did the opposite growing by 340% between 2011 and 2016. Compared to 8 successful exits in 2013, the year 2016 held the record with 22 exits.
Analysis of the last quarter of 2016
There have been 29 insurtech funding events in the last quarter of 2016  with a peak of 10 such type Series A events, followed close behind by Seed type events that were a total of 5.
Insurance Technology Funding Type Counts from Previous 90 Days
Source: Venture Scanner, data as of January 2017
Notable Recent Insurance Technology Funding Events
Source: Venture Scanner
Between October 2016 and December 2017, Insurtech startups raised $406 million mainly from Series B funding rounds. Sigfox, an IoT company that is building a dedicated, global network to connect, monitor and control devices like smart-home alarms, machinery, refrigerators and city streetlights, tops the list with a Series E round of $160 million closed in October 2016. The first P2P insurer to register as a carrier, Lemonade, has raised some $34million in a Series B rounds in December while Everquote raised 10million less amounting up to $23 million the same month. The Chicago-based Snapsheet gathered $20million through a Series C round for their cloud-based software that is used by insurers to assist customers through an information-gathering process on the scene of an accident.
Notable Recent Insurance Technology Acquisitions
Source: Venture Scanner
There have been 5 exit events in the last month of 2016, all of which have been acquisitions. Among these, SquareTrade, an American extended warranty service provider for consumer electronics and appliances based in San Francisco. The company was founded in 1999 as the first online service for resolving e-commerce disputes but has since managed to efficiently reinvent itself by offering extended warranty protection plans for electronic gadgets like mobile devices, laptops, tablets, consumer electronics and appliances. Allstate surely saw an opportunity when cashing out $1,4B saw an opportunity in SquareTrade's 25 million customer base which will be surely great for cross-selling Allstate classical insurance covers but also as a breath of fresh air for the incumbent. The fact that SquareTrade already has some important partnerships in place with major retailers like Amazon, Target and Office Depot certainly helped in making the buying decision in the race to stay relevant in today's increasingly connected world.