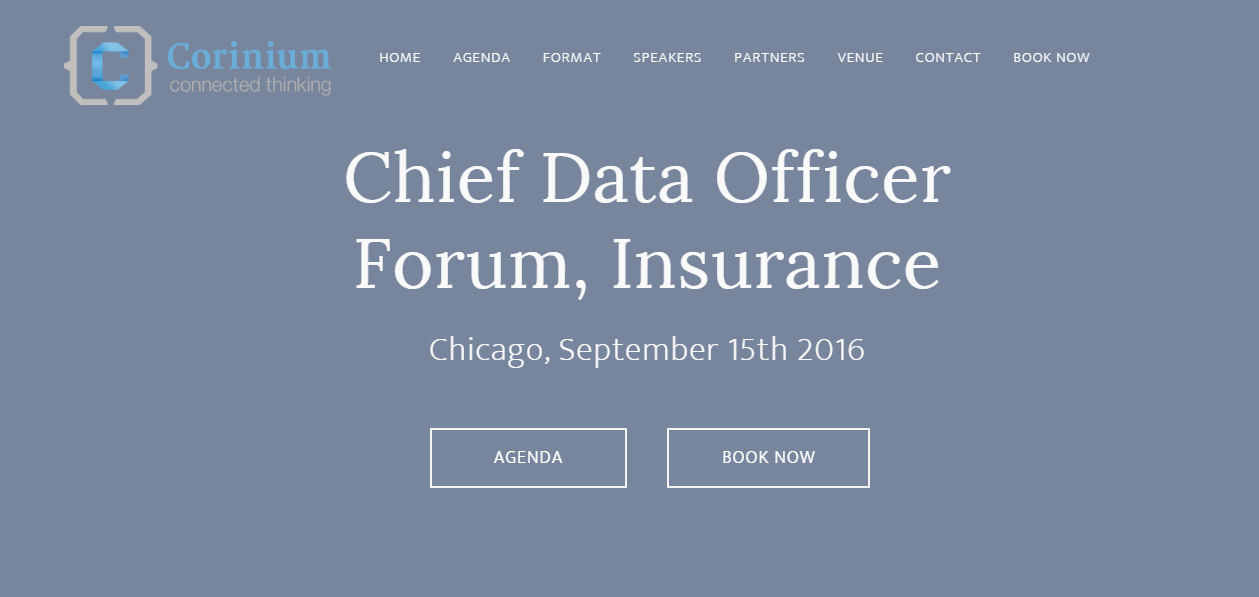 The insurance sector has been grappling with data for decades and is perhaps one of the oldest institutions to practice what we would now consider to be Data Science and analytics. The inherently risk averse nature of Insurance has historically demanded Actuaries to implement rigorous statistical and mathematical processes to enable the quantification of risk into a packaged, saleable product. Although insurance organisations have long been aware of the applications of data for business gain, there has been renewed interest in Big Data given the diversification of new sources now available through the exponential growth in technology.
The Chief Data Officer Forum Insurance 2016 hosted by Corinium Global Intelligence on September 15th in Chicago has been launched to capitalize on this interest and will tackle some of the insurance  industry's most crucial topics including price optimisation, fraud analytics, predictive modelling, customer data management, disruptive innovation, embedding a data culture within your organisation and data quality.
Speakers include an accomplished group of experts from across the re/insurance spectrum who will share their insights for shifting the cultural mind-set to a data-centric approach to problem solving.
Eric Huls, Chief Data Science Officer, Allstate Insurance Company who will be speaking, in a recent Q & A with Corinium stated about the CDO and CAO role:
"They're in the early stages of maturity, but growing quickly. Very soon, I anticipate that these roles will no longer be optional, but rather one of the most critical voices within an enterprise."
The one day agenda will emphasize:
What CDO and CAOs in Insurance Need To Do In Order to Successfully Leverage the Big Data Revolution?
Building the Case for Data/Analytics as a Corporate Strategic Asset
How Insurance CDO and CAOs Can Go Digital by Leveraging the Power of Data and Cloud Security
Building Internal Bridges and Creating a Culture of Mature Analytics
Advocating The Importance of People and Process in Driving Data-Centric Operational Change in Insurance
Key speakers include:  Louis DiModugno , Chief Data and Analytics Officer - AXA US, Mark Pitts 
SVP, Chief Data and Analytics Officer - Excellus Blue Cross Blue Shield,  Eric Huls SVP, Chief Data Science Officer - AllState, Anurakt Dixit Chief Data Analytics Officer - National Life Group, Kimberly Holmes SVP, Global Head of Strategic Analytics - XL Catlin, Vishwa Kolla  AVP, Head of Advanced Analytics - John Hancock, Meghan Anzelc , VP, Predictive Analytics Program Lead - Zurich North America, Craig Copland, SVP, Digital Catalyst (IoT) - Swiss Re

The summit is sponsored by Captricity, Clarity Solution Group, GoodData and Saama.
Join us at the Swissotel in Chicago on September 15th. To find out more about the forum, visit http://www.chiefdataofficerinsurance.com  

For all enquiries, please contact

Laurence Allen, Marketing Manager
Email: Laurence.allen@coriniumintelligence.com