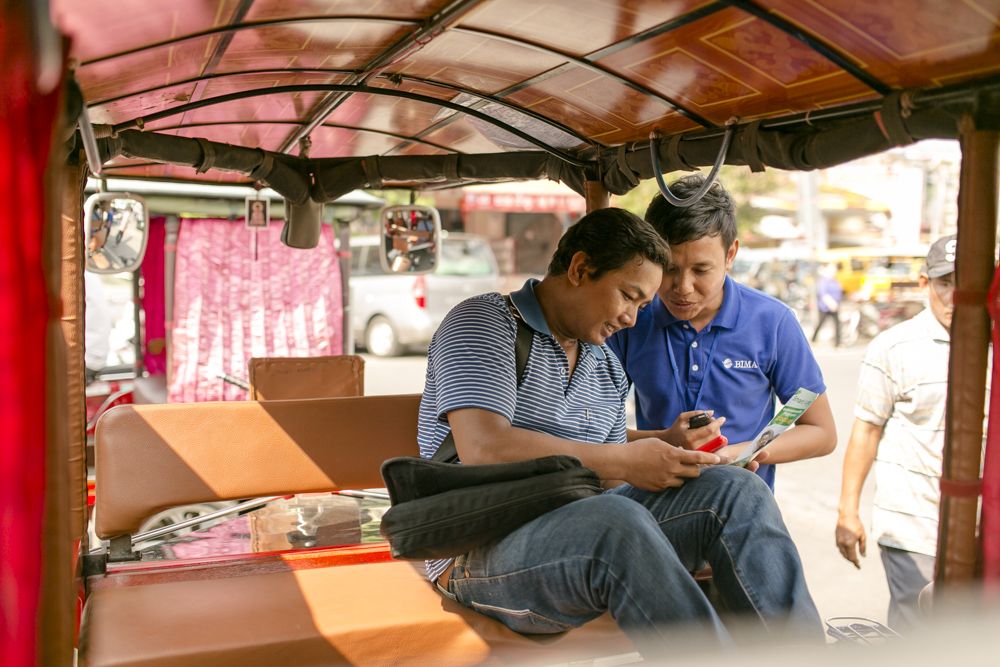 BIMA is bringing microinsurance to 24 million customers across Asia, Latin America and Africa. So how is it going to build upon its success in a future where more insurers are looking to digital and even artificial intelligence based solutions? Already BIMA clients in Cambodgia can upload claims through Facebook Messenger and Whatsapp and they seem to prefer it over the more traditional version involving papers. Currently experimenting with the automation of claims payments, especially for health insurance products, BIMA is looking to heavily invest in improving the customer experience, particularly through increasing the number of digital touchpoints within the customer journey.
Where did the story of BIMA start and which were the first countries where the BIMA solution was launched?
Gustaf Agartson, BIMA's CEO and founder, began his career in the Telecommunications industry with management roles at Tele 2, a European telecommunications company based in Stockholm. As mobile penetration across emerging markets continued to soar in the early 2000's, Gustaf foresaw the potential for mobile operators to leverage their platform and reach underserved consumers with vital financial services.
In 2010, Gustaf established BIMA in Ghana to pilot its pioneering 'mobile insurance' model, delivering affordable insurance products to underserved consumers through an entirely paperless experience. BIMA rapidly gained scale growing across the country since 2010 has helped to double the insurance penetration in Ghana.
Since then, BIMA expanded into 14 markets, including Bangladesh, Cambodia, Fiji, Indonesia, Pakistan, Papua New Guinea, Philippines and Sri Lanka in Asia; Haiti, Honduras and Paraguay in Latin America, and Senegal and Tanzania in Africa.
To date, BIMA is proud to have reached 24 million customers with vital financial and health products that are protecting the future of families across the world.
What type of technology and partnerships does BIMA use in order to expand on each market? Was there any market that was particularly difficult to penetrate?
BIMA's groundbreaking model uses mobile technology to overcome challenges of access and affordability and create a route for microinsurance to scale.
BIMA enters each market through key partnerships with large telecom players, such as Axiata Group companies in Asia, Millicom Group in Latin America and Africa, and Digicel Group in Latin America and the Pacific.
By connecting its proprietary technology platform with the mobile operators, BIMA has been able to create an entirely digital model: from initial customer registration, which takes less than two minutes, to daily micropremium payments that are deducted from airtime credit. This simple and straightforward model has allowed BIMA to reach rapid scale.
Each market requires a slightly different approach, to adapt to the nuances of local regulatory frameworks. However, awareness and overall trust in traditional insurance has proven to be the most persistent barriers to insurance penetration in most markets.
That is why BIMA has consistently invested in education as a vital tool for a sustainable business growth. Our model combines the power of technology with a human approach to education in order to overcome those barriers. Today, BIMA employs 3,500 agents who are dedicated to selling BIMA products and educating customers about the role and importance of insurance, and are crucial to raising awareness about our services.
Please tell us more about the network of BIMA agents; how important is their role for the business model of BIMA?
BIMA employs 3,500 agents globally, who are primarily dedicated to reaching out to consumers and growing our customer base. Having local people on the ground (field and call centre agents), who have a close understanding of the markets where we operate, has been key to our success – our agents are utterly core to our rapid, sustainable growth.
Crucially, BIMA agents are also essential in surpassing the trust barrier which most low-income consumers have towards the insurance industry. Our agents provide vital information for customers – particularly for first-time insurance users – to make sure consumers understand what they are buying and the benefits of insurance. This helps customers to understand how insurance can help them and their families to cope with distresses like illness, injury or death of the breadwinner.
What is the customer profile of BIMA and does it vary much from country to country?
BIMA set out to reach underserved consumers across emerging markets with vital financial service and health tools that they've traditionally been denied access to.
Today, 93% of our consumers live on less than $10 per day and 75% are accessing insurance for the very first time. More broadly, we see a skew towards younger people engaging with BIMA products, and most often in urban areas.
Which is the most recent product developed by BIMA and is there a country by country approach when deciding what type of products to sell on each market? 
Today, BIMA is looking not only to revolutionize the way emerging markets consumers access and pay for insurance services, we're also looking to be part of a growing movement to redefine the nature of insurance itself.  In particular, we're developing a range of mHealth services, to complement our insurance products.
Our mHealth services, which provide our customers with access to remote medical consultations, preventive care, and digital health records, are increasingly available as part of a holistic health bundle delivered entirely through the convenience of a mobile phone.
So far, we have launched mHealth products in 4 of our 14 markets – Ghana, Bangladesh, Pakistan and Paraguay, and have reached more than 1 million subscribers. We're planning to continue to increase our mHealth footprint and roll out these services in additional markets soon. 
When entering each new market, we deal with a different regulatory environment, customer base and mobile network partnerships. We therefore adapt and customize our product portfolio to each market, according to the unique customer and regulatory requirements of each country.
Is BIMA considering the option of reaching also developed markets maybe with different types of insurance products?
BIMA has no current plans to expand into developed markets – right now, we're focused on developing our footprint across Africa, Asia and Latin America, where we still see enormous opportunity for growth. Today, mobile penetration is just over 80% across these markets, but insurance penetration remains quite low (in certain markets as low as 3%) – these are the markets we're aiming to scale in.  
However, BIMA's mobile model could certainly be applied to other, more developed markets, as a way to reach underserved segments of the population.
What impact will the evolution of insurance technology have on brokers and traditional agents in general in your opinion?
The global Insurance industry is undergoing rapid change as traditional insurers adapt to a mobile-first, digital-first customer base.
Our disruptive mobile insurance model is certainly part of the wider trend. With our approach, we've demonstrated that insurance products can be delivered more simply and affordably through mobile – which has opened up a potential new market of nearly 4bn low-income consumers across the emerging markets.
In our markets, an increasing number of microinsurance companies are also looking to replicate our model by working with mobile networks to distribute insurance products to low-income customers; a number have trialled not-for-profit models, where growth rates have not been as strong.
What about artificial intelligence? Is it going to evolve in such a way as to allow major progress to be achieved in the insurance industry in the next 5 years? Is BIMA doing any pilot project or research in this respect?
While it's still early days, there are certainly signs that Artificial Intelligence will present interesting new opportunities for the insurance sector. AI could be applied to several aspects of the insurance process, for example claims management: AI would help to automate the claims handling process, which would reduce processing time and costs, as well as minimizing fraud.
AI could also help in automating the process of developing more bespoke or customer focused pricing patterns, particularly for products like automotive insurance. Telematics would be able to provide underwriters with a wealth of data, which could then be used to predict customer behavior and ensuing risk assessment.
BIMA is definitely seeking to harness some of these benefits.  For example, we are currently running pilots to experiment with the automation of claims payments, particularly for health insurance products.
How do you see the insurer of the future in a context where insurtech startups thrive and clients demand an easy digital customer experience? And which is BIMA's place and role in this future?
The demand for digitalised, simple insurance will continue to increase in the future. Today's consumers are digital and mobile first – they're looking for simple, accessible, transparent financial and health products, that integrate with a range of social and digital platforms.
We're proud that BIMA is already building this future with our mobile model. We're investing and innovating heavily in improving the customer experience, particularly through increasing the number of digital touchpoints within the customer journey – from SMS text messages to our Call Centres, and integration with Facebook Messenger and Whatsapp. For instance, in Cambodia customers can upload claims documents through Facebook messenger or WhatsApp and most customers prefer this digital experience than a physical channel.
Marie Kyle is Head of Product Development and Innovation at BIMA. She provides strategic direction for BIMA's new product design and development. She also supports implementation and roll out of new products within local markets. 
Marie joined BIMA from CDC Group, the UK government's development finance institution, supporting the launch of new private equity funds across Africa. She has extensive experience in management consulting, development finance, and the non-profit sector. Marie's previous roles include positions at the Clinton Health Access Initiative in Zambia, and with the international consulting group Bain & Company in Chicago. 
Marie holds a BSc in Mechanical Engineering from North-western University and an MBA from Harvard Business School.