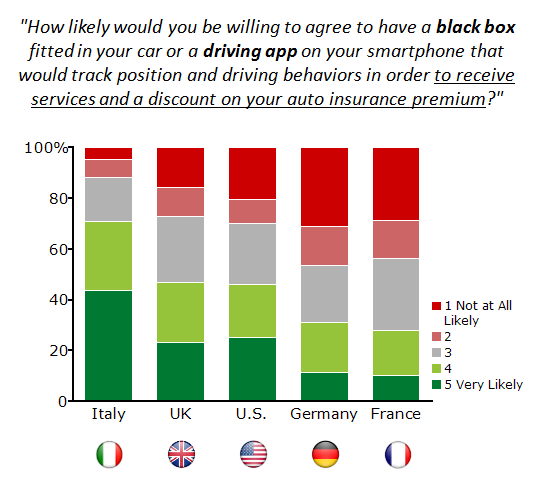 Telematics is by now the most mature of the connected insurance trends even though it has yet to reach full technological potential.
According to data provided by the Connected Insurance Observatory – the first think-tank who specializes in connected insurance – there is a high percentage of clients interested in using a device or an app which monitors one's life style as longs as benefits such as discounts and access to services are clearly related to the usage of such devices. "we presented  the results of a survey created together with SSI to the Observatory members" says Matteo Carbone, founder of the Connected Insurance Observatory. "Data gathered from 7 countries shows how clients have an extremely positive reaction to this type of insurtech solutions which combine a traditional insurance policy with technological elements. In countries where these solutions have already been in use for some time, the percentage of clients that oppose adoption is very low. Even in countries where telematics is still relatively unknown, the number of clients that have shown interest in this type of solution is fairly high. "
With the growth of usage-based motor insurance, the emergence of connected and ultimately driverless vehicles and our increasing dependence on mobile devices, the motor insurance sector is going through a major transformation. The winners will be those who apply all the key elements of insurtech to make quick decisions, maximise their growth and profitability, and get on the front foot when it comes to the technological, regulatory and social changes impacting the sector.
Within this context, Selim Cavanagh - Vice President for Telematics at Wunelli, a LexisNexis Risk Solutions company - takes a look at consumer attitudes to sharing their personal data, as well as how companies can effectively analyse data to get benefit from the insights it can offer. "There has been much debate about the use of personal data in calculating insurance premiums – just how comfortable are consumers in sacrificing elements of their privacy for a better, more personalised insurance proposition?  As a telematics solutions provider to the insurance sector, we, along with our parent company, LexisNexis Risk Solutions, wanted to explore this issue in-depth. We undertook a survey of more than 1,300[1] motor insurance policyholders to determine driver opinions on how motor insurance premiums should be calculated" says Cavanagh.
Seventy eight percent comfortable with behaviour based pricing
Seventy eight percent of motorists are comfortable with the insurers using their driving behaviour data sourced from a fixed device or smartphone app to determine the price they pay for their insurance. In addition, sixty percent want to be rewarded in lower premiums if their driving data shows they do not use their phone while driving and want mobile phone use to be a top consideration for insurers setting premiums at point of quote.
"We also found that insurers who reward customers more for multiple policies rather than for loyalty could be missing an opportunity to retain customers as eighty one percent of motorists want loyalty to be a factor in pricing compared to fifty eight percent who think multi policy discounts are important." says Cavanagh.
One of the bases of telematics insurance is to provide fairer premiums so motorists are not paying for the poor behaviour of others and most telematics propositions enable insurers to detect whether a motorist is using a smartphone at the wheel. But insurers can only provide a fair premium if the data they are using to calculate that premium is current and accurate.  If you don't get the data collection, validation and scoring right, any consumer confidence and willingness to share their data will quickly disappear.
It's not just at underwriting stage – insurers need to be able to assess risk, predict loss, and verify data accuracy throughout the customer lifecycle and to quickly and accurately make informed decisions that will help them provide better services, engage customers in their propositions and meet their business objectives. 
The use of data analytics is beginning to be recognised as a means to this end, supported by the growth of telematics based motor insurance policies. 
Current telematics solutions
To satisfy consumer demand for fairer pricing based on actual driving behaviour, the insurance sector is steadily breaking down the barriers to telematics adoption – making it easier for the customer to get on board and make it more cost effective to collect accurate driving behaviour information. 
Innovations such as a 12V device that plugs into the car cigarette lighter and is paired by Bluetooth® with the policyholder's smartphone have a key role to play in taking telematics to the mass market. This new solution sits between the fully installed black box and the smartphone telematics app supported by driving DNA analytics to deliver the most accurate picture of driver behaviour with parameters including: speeding, braking, smoothness, road type, road familiarity, time of driving, pace, and congestion.
You've got the data, now what?
So with millions of pieces of driving behaviour data being delivered every second, the challenge is to validate it and score it in real-time, then deliver it back to the driver in a meaningful and engaging way.  The data also needs to be used to derive insight to help inform future engagement with the customer and support underwriting, pricing and claims management.
Many insurers are spending significant sums on the tools and systems to pool and analyse this information but there is a real leap from amassing the data to gaining true value from it – hence the emergence of firms such as Wunelli, with the analytics expertise, proprietary data sets, technology assets and insurance sector experience.  It's also why we are seeing a slow but increasing number of in-house data scientists in the insurance industry.  This role will become more and more important to the sector.
The future of telematics
As we have already acknowledged, the UK motor industry is well on the road to the driverless car, so the challenge is on for insurers to derive knowledge and value from driving data to secure their future in a new world of mobility. The UK Government has said in its consultation document on driverless cars*, that data and data sharing will be key to determining whether the driver or the vehicle was responsible for any collision and cite in-vehicle data recorders as the means to collect this data. Those already operating in the usage based insurance market will have a head start.  
Motor manufacturers are also looking to the sector for its expertise, first with the data they are gathering from the connected car, but ultimately in assessing risk for the driverless car.
Most new vehicles are coming off the production line with connectivity and the built in ability to collect driving behaviour data such as how often the Auto Emergency Braking (AEB) is engaged or the airbag deployed.  This data combined with behavioural data along with claims insights will create a more accurate picture of risk.
Some insurers are setting up telematics programmes with Original Equipment Manufacturers (OEMs) in an exclusive agreement while others have made their car data available to a panel of insurers via a web platform.  Captive models are also emerging where the OEM becomes an insurer or broker by providing Usage Based Insurance (UBI) directly to customers. Cavanagh believes the future model is one where OEMs pool their data into one "data hub" which will be available on a data exchange basis with bidding by insurers for data sets. 
"Right now", he continues, "we are on the cusp of some major changes to the insurance landscape and, while data has always had a central role to play, the volume of data, type of data and use of data throughout the customer lifecycle is taking the sector into completely new territories.  From a motor insurance perspective, our research suggests consumers want to be rewarded for driving safely – data collection and  analytics can make that happen and can ultimately change the way consumers view their insurance cover – not as an annual grudge purchase, but something that adds value to their lives and delivers real world benefits."
*https://www.gov.uk/government/uploads/system/uploads/attachment_data/file/536365/driverless-cars-proposals-for-adas-and_avts.pdf
[1] Data collected July 21 – 27, 2015, 1,314 consumers, Age 18+ Insured drivers, Policy decision makers
LexisNexis commissioned Consumer Intelligence and the use of their consumer panel to conduct the research.
LexisNexis was not identified as the sponsor.Data analysis and reporting provided by Lynx Research Consulting.